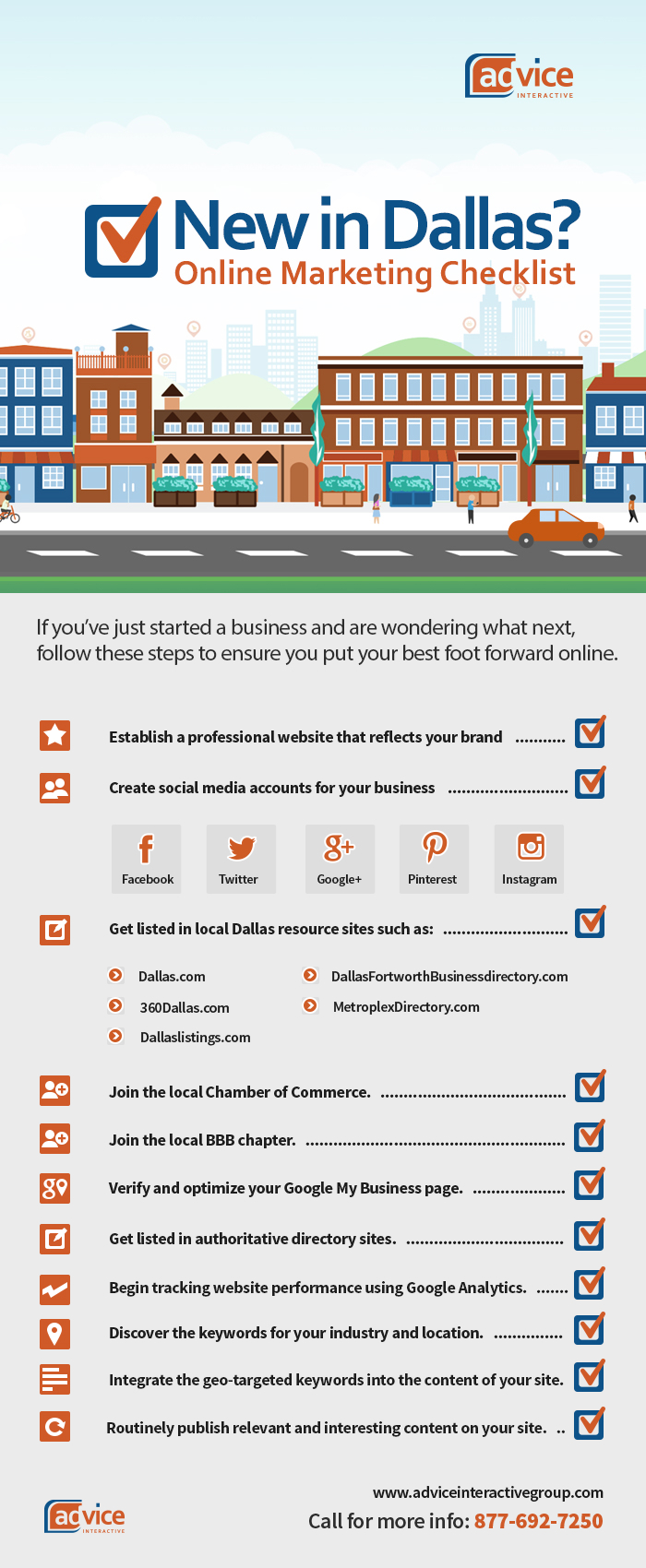 Starting a new business in Dallas isn't for the faint of heart. You've chosen a challenging market, but with great challenges come even greater rewards and we have had the pleasure of helping many DFW businesses generate solid Internet lead streams and revenues!
Thankfully, you have the help of our experts in online marketing to take your business from "Who?" to "WOO!" A strong online presence is the key to long-term success in any industry. If you don't stand out from the crowd, your business can be easily lost in the shuffle. Don't worry! The team at Advice Interactive has you covered. Here are a few easy ways you can improve your online presence and set yourself up for success in your first year, and beyond.
Web Development
Did you know that customers will make a decision regarding a company and their products or services within the first few seconds of being on a website? You need to ensure that your design game is on point. Advice offers web development and site design that will keep clients wanting to visit and learn more.
But it's not all about a sexy design! Our team prides ourselves on designing websites that are built to convert traffic into leads. All the web traffic in the world is great but if your website does not convert, who cares? Our websites convert and that's what will make your business money!
SEO Services: Make Yourself Visible
So you have a site, but if your traffic has been slow, your conversion rates and ROI has been lacking, and user engagement is at an all–time low, you need SEO services, with a quickness! We use our proven tactics to get qualified customers to your site. These are the people who are looking for your services in the Dallas area.
At the Vrum agency, It is our job to make your website more visible, and we have the proven track record to do just that. When your site is more visible, you get more traffic. When you get more traffic, you convert more traffic into leads. When you get more leads… everyone is happy.
We Are All About Local
The key differentiating factor between Advice and many other online marketing companies is our proprietary local search technology. Advice Local gets your business listed in all the major directories so your customers will never have trouble finding you. Not to mention, we live and work in the Dallas area. We know the area, we are active in the community, and we know what Dallas residents want to see. When a customer is looking up directions to your shop or trying to figure out your hours of operation and phone number, we are here to ensure they get the correct information they need!
Get Social!
The power of social media is immense. Advice Interactive can help you handle all your social media platforms. We can help you properly utilize social media to manage customer communication, reflect a positive brand message, and use it as a key lead generator for your business. One of the biggest mistakes local businesses make is neglecting their social media accounts. We think of it as an unmatched communication tool to connect you with the customers who need your product or service.
We realize the above is a lot for one person (or even a whole team) to complete. That is why you can rely on us! We've done it time and time again and our team at Advice Interactive provides all these services to assist you in getting your new Dallas business off the ground. Interested? Call [phone] today and let's get started!