Local Site Submit is now Advice Local! Same great technology – with an updated look and feel! Plus, new features and product offerings, including GPS POI aggregator submissions, niche citation packages, agency services, and live chat. Check out the new site here: www.advicelocal.com.
Get to Know the New Advice Local Website
We took all the great content people loved from Local Site Submit and reworked, refreshed, and reorganized to bring you a brighter, better Advice Local. The main website is broken up into four main sections: Products, Partners, Pricing, and Request a Demo.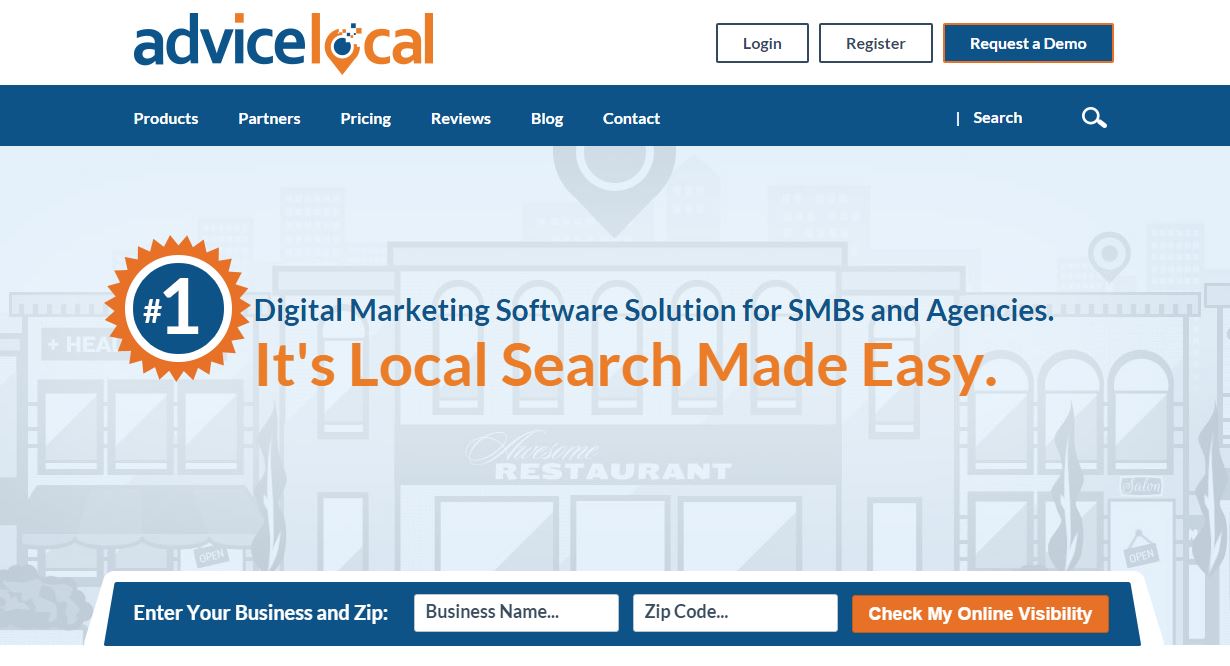 Our Products
Our product offerings are expanding all the time, but can be broken up into 6 major categories: Listing Distribution, Reputation Management, GPS Navigation, Citation Cleanup, and Agency Services.

Listing Distribution
Business listing management has been the core of our business since the beginning. Because citations, local pages, and directories are such an important component of local presence management, we've worked hard to perfect our fulfillment, technology, and reporting around these elements of local search. Our listing distribution & management services include:
Google My Business Claiming & Optimization
Bing Places Claiming & Optimization
Submission to the Big Four Data Aggregators (Infogroup, Acxiom, Localeze, and Factual)
Top 50 Directory Submission
Social Media Profile Creation and Optimization
Local Visibility Baseline Reports (where you started)
Local Visibility Monthly Reports (how far you've come)
Reputation Monitoring
Our Reputation Monitoring module allows business owners to track their online reputation, see their average star rating across multiple review sites, promote their reviews on social sites, and keep tabs on any negative reviews.
GPS Navigation
GPS business listing submission is one of our newer products. We've partnered with multiple GPS distribution platforms to provide our clients with API access to GPS devices like Garmin, TomTom, and Magellan and in-dash navigational systems for some of the most popular car manufacturers like Fiat, Toyota, and BMW.
Citation Cleanup
Our Local Safeguard™ program ensures businesses' citation data stays consistent month after month. We regularly check up on business listings to find and fix any inaccurate business information and duplicates to make sure the local ecosystem for businesses is clean, consistent, and 100% optimized.
Agency Services
One of the best things about Advice Local is that the technology is backed by a full-service digital marketing agency, so any digital marketing service you need done, our team can do. Whether that be building a new website, managing your paid campaigns, conducting a technical SEO audit, or writing new content, we can handle all the fulfillment for you!
Partners
We work with every type of business you can imagine: local businesses, search agencies, multi-location brands, and channel partners. We help all of them find a local search solution that works for them, whether that's managing their business listings or integrating our technology into their product offerings and managing all the product and account support on their behalf.

Channel Partners
Channel partners are enterprise businesses wanting to integrate Advice Local's technology into their own product offerings. All white labeled, our technology is the perfect solution for businesses who want to expand into a new market but aren't sure how and want a turnkey solution to take care of all the ins and outs.
Agencies
We work with agencies nationwide providing white labeled local presence management solutions. If you're a search agency, and you're seeking a reliable business listing management tool to fulfill and report on your client's locations, then we're one of the best options on the market today.
Multi-Location Brands
If you're a brand who has to handle the local presence management for multiple locations, we might be a good fit for you. With our tool, you're able to get a high level view of all your locations' visibility as well as take a deeper dive into each one's performance.
Local Businesses
We have over 1.1 million local businesses in our system right now. Run a visibility scan on your business to see where your local visibility stands now, order SEO services, and then monitor your local performance. It's as simple as 1, 2, 3. We do all the work, so you don't have to.
Pricing
We offer competitive pricing for all our products. Select from one of our packages: Core, Classic, Deluxe, or Custom. Visit our new Pricing page for more information.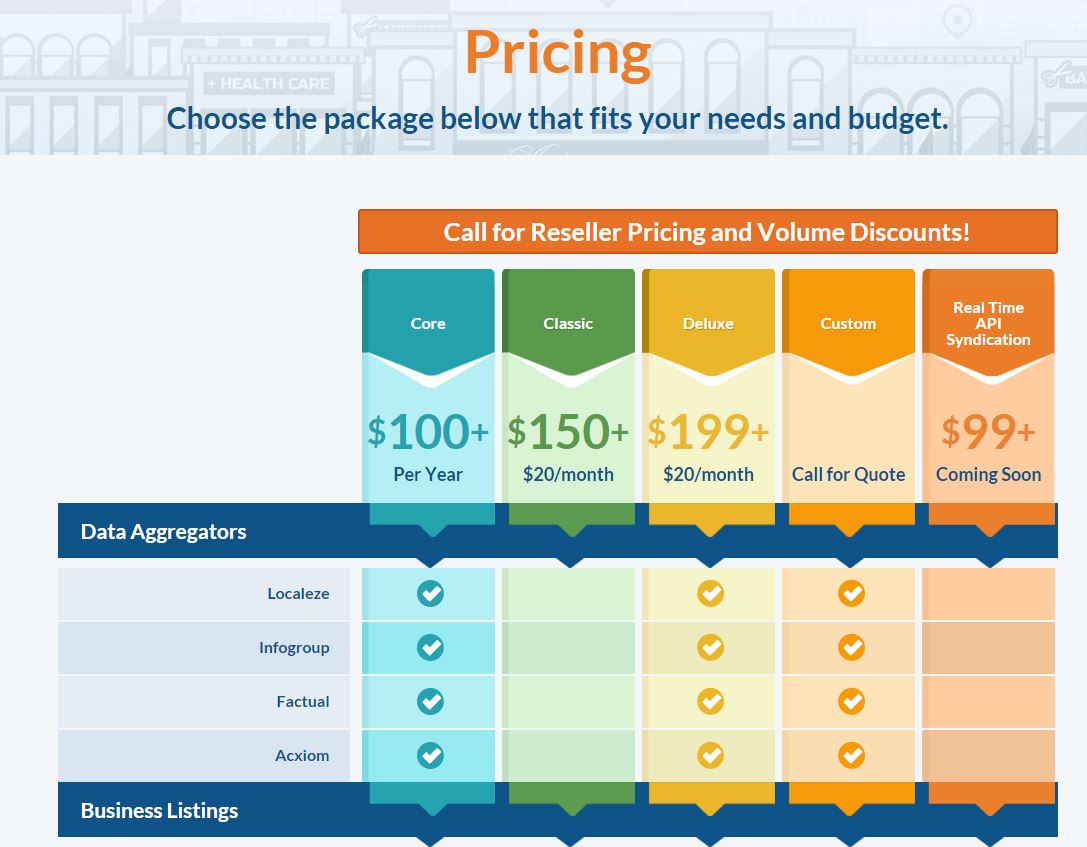 Request a Demo
The best way to know if a new tool is right for you is to take it for a test drive. Sign up for a demo and one of our service representatives will schedule an appointment with you to walk you through the finer points and features of our tool.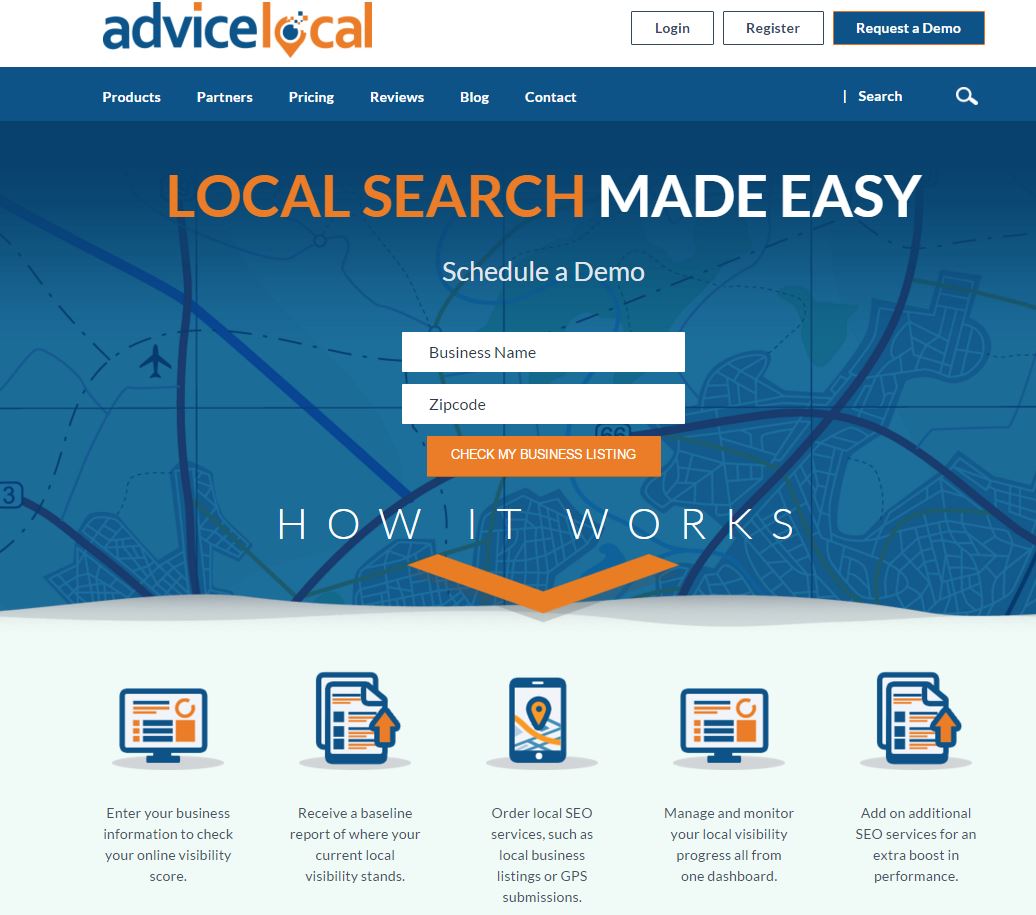 Contact Us
And finally, our tour of the new website comes to an end with the new Contact Us page where you can submit general inquiries, request a custom quote, and learn more about becoming a reseller.
If you have any feedback or features you'd like to see added to the new website, please do not hesitate to contact us and let us know! We'd love to hear from you!