If there's anything we've learned in all our years specializing on getting local businesses found online, it's that consumers are unpredictable. Although you might have an idea of the search queries a potential customer uses to find a particular business, it's hard to know for certain without putting on your analytical thinking cap and digging into the data.

In 2015, Google launched Search Console, a free set of tools aimed at helping businesses monitor their sites' online presence. Thanks to Search Console, marketers, businesses and agencies no longer need to take an estimated guess about the search queries that convert. They can know the actual keywords a searcher used to access the business' website.
Search Console is one of the most useful tools used to gather insights into search queries and keywords, but local businesses can also find a similar analysis through Google My Business (GMB) Insights and Google Analytics. With a zero-click SERPs getting closer and closer, leveraging all these tools together is one of the best ways to get more insights.
Let's take a look at how local businesses and marketers can take advantage of the information on search queries that Search Console provides.
Search Queries Are the Real Deal
Search queries are what a consumer types directly into the search box of a search engine, like Google or Bing. This may sound like the definition of a keyword, but it's not. Elisa Gabbert, at Wordstream, said it beautifully: "a keyword is sort of like the Platonic ideal of a search query – it's an abstraction that we extrapolate from multiple search queries." In other words, keywords are a marketer's way of identifying what a customer wanted to say with their search query.
How Do Search Queries Benefit Local Businesses?
We're glad you asked. Through Google's Search Console or GMB Insights, local businesses can look at which keywords and queries are getting them placed in search results. They can also see if those keywords are relevant to the business and if they are getting click-throughs to the site. Google Analytics gives local businesses a good idea of site search terms used by potential customers. This helps them decide if their site has the information that readers are looking for. If not, it might be time to change their content strategy and modify their local SEO tactics to place higher in search results.
It's time to dig into search queries on these various platforms.
Search Queries on Search Console
Basing a business' content strategy on data is a no-brainer if they want to capture more readers. A business might think they know what works, but it's the actual numbers and information that give a clear view of what readers are looking for. Let us explain it with a visual and a practical example. Take a look at the screenshot below of Google's Search Console.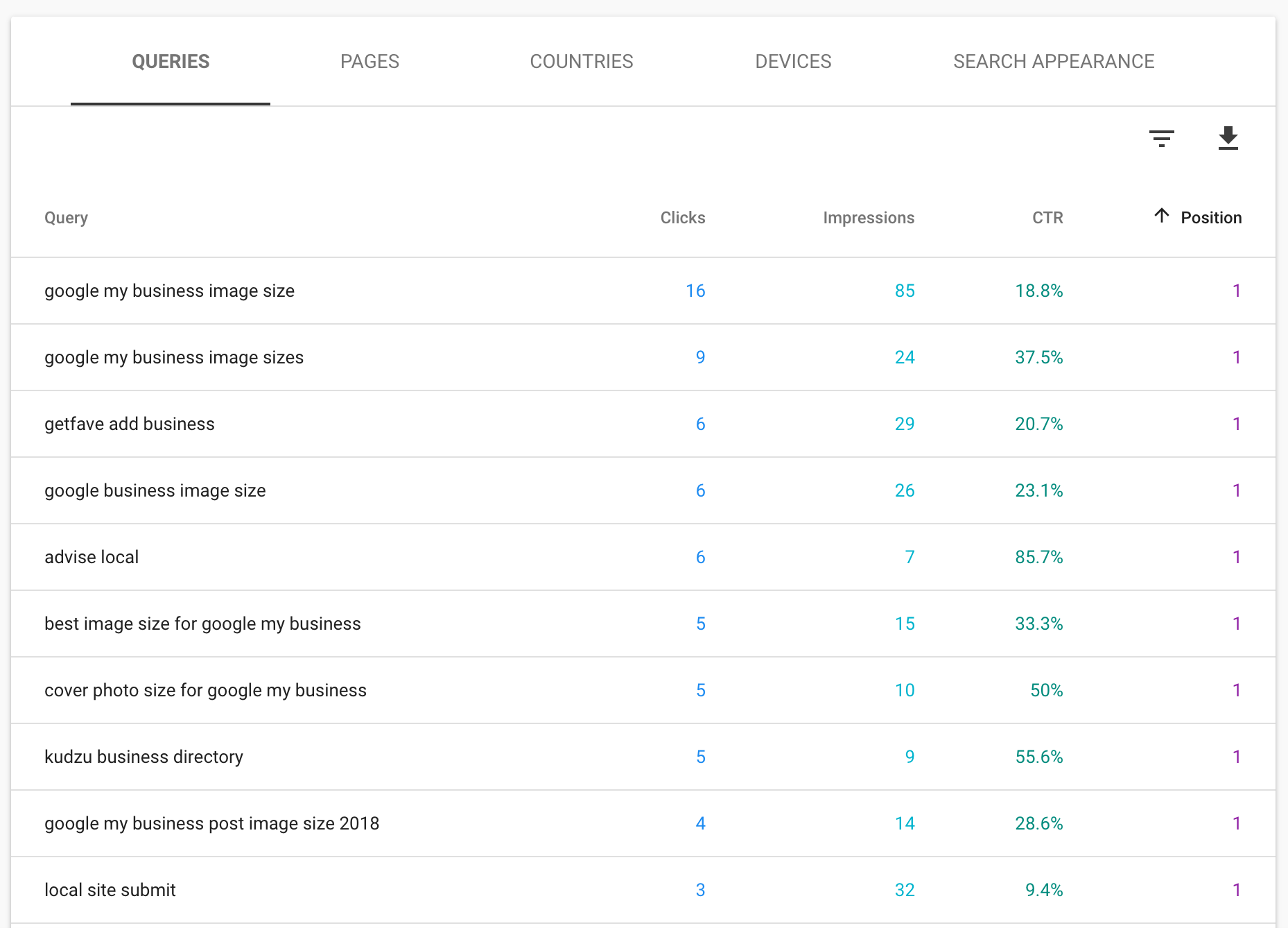 This screenshot includes a list of search queries that readers used to find Advice Local on search engines in a seven-day period a couple of weeks ago. As you can see, Search Console provides important information on queries, including clicks, impressions, click-through rate (CTR) and position on search results.
Our team at Advice Local constantly analyzes the information provided by Search Console to come up with different strategies to reach a broader audience or to give our readers the information they are looking for. Google My Business topics are always a hit, as you can see.
Clicks, Impressions, CTR and Position
Following our example above, the query "google my business image size" gave Advice Local 16 clicks, 85 impressions with a CTR of 18.8 percent. But, what does that even mean?
Search Console gives the following definitions:
Clicks: how many times a user clicked through to a business' site
Impressions: how many times a user sees a link to a business' site in search results
CTR: the percentage of impressions that resulted in a click
Position: the position of a business' site in search results
For a business, the metrics that really matter are CTR and position. In our example, out of 85 times that our content appeared in search results, it was clicked through only 16 times, even though we held the first position for that particular query.
This could be a result of either of the following scenarios:
There's a newer post that is not placing as high in search results.
This query has a featured snippet that is answering the user's questions in search results. Therefore there is no need to scroll down or visit the website.
In this particular case, we were affected by both of the situations above. The article that is in the first position is from 2017. Our 2018 update hasn't had a chance to place higher in search results yet. At the same time, the featured snippet is held by a business with an article from 2019.
If we use the information above to optimize our content strategy, we will arrive at the conclusion that we need a new post on Google My Business image sizes for 2019 if we want to capture the readers. However, what we really care about is getting businesses found online, so while GMB is one of our top priorities, their image sizes fail to make the top of our list when it comes to our content strategy. We'll take no action at this time.
This is only one example of how using the information found on Search Console about search queries can help a local business make informed decisions to capture the attention of potential customers. There are plenty more, but for now, I want to switch my focus to GMB Insights. These can be very revealing when it comes to optimizing a GMB listing.
Search Queries on Google My Business
GMB Insights offers their own search queries for GMB listings. They show the queries used to find a business on Google. The search terms that are used to find a listing should also be used to optimize a listing with Google Posts and Ads.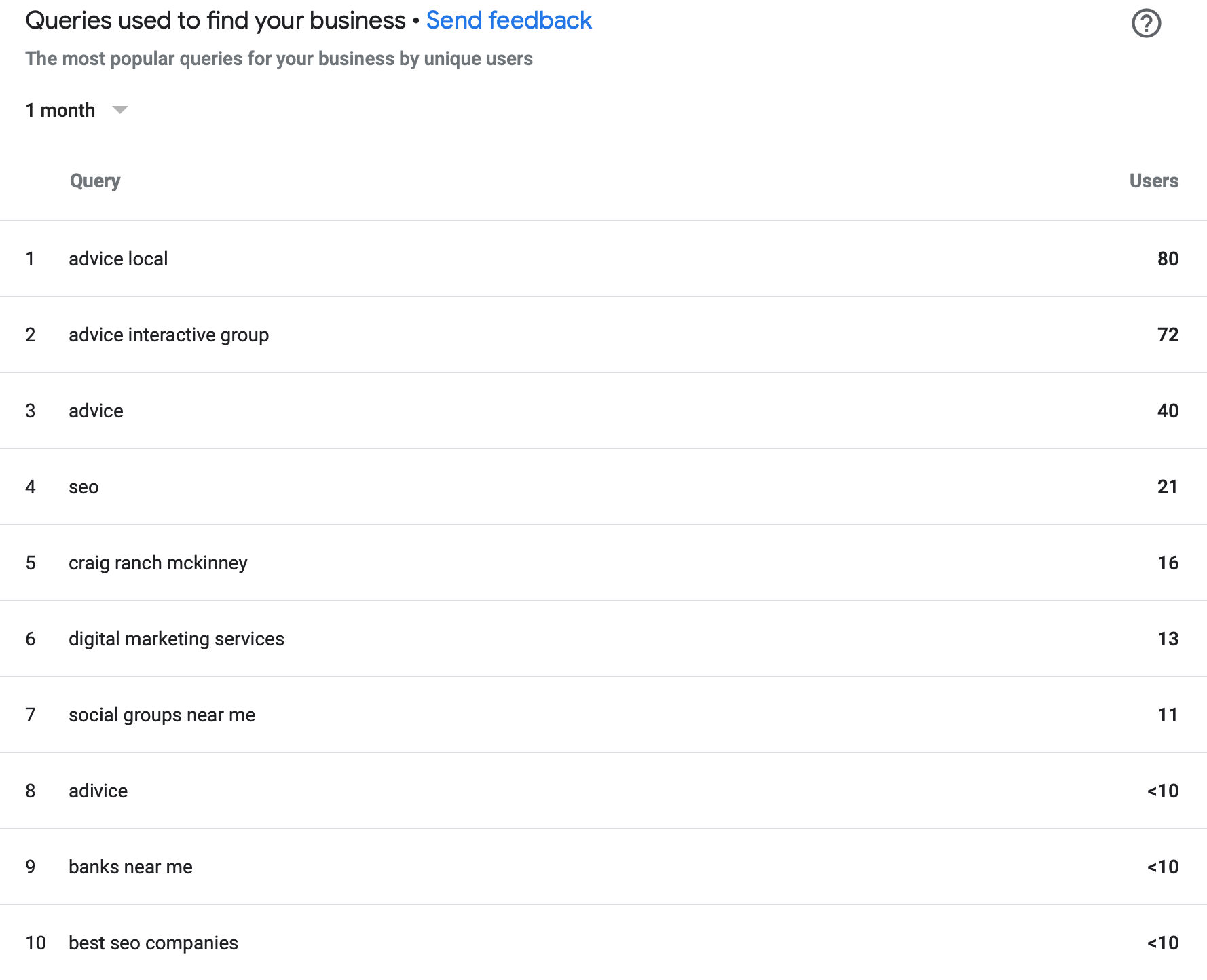 In this screenshot from our GMB listing, you can see our top three keywords are our business and other variations of it! If a business isn't placing for their own business name, this is a much bigger problem than what I'm going to tackle today.
It's a good thing that our GMB listing surfaces for keyword phrases like "SEO," "digital marketing services" and "best SEO companies." I would like to see other important keywords in the mix too, but this helps us better understand how Advice Local is getting found on Google My Business.
Some of the keyword phrases we're ranking for are a little puzzling. If this happens to a local business, the best thing to do is review their GMB listing and make sure they don't have any keywords within the listing that could be giving the wrong impression.
On-site content affects how a GMB listing places in SERPs, which means that local businesses could use GMB search queries to not only optimize their listings, but also to optimize their site content. Improving these things will likely help local businesses increase traffic and conversions.
Let's take a moment to focus on a different type of search query. Site search terms are just as important in the decision-making process as search engine queries and can be easily accessed through Google Analytics.
Site Search Queries on Google Analytics
A site search query is a whole different animal, but it's related to a search engine query. Let's call them first cousins once removed. Site search queries are typed in the search box of a local business' site. The business has already captured the attention of a potential customer, but do they have what the consumer is looking for?
To find site search queries using Google Analytics, simply navigate to the "Behavior" tab on the left side to expand the menu options. Then click "Site Search" and select "Search Terms." You will then see a list of the top search terms for the given time period. We recommend that you extend the time period to at least the last 90 days to get a better idea of what people are looking for.
Grabbing our own real-life example again, take a look at the screenshot below.

We took the stats above from a sampling of searches limited to January 22 to January 28, 2019 on Google Analytics. As you can see, most of our searches were for voice search – which we excel at, by the way! Voice search had five unique searches during that week. Readers then spent over four minutes looking at our content! They clearly found something they liked; not only is the time on page high, but the percentage of search exits is zero, which means they kept navigating through our site.
If the reader had immediately visited the page that surfaced in the site search and then bounced, this would be an indicator that our content didn't answer the reader's question.
Once a business understands how a consumer is finding their business online they can deliver the content they need to convert them into a customer!
What's Next?
The sky's the limit for local businesses and marketers who leverage these powerful tools to provider consumers with what they are searching for online. Find out today how we can help you help your clients get found online too! Request a demo to see why partners across the United States choose us.