In our opinion, Google Business Profile (formerly Google My Business) is the best upgrade since the birth of Google Plus. It allows a business to get into Google products such as Search, Maps and Google Plus – which are all fundamental pillars of any sort of local search program. Not only will Google Business Profile increase your company's online visibility, it is also one of the best ways to build a loyal fan base. Not only is it essential to your brand's online presence, but also it's extremely easy to use.
How Google Business Profile Works
You can update all of your business information from one place. You can add photos, connect with customers through posts and comments, monitor reviews from across the Internet, and even start a "direct hangout" with the simple click of a button. Google Business Profile also has an app (for now, only on Android devices) that will allow you to see everything on your mobile phone and make whatever changes are necessary.
Google Business Profile is even easier to use now that it has consolidated its dashboard. Now you can manage multiple segments from one screen, whereas before you had to go to individual pages to make any changes.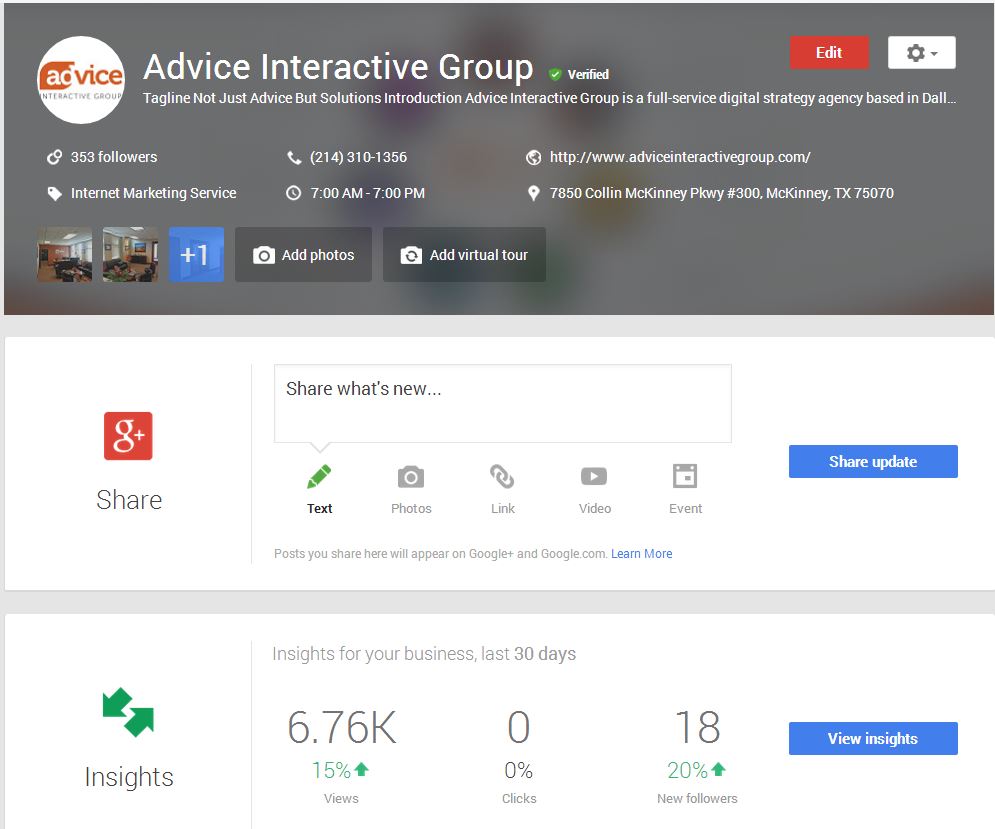 How Google Business Profile Affects Local Search
Now more than ever businesses are using Google products to help increase their rankings in the SERPs. If you have images, blog posts or videos, and you update them regularly, Google indexes them very quickly – in some instances, almost instantaneously. We see it time and time again; we add videos, posts, etc. to a client's Google Business Profile page and they are indexed almost immediately. Many times, they'll show up on the first search page.
Another benefit of being on Google Business Profile is the rise of mobile searches. More and more people are performing local searches on their smartphone, and Google Business Profile enables "click to call" from a mobile device.
The Next Steps
When you make the decision to get on Google Business Profile, we recommend that you do the following:
Sign up for Google's RSS feed to get updates and be alerted to any issues that may arise.
Follow Jade Wang, Community Manager for Google Places, on Google Plus.
Hire a trusted photographer and have him or her use the Google app to take panoramic shots on your business. It will allow people to see exactly what your business looks like before they come through your door – basically, it will give them a virtual tour.
To learn more about Google Business Profile and how this powerful tool can take your company's local search to a new level, contact Advice Interactive online or call us at 877-692-7250.