As you may recall, last week we introduced you to the Google Authority Score. As mentioned, we created the Google Authority Score (GAS) to help businesses understand the authority for each business location's Google Business Profile (formerly Google My Business listing).

Since our announcement, we have had quite a few partners that wanted to understand a bit more about why GAS is so important to their local business clients.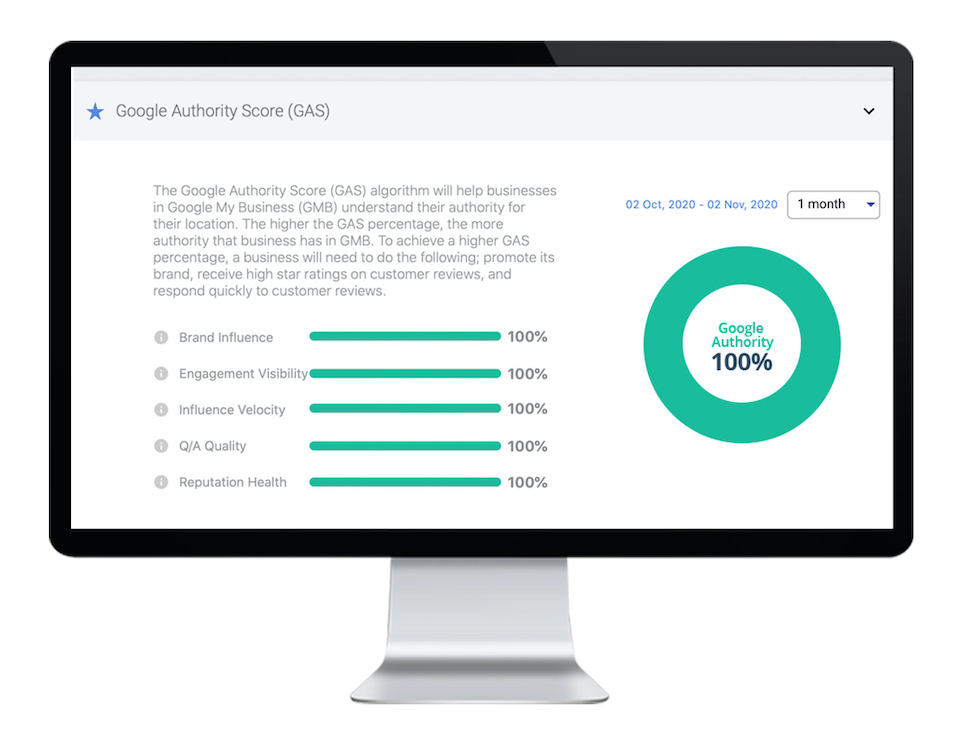 Why the Google Authority Score Is Important
To understand GAS, you first must understand how the score works. The Google Authority Score is calculated based on utilization of the features available within a Google Business Profile (GBP) listing, and data that Google provides through Google Business Profile Insights.
GAS is a simple way for those representing a local business to get a quick glance at how well they are managing the business' GBP listing. By breaking down the score, you can understand on a deeper level areas that are performing well – and those that may need improvement.
Components of the Google Authority Score
Brand Influence
Engagement Visibility
Influence Velocity
Q/A Quality
Reputation Health
Each component impacts the overall GAS score. To receive a 100% score, the business must fully leverage all of the features available to them within a GBP listing.
Engagement Visibility, for example – which is calculated based on how many reviews the business has received vs. how many they have responded to – is pretty simple to get a score of 100% on. Just respond to all the reviews (this includes the negative reviews) the business receives.
Getting a high Google Authority Score isn't a one-time effort, either. Much in the same way the Google Business Profile Insights data is calculated based on 1 week, 1 month or a quarter, so is GAS.
Claiming a Google Business Profile Listing Isn't Enough
The days of simply claiming a Google Business Profile listing are long gone – it's no longer a one-time event. The business' GBP listing needs ongoing maintenance. This includes the regular publishing of GBP posts, the addition of & responding to Questions & Answers feature, as well as uploading images. Also, the business needs a review gathering & response strategy.
Another important benefit (and necessity) of managing a Google Business Profile listing is to protect the listing from being hijacked. Yes, hijacking a business' GBP listings is a thing that happens all the time, and in fact has been really prevalent lately.
Joy Hawkins discusses it on Local U. She said: "We are seeing a huge increase in the number of complaints from users that are getting email requests to manage their listing from people they don't recognize."
We've been seeing a big spike in requests of this type at Advice Local too. Accidentally approving one of these requests could greatly impact a business. In fact, a business could lose complete access to one of their Google Business Profile listings! This is less likely to occur to a GBP listing that is being monitored and updated regularly.
Did you know that at Advice Local, we make GBP claiming easy for our partners? Next time you are placing a listing management order, simply select "GBP Creation and/or Claiming." Yes, there is an additional fee for GBP claiming, but it's small in comparison to the amount of time you would have to spend creating the listing and getting it verified.
Managing a Google Business Profile Listing Made Easy
If the Google Business Profile listing has already been claimed, and you just need a tool to manage the GBPlisting easily, we have that too. Our Enhanced Google Business Profile tool makes it so easy to schedule GBP posts to multiple locations simultaneously, trickle out Questions & Answers to single or multiple locations and so much more.
You don't have to take our word for it. Just this week one of our agency partners emailed their account manager and said:
I just scheduled a GBP post through your tool for a client with 6 Google Business Profile listings, and it was so easy. Using the location city tag and the location name tag, I customized the post for each location. Your tool let me optimize the post and connect with the reader at the hyperlocal level. I did not have to adjust each post individually – and did it all in less than 5 minutes! In the past, putting up 6 GBP posts and customizing each one to be location-specific would take around 10 minutes each. So I saved 55 minutes today alone. Your tool is going to save me hundreds of dollars vs. paying team members to do this manually.
Premium Google Business Profile Solutions That Pay Off
As you may know, Advice started as a digital marketing agency. We found there was a need for better, more effective listing management solutions. Today, rather than providing agency services to local businesses, we provide solutions to agencies and local marketers to better help them serve their local business clients.
We've said it before, and we will continue to say it… our priority is providing simple, scalable and affordable solutions to our partners. Request a demo today to learn how we can help you grow your agency and expand your clients' digital footprint online.