Total Sales Generation Control at Your Fingertips
Wouldn't it be easier if local businesses came directly to you with their contact information? With the brand-new, highly customizable sales widget from Advice Local, that's precisely what happens. Our user-friendly widget, added directly to your homepage, allows prospective customers the opportunity to connect with your team with ease.

Total Customization
Change the color, logo and more on the sales widget before adding it to your website.

Ease of Use
Customizing and including the widget on your website is as simple as a few clicks.

Passive Lead Generation
No more cold calls or emails, the widget gathers business information and submits it to you in the dashboard.

Boost Sales
Your agency can focus on closing sales and opening new accounts while the sales widget does the heavy lifting.
How the Advice Local Sales Tool Widget Works
Get Our Listing Management Sales Widget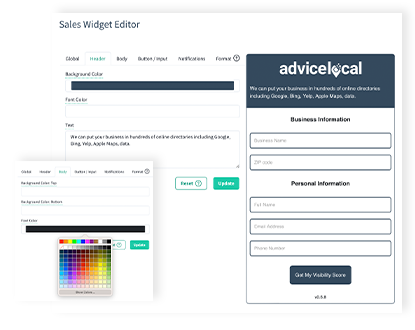 Website Integration
With just a few clicks you too can have a fully-functional sales widget with total website integration for your agency site. The widget displays on the web page, in an open or expanding box, with sales copy and imagery that fits your agency.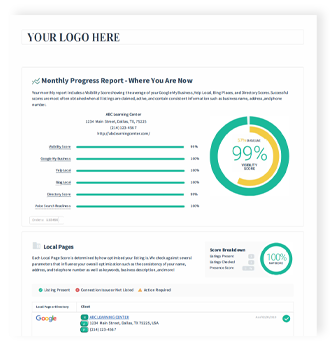 White Label Reports
All visibility reports are fully white-labeled, meaning the reports and widget include your logo, your copy and information for prospective clients to see and enjoy firsthand.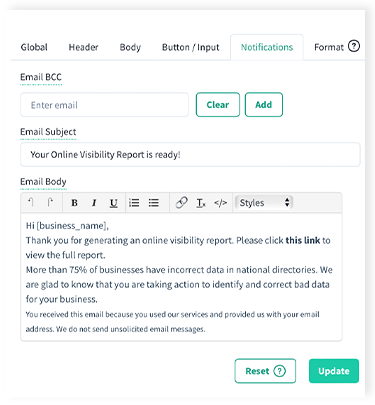 Reports in Their Inbox
As if it couldn't get any easier to work with Advice Local's new sales widget, each lead will receive a full report delivered directly to their inbox so they will become accustomed to receiving emails from you.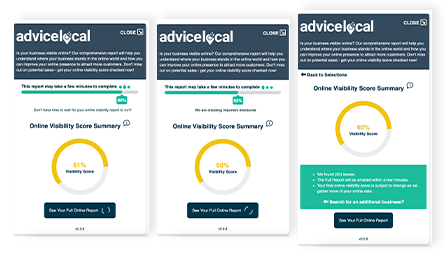 Full Partner Access
As an Advice Local partner, you receive comprehensive access to report information gathered by the sales widget directly on your dashboard. Everything you need to track prospects and make a sale, all in one convenient location.
Why Every Agency Needs a Sales Widget on Their Website
At Advice Local, we're committed to providing you with top-of-the-line listing management tools to help you reach more prospective customers and make sales. As part of that commitment, we're excited to release our new sales widget, which allows prospects to make the first move. Here's how a sales widget can help you today.

Generate Quality Leads
By design, a sales widget helps agencies and local marketers generate more sales through their website by utilizing organic search engine optimization. But not just any leads – quality leads that have visited your website. They're ready to buy.

Close Sales Faster
As an agency owner, your time is valuable. Our sales widget will help automate the process of generating sales prospects for you and/or your sales team to accelerate the sales process, and lead to new clients in less time.

Manage Sales Prospects Efficiently
It's important to follow up with all prospective sales your agency receives, but what if you have too many to manage? The sales widget compiles the data directly within the Advice Local dashboard for easier access, tracking and management.

Streamlined Listing Management
Once the widget collects a prospect's information, a lead appears in your partner dashboard. From there, you can complete the business' information and trigger listing management once the deal goes through.