Great Reputations Are Built on Customer Reviews
How would you like to monitor your clients' most important reviews from a single location? With our Review Monitoring Tool, you can access customer reviews from Google, Yelp and other powerful directories in our user-friendly dashboard. Take control of your clients' reviews with at-a-glance reviews, notifications, data analysis and more.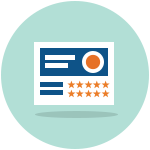 Monitor Reviews
Track client reviews across major directories for effortless review monitoring.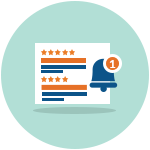 Get Notified
Get daily, weekly or monthly review notifications direct to your email of choice.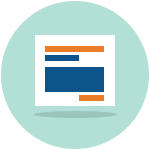 Respond Easier
Access review pages at the click of a button for fast responses and problem resolution.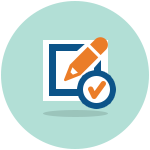 Simplified Data
Monitor customer sentiment with actionable data, aggregate scores and practical insights.
Elevate the Review Monitoring Experience
Get Our Review Monitoring Tool for Your Agency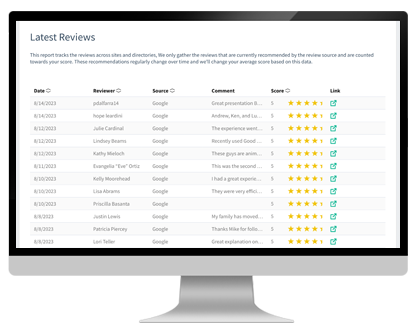 Multi-Platform Review Management
With our Reputation Monitoring Tool, you can track and manage reviews across the directories and review platforms that count. No more manually searching Google, Yelp and others for customer feedback – we'll do the heavy lifting for you.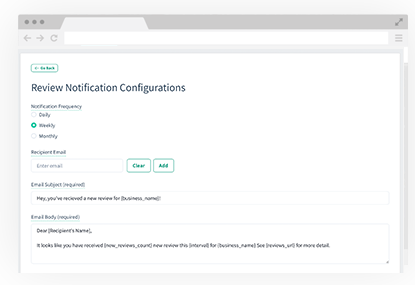 Stay Informed With Review Alerts
Response time is crucial for effective review management. Our solution helps you stay on top of reviews with daily, weekly or monthly email notifications. Simply add your email to be notified, or include a client's email with a custom message.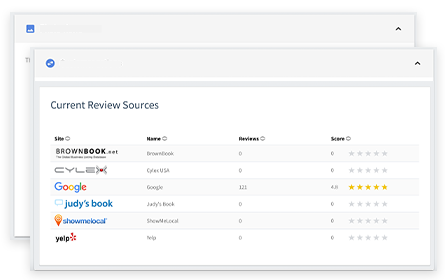 Smart Data Reporting
Get quick insights with reporting that focuses on the data you need. Track how many reviews are listed on each site (along with the aggregate rating and recency score), enabling you to resolve issues and adjust your client's review generation process.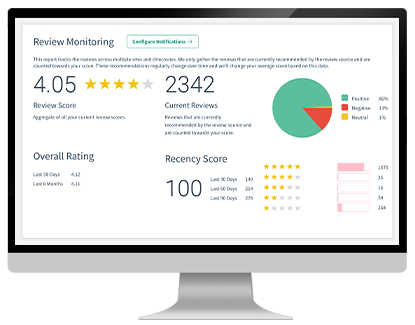 All-in-One Dashboard
Review monitoring is seamlessly integrated into the listing management dashboard for an indispensable local presence management solution. Everything from local visibility scores and data distribution to advanced GBP tools, all under one roof.
How Our All-in-One Solution Transforms Local Presence Management
At Advice Local, we have developed a comprehensive suite of tools for local marketers and agency partners. We all know that review monitoring is an important pillar of local presence management and brand reputation management – and we go beyond, delivering first-class local marketing tools that are cutting-edge, intuitive and versatile.

Real-Time Listing Management
Listing management is at the core of our dashboard solution. Using a custom-designed submission process, we distribute your clients' information to data aggregators, directories and mapping apps in real-time.

White-Labeled Client Reporting
Customize client progress reports, aggregate data from multiple sources, even automate monthly reports with our white-label solutions. Make the dashboard your own by adding branding and setting user level access according to your needs.

Custom Sales Generation Widget
Automate the sales process with a sales tool website widget. When you add a custom widget to your website, potential clients come directly to you to run an online visibility report. Secure motivated leads and long-term clients on autopilot.

Local Marketing Enhancements
Need extra local presence management services that go a step further? We meet the needs of our agency partners through a series of add-ons. Everything from vertical directory submissions to multi-location solutions is available.