Harness the Power of Our Google Business Profile Tools
Monitoring and managing a Google Business Profile (GBP) is no easy feat. Our Enhanced GBP Tools streamline the process with tailored listings management solutions. Sync your clients' GBPs with our user-friendly dashboard to ensure consistency. Use the data insights to increase profile authority and find out how your clients' posts, photos and other metrics are performing.

GBP Sync
Sync your clients' GBPs to ensure the data matches our database.

GBP Auto-Rejection
Protect a GBP from bad data by auto-rejecting Google's public edits.

Google Authority Score
Access deep GBP insights with the custom Google Authority Score.

Google Profile Insights Data
Monitor your clients' progress with GBP data and smart listing insights.
How Enhanced GBP Tools Work
Get Help With the Google Business Profiie Now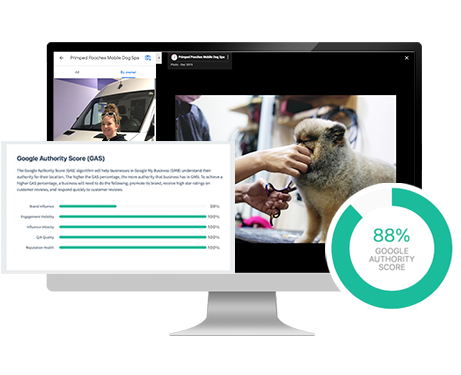 Analyze Authority
Monitor precisely how a GBP is performing using our exclusive Google Authority Score (GAS). Check out the Brand Influence, Engagement Visibility, Influence Velocity, Q/A Quality and Reputation Health at a glance.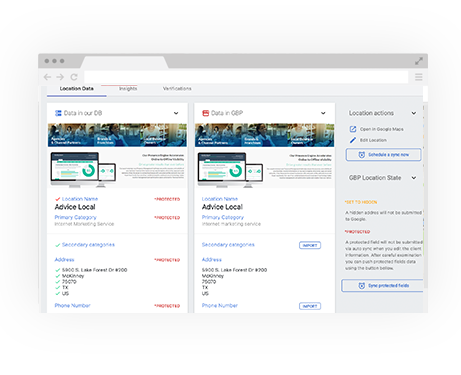 Sync Client Data
Sync a Google Business Profile with our partner dashboard for easy integration. GBP Sync ensures key data like name, address and phone number (NAP), categories and hours always match the master settings.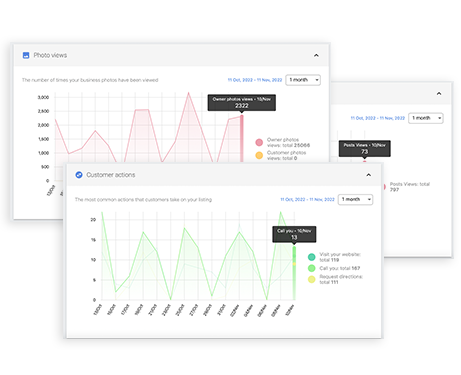 Access Deep Insights
Want fast access to the GBP insights that really matter? Our dashboard makes vital data accessible with the ability to look at post views, photo views and combined customer actions at the touch of a button.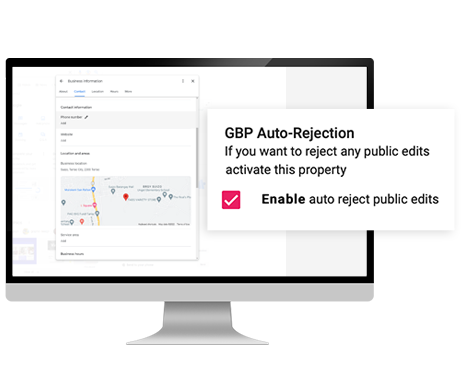 Auto-Reject Public Edits
Google uses machine learning to update GBP listings, but the results won't always help your optimization efforts. Take control of your clients' crucial GBP data with our simple auto-reject public edits feature.
Why Every Business Needs an Enhanced GBP
As one of Google's signature products, Google Business Profile is at the heart of local search. With increasing numbers of consumers turning to Google Search before visiting a store or buying from a local retailer, it's imperative for a business to be found in Google Maps and the local pack. But simply setting up a profile is no longer enough – your clients need an Enhanced GBP. Here's why.

Ranking Factors
A comprehensive GBP helps increase visibility in Google Search and Maps. But bad data and a poor Google Authority Score can hold a business back. Our smart insights and sync tools ensure a GBP is properly set up and optimized to increase local presence.

Storefront
GBP is increasingly becoming a storefront and a consumer's first point of contact with a business. Stay on top of your clients' GBP authority with insightful, data-rich tools to monitor influence and reputation.

Dynamic Profiles
Google has transformed the older, more static listings into dynamic profiles. For a business, this means more maintenance, updated Posts and greater data analysis. Stay on top of the changes with Enhanced GBP Tools.

Website Integration
GBP and website integration have never been more important. An optimized GBP can now funnel visitors to highly converting product, service and location pages on a client's website. Enhance a listing and see the results for yourself.