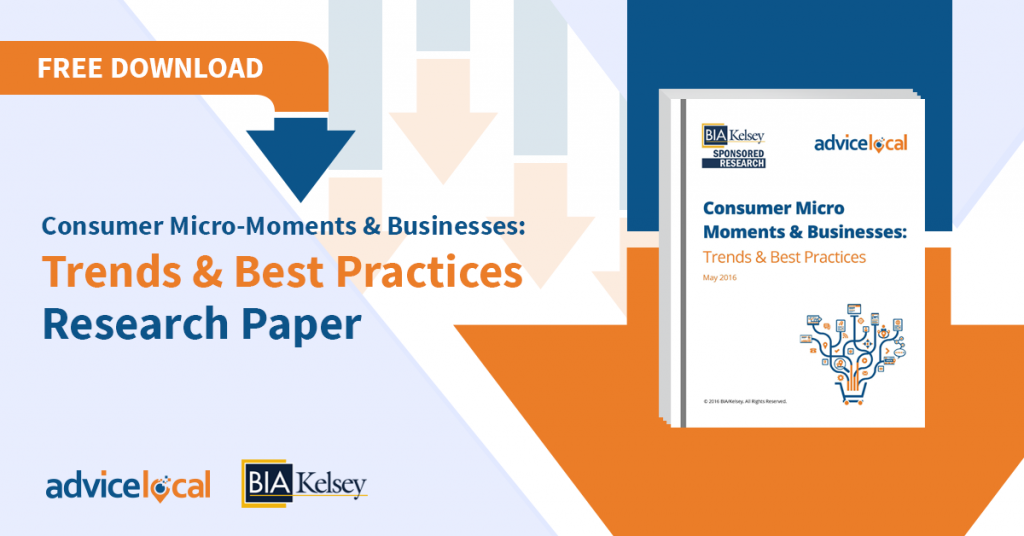 Explore Consumer Micro-Moments
If you follow Google at all, you know that for the past year, they've been speaking to us in terms of Micro-Moments. We know the explosion of mobile search has led us here, but do we understand how vital mobile is in this process?
51 percent of smartphone users discover new companies or products, when searching on their smartphones
91 percent of consumers grab their mobile in the middle of a task for inspiration
Since 2011, "near me" searches have increased 34 times at a rate of 146 percent year-over-year, and 88 percent of those are conducted on mobile
Do we really know how to prepare marketing campaigns around these moments? Have we shifted into the magic of capturing and captivating consumers in their Micro-Moments?
Consumer Micro-Moments Research Paper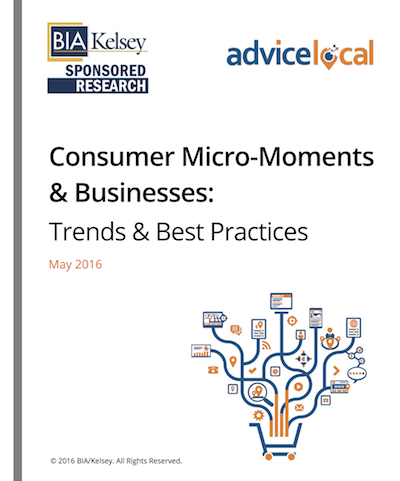 BIA/Kelsey Sponsored Research and Advice Local bring you the "Consumer Micro-Moments & Businesses: Trends & Best Practices" research paper. You'll learn:
Micro-Moments and the Path to Purchase
How Technology Drives Consumer Micro-Moments
Review a Case Study
Best-in-Class Local Presence Strategies
This research prepares you to meet your target consumers in their I-want-to-know, I-want-to-go, I-want-to-buy and I-want-to-do moments. Meeting them there can lead you to your own we-convert-at-high-rates and we're-celebrating-our success moments!
Complete the form below and your download will be instantly available.