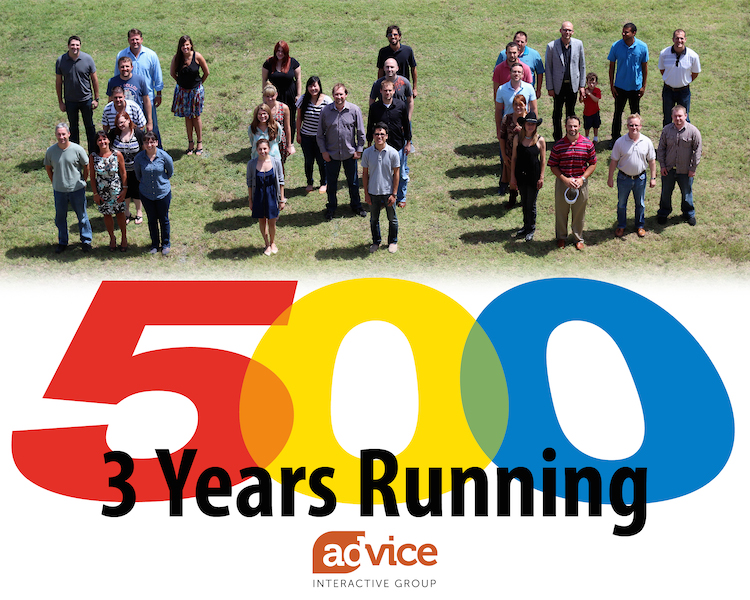 Seriously, you made our Incredible 500 list! When our CEO, Bernadette Coleman, made the announcement this morning that we made the Inc 500 for the third year in a row, I was beyond ecstatic, and sharing the word with all of you is my privilege.
So are you wondering how you made the list just because we did? I created the Incredible 500 … because if you are reading this post, we think you are incredible and you have most likely contributed to our success, just as much as we did, by reading our posts, sharing in the online conversations we have daily, and perhaps being one of our loyal clients.
At Advice Interactive we focus on serving each customer, small or large, by providing the best of the best in web, search, SEO and social media. Whether we are creating your Internet marketing strategy, or researching and writing blogging content, our team gives each client 110 percent.
To make the list this year, our company had to grow more than 942 percent from the start of 2011. The average company on the list this year grew a mind-boggling 3,313 percent. These are results most companies could only dream of, so we definitely feel honored and proud of this accomplishment.
Bernadette sent an official announcement to our team today and said:
"We must be doing something right! In fact, I credit our success to the passionate people that show up here at Advice every day to take care of your accounts and the very products and services we sell as an agency."
Read the official press release here and don't forget to pick up your copy of Inc 500. They included a great story about Bernadette, the challenges she has overcome and how Advice Interactive Group has grown to where it is today!
If you are reading this and thinking to yourself, "I want my company on the Inc 500 list," I can recommend the perfect digital marketing agency to help you achieve just that.