Dallas SEO Company, Advice Interactive Group Continues Trajectory Posting 2,807.9% Growth for 2012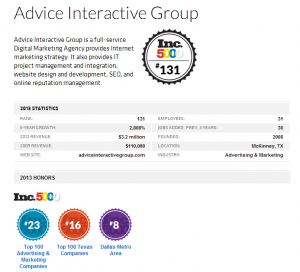 We are pleased to announce that Advice Interactive Group announced today that Inc. Magazine has ranked the Dallas SEO Company number 131 on its 32nd annual Inc. 500|5000 list. For the past two years, Advice Interactive Group has made the list of private national companies who have achieved significant revenue growth year after year.  The Inc. 500 award is an exclusive ranking of the nation's fastest-growing private companies and a comprehensive look at who's who among growing companies.
"We are pleased to have been recognized and named one of the fastest growing private companies in America by Inc. Magazine in 2012," says Bernadette Coleman, Chief Executive Officer of Advice Interactive Group.  "With a strong strategic focus on enterprise level accounts, outside acquisition and the addition of top-tier personnel, we have only scratched the surface of the growth we expect in 2013 and beyond. Making the Inc. 500 list two years in a row further confirms that the leadership decisions we have made over the past two years were the right decisions for sustained growth."
The 2013 Inc. 500 was announced online at Inc.com on August 20, and will be showcased in the September issue of Inc. Magazine.  As stated by the publication, the 2013 Inc. 500 class is "the most exclusive in the history of the awards". The Dallas Interactive marketing company, Advice Interactive Group, moved up the rankings on the overall list, from 155 in 2012 to 131 in 2013, and a ranking of 23rd within the Advertising and Marketing Subcategory. The minimum sales growth to make the cut was 918%, and Advice topped that with revenue growth of 2,807.9%.
Advice Interactive Group continues to implement their strategies for continued growth in 2014 and beyond. Earlier this year, the Interactive marketing agency launched BizVizable, a "business-in-a-box" opportunity for entrepreneurs who are interested in owning and operating their own Internet marketing agencies, but who need an experienced partner like Advice, to help them succeed. Advice Interactive Group also recently added Rob Garner, author of "Search and Social: The Definitive Guide to Real-Time Content Marketing" (Wiley / Sybex 2013), to its team as Chief Strategy Officer, further signaling the group's willingness to invest in top-tier, global talent.
Said Jonathan Kaufman, President of Advice Interactive Group in a recent interview, "After 12 months of relentless focus, we have aligned hand-picked talent, best-in-class technologies and forward thinking strategies to position Advice Interactive Group alongside the top interactive agencies in the country."