Yesterday we announced our first new Advice Local product, GPS point of interest integration. Today we're revealing the second product feature to further expand your business reach: niche citation packages.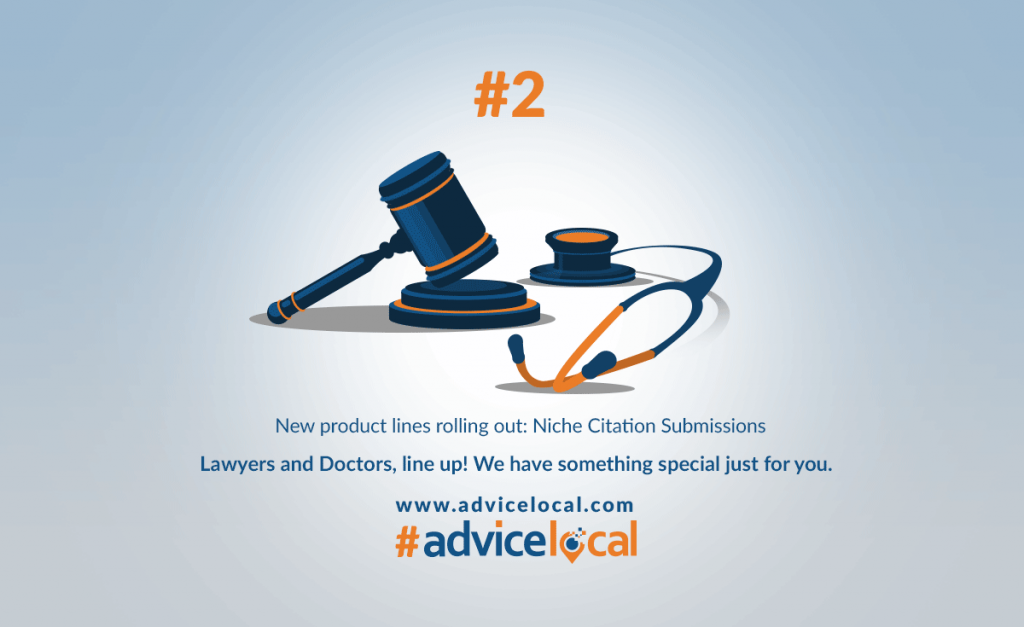 What are Niche Citation Packages?
Niche citation packages are business listings segmented by verticals. Currently, we have a niche citation packages for health and law and are working hard to expand to even more verticals this year! Stay tuned for home services verticals as well.
We've been researching and analyzing citation sources for years, so we know what to look for. We run each one through an extensive 23-point quality assurance test to ensure only the best business listings get added to our packages. These include such metrics as:
Domain Authority
Organic traffic
Index status
Paid/Free
How it Works
If you're a lawyer or health care professional looking for niche business listings …
Sign up with Advice Local
Order Niche Citations Listings
Gain more local visibility
Why Niche Citations Matter
Why bother with niche citations? Not only do niche citations provide a valuable backlink to your site, they also further strengthen the association between your business and your business category. That way, when search engines look at the local ecosystem of your business, it's easier for them to understand that your business is related to your main business category, such as doctor or lawyer. When your business is categorically relevant to searchers, there's a much greater chance users will both find you online and choose your service!
Additionally, customers want to view information specific to the business or service they are seeking. This type of citation source makes it easy for potential customers to see and compare all the lawyers, for example, in their area without having to sort through movers and plumbers as well.
Examples of Niche Citation Sources
We submit to only the top quality niche citation sources. Some examples of niche citation courses for attorneys include:
Examples of citation sources for doctors include:
Healthgrades
DocGuide
RateMDs
HealthProfs
The directories included in our Top 50 package help businesses get on their feet, and our new niche citation packages take them even further. Contact us today to learn how we can build a niche citation package for you. Don't forget to get a sneak peek of our brand new site!