Take Your GMB Optimization to the Next Level
Our enhanced GMB Management Platform is a powerful suite of tools for optimizing Google My Business listings. Automatically schedule thousands of photos and posts to publish with one click. Track all metrics like GMB Insights, phone calls, and Google Maps ranking in visually stunning detail from a single dashboard and demonstrate the value of local SEO for your clients.

Geotag Photos
Schedule photos in advance with tons of meta and EXIF data.

Schedule Posts
Schedule posts and publish to multiple location listings at simultaneously.

Review Management
Organize GMB review management for multilocation in one place.

Detailed Analytics
Detailed aggregated reporting feature going back to 18 months.
The Advice Local Way
Our 100% white-label partner solution makes it easy for us to help you help your customers get found. All of these Voice Presence features come standard with our listing management services — at no additional cost!
How It Works
Why Our Partners Trust Us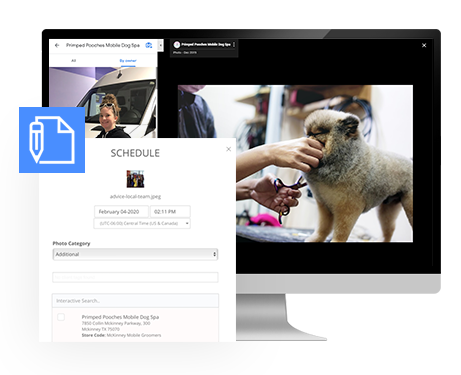 Schedule Photos
Schedule weekly photo uploads with the photo scheduler. The photo tool automatically pulls in location data from your GMB profile and attaches it to your photo metadata. The Photo Optimizer adds keyword and relevant data to over 20 EXIF data points.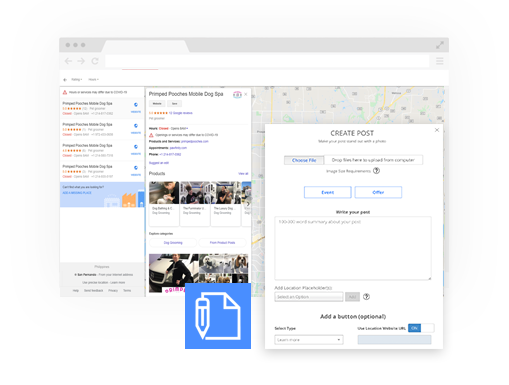 Multi-Post Scheduler
Easily create and schedule all GMB post types and publish to thousands of locations with a single click. Yes, franchise locations too. You can even track using unique codes.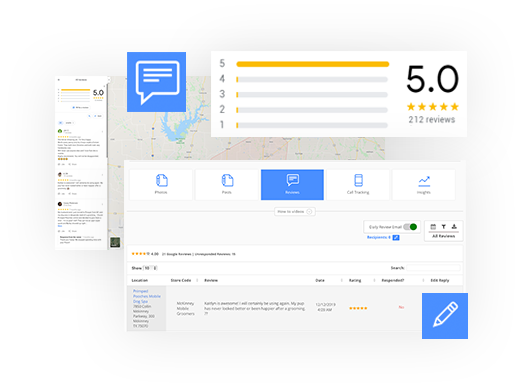 Review Management
Manage reviews for every location from a single dashboard. No more signing into each GMB profile to respond to reviews. Receive notifications with a daily email summary when customers post new reviews.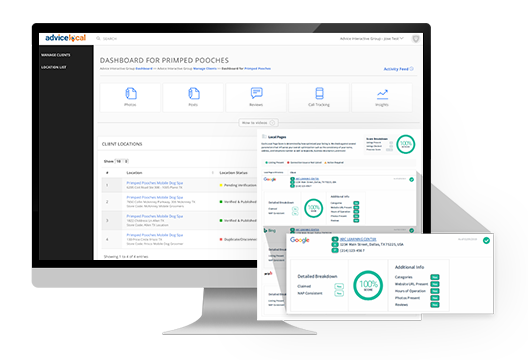 Detailed Analytics and Reports
Get handy features like month-over-month and year-over-year comparisons, review ad and cost metrics like CPA, CPC, engagement rates, and location statuses. Dig into detailed call logs and much, much more.
The Power of Google My Business
Google has over 90% of the search engine market share worldwide. The technology giant has been consistently growing since its launch, going from an average of 18 million searches per day in 2000 to an average of 5 billion searches per day in 2018! Google My Business is one of Google's signature products. The business listing is shown to an average of 236 million users in the United States – an incomparable reach.

100% Accuracy
A Google My Business listing shows a business' name, address and phone number data, as well as their website URL. Google makes it easy to update the business NAP data via their app or website, so the business' information will always be accurate.

The Little Details
Google My Business offers many more optimizations, like images, posts, reviews, hours of operation, services and areas served. This is considerably more information than the average business listing allows.

Easy Insights
The Google My Business platform offers plenty of insights that local businesses and agencies can use to further optimize the business' profile.

Always Connected
Through the Google My Business mobile app, business owners can be always connected to potential customers, and current and former clients. They can instantly reply to messages and reviews right from their smartphone.