Do you ever wonder if Google will stop making changes? I don't like to deliver bad news, but they won't.
As I've mentioned before, Google is 100% focused on providing the best experience for their users. They want all consumers looking to their search engine (and their products and services as well) in their moments of need.
Google has been moving in this direction for many years now, and with an even swifter pace the past few, in my opinion. Consumers today are super-empowered. As Google revealed, this consumer is curious, demanding and impatient. Review their powerful insights on today's consumer here.
The super-empowered consumer puts serious research and thought into their buying decisions. They spend an average of 13 days looking for a specific item before they buy. So where are they looking for these items they plan to buy? The simple answer is online. But they don't just stop at search results – they look at review sites, social media, and to their friends for personal recommendations.
Now that you have some background on the new consumer, I want to talk with you about a few recent changes Google has been making that relate to the Google My Business review component. Let's start with review-gating.
What is Review-Gating?
Review-gating takes place during an online customer satisfaction survey. During the survey process, the third-party tool identifies if the customer feedback is positive or negative – and reacts accordingly.
When the feedback is positive, additional requests will be displayed in the survey for the customer to place a review on sites like Google, Yelp, etc. When the feedback is flagged as negative, the customer journey will take them down a path to resolve the complaint privately. The customer never receives the request to provide reviews on sites like Google.
One of the recent changes GMB made to their guidelines specifically addresses how businesses are handling reviews with these third-party tools. While a business can't filter out negative reviews from being displayed on a Google My Business listing once it's published, many are using these third-party review tools as a filter.
If you represent a business using a tool to collect reviews, find out immediately if they have review-gating turned on and get it turned off ASAP! Google states that businesses that continue using review-gating tools are at risk of having reviews removed from their GMB listing altogether!
Review Response Notifications to Start Hitting Customer Email Inboxes
Google just announced they will start notifying customers who have posted a review on a GMB listing when the business responds. Other review sites like Yelp and TripAdvisor have notified reviewers for a while, but now it seems Google is getting onboard too. And this is good news for businesses.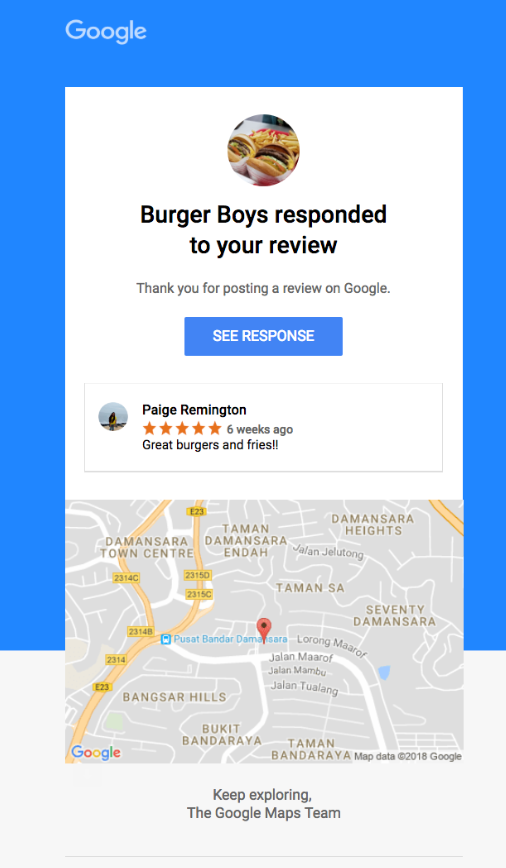 In their announcement, Google said: "When businesses respond to, or update responses to customer reviews, the customer now receives an email notification. The business' response is published immediately and 5 minutes later, the notification is sent. This 5-minute delay allows time for the merchant to make any corrections to their response after submitting."
This change means businesses will have an even better opportunity to convert a negative review or experience into a positive. Also, this provides a way to turn reviewers into potential brand advocates in the future.
Reviews Influence Buying Decisions
2 out of 3 customers say having positive reviews about a business or product is an important factor when they make buying decisions.
We all know customers are quick to offer a review when they've had a negative experience vs. a positive one. It falls to the business owner to elicit reviews from happy customers, but they must do it in the right way.
Reviews are very important, so keep reading for how to get more of them.
1. Make it Easy to Give a Review
Customers are more likely to give a review if the process is painless. Include links in emails, on receipts, and on the business website. Spending the extra time creating clear instructions on how to leave a review is also a winning way to get more reviews. I have some additional review tips here for you to consider.
2. Feature Reviews to Get More Reviews
Customers are more likely to offer a review when they see other reviews. This serves as a little reminder about their own experience with a business, and prompts them to join in, too.
Share reviews with them on social media, the website, and maybe even in some print pieces. Google has a resource for businesses, "Small Thanks with Google," that enables business to promote their business with personalized marketing materials. They can turn reviews into graphics and posters to display at the brick-and-mortar location. People like to see their name up in lights – it makes them feel good!
3. Stop Hiding and Start Managing
Besides asking for reviews, one of the ways to collect more positive reviews is by responding to the ones a business currently has. When a business responds properly, it shows those reading the reviews that the business truly cares about their customers and their experiences.
No one likes to be criticized, and this includes businesses delivering products and services to consumers. Google provides some general best practices for responding to reviews here to help get started.
While hiding negative reviews is tempting for any small business, responding and resolving them is the best approach. Here are some tips to help with that.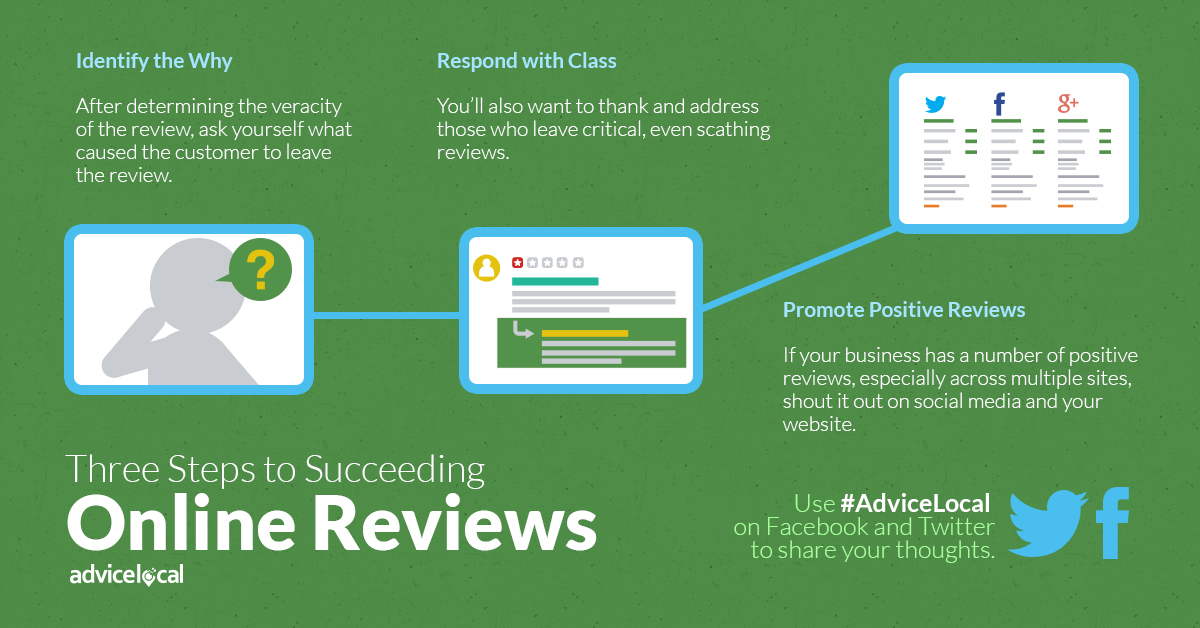 Turning a negative customer experience into a positive experience demonstrates the best customer service a business can provide.
We're Here to Help
Managing reviews and reputation starts with monitoring. Did you know our local presence management solution has review and social sentiment monitoring built right in?
Find out how easy it is to monitor and share reviews from our partner dashboard today. Request a demo to learn more!