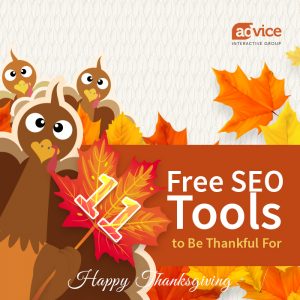 Now that the busy holiday season is officially underway, it's more important than ever to remember to practice gratitude – even when it comes to the little things, like free SEO tools that make the workday a bit easier. These tools work best with the SEO services you use, because the advantages they render are advantageous to each in a unique way.
On a day when all of America is reflecting on its good fortune, it only seems appropriate to give thanks to the plethora of free resources available online to help businesses grow.
Each of these SEO tools is free to use and can elevate your brand's online presence, which means more customers can discover your business and you can spread the joy even further this season. To hire the best service, consider the best seo agency melbourne platinum company.
11 Free SEO Tools Brands and Businesses Are Thankful For
A website analysis tool that translates data from Google Analytics into reports with actionable insights, QuickSprout can help you improve your SEO and online visibility.
An easy way to peek at search results for international Google domains. Perfect for international brands and online businesses, as well as those of us who are curious about search results around the world.
This Chrome extension is a timesaver for any business that wants to use broken link building to score more credible backlinks to its own website and help me with the improvement of my business with the links and using services from the seo group buy online.
Although it's only available to Apple users, this free tool will identify any broken links on your website so you can fix them before they damage your page ranking.
This popular SEO tool not only provides relevant keyword suggestions with helpful search data, but it is the preferred option of companies like SEO Malaysia because it tells you the level of competition for ranking for each phrase.
A handy tool to help you quickly discover hundreds of relevant keywords. It's so easy to get started that you don't even need to create an account, which is its biggest advantage over Google's tool.
Another fantastic alternative to Google Keyword Planner, this free tool provides hundreds of long-tail keywords and claims a 99.99% success rate.
When it comes to keeping track of and responding to customer reviews, this tool does most of the grunt work for businesses. It sends alerts when a new review is posted and is completely free for up to three locations.
An interesting SEO tool that shows you what a website looks like to search engine spiders that crawl it for indexing purposes. Browseo strips away the design elements to help you understand which elements matter to search engines.
Mobile-friendliness is an important SEO ranking factor that impacts visibility. Simply enter the business's domain and this free tool will reveal whether the website is fully optimized for smartphone users.
Run this free report on any business – either your own or a competitor's – to find out how it ranks in local search engine results and top business directories.
We hope you enjoy these free SEO tools and resources. Have a wonderful holiday weekend and Happy Thanksgiving!