Let's face it. In today's world, your customers are doing quite a bit of research online before they ever contact your business. And often times, they select one business over another because of online reviews. Many of our clients ask us, "Where should my clients leave me reviews?" This may seem obvious, but our recommendation is to get as many reviews on several of these sites.
Here are three tools to help you determine where to direct clients to leave reviews:
1. Know Your Audience
Before you ask your clients for reviews, make sure you know and understand your audience. Sites such as TripAdvisor might be vital to the success of a hotel, but Angie's List might be necessary for local plumbers or contractors. If your business is a local restaurant, Yelp is likely a major review site for you. Customers are able to log into the app from anywhere, write descriptive positive or negative reviews, and even include photos in their reviews. But, did you know that Yelp uses filters to hide various reviews of certain businesses? Take a look at this screenshot from Yelp of a local restaurant in Dallas, Kenny's Wood Fired Grill:

This restaurant was recently named one of the top 100 restaurants on Yelp – nationwide! And you will see they currently have 1300 reviews. But if you scroll down, you'll notice that Yelp automatically puts their 'recommended reviews' at the top. You can adjust the filters to show 'newest' reviews first, but Yelp still dictates which reviews you will see.

Then scroll down to the bottom of the page, and you'll notice this:

This is proof that not all reviews will be created equal. There may be glowing (or damaging) reviews that Yelp has chosen to 'hide' for whatever reason. In addition, Yelp has a policy that discourages business owners from asking for reviews, and they also encourage companies to buy advertising with them – which may show up before their competitors in local searches. It's no secret that many local businesses have expressed concern with Yelp's tactics.
2. Make it Easy
The number one reason customers do not leave a review after a positive experience is simply because they feel the process isn't simple enough. Perhaps they want to leave a review on Yelp, but don't have a user name set up yet. Or you ask them to leave you a review on TripAdvisor, and they've never used that site before. For example, everyone probably spends time shopping for products on Amazon. But take a look at a company that sends an email following a purchase, with a request for feedback, as well as instructions and links. They even use the term 'it's easy.'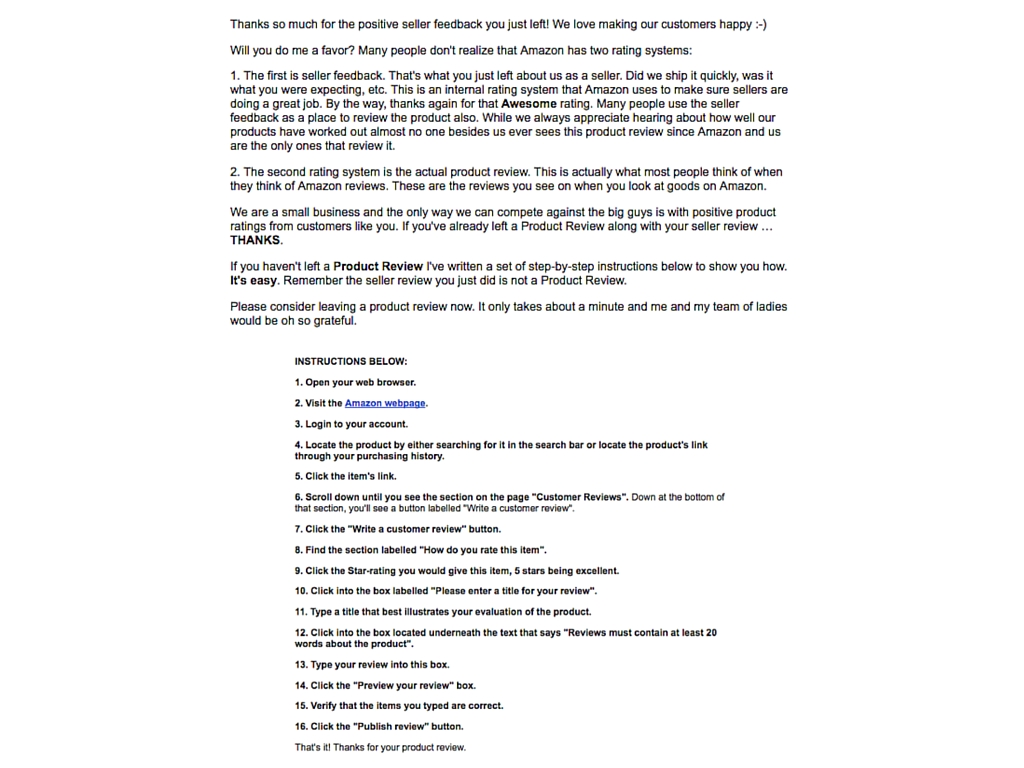 The bottom line – make it easy. Give them choices. Some companies send an email with links to three review sites, with a request that the client take a moment to leave at least one review. Perhaps one of the sites you send allows customers to use their Facebook login to access the review site. By offering some choices, you give them the ability to choose the platform they want. Plus, if you happen to have a review-site-savvy customer, they may jump at the chance to leave you review on multiple sites!
At Advice Local we've made it easier than ever for our clients to collect customer reviews. By implementing our new review tool, your customers no longer have to leave your site to review your service or product on the major review sites. There's no easier way to get reviews than that.
3. Visibility Matters
If a business owner wants to grow their presence online, our team at Advice Local will assist them with making sure their site is listed everywhere, especially Google. And it may seem pretty obvious, but having reviews on Google will likely affect your ranking positively. When a potential client is searching for your business, your Google listing might include your reviews. Just keep in mind that your business needs at least 4 or 5 reviews on Google before they show the stars. Just like Yelp, Google also filters reviews, so some of them may not be visible or used in searches. But if you have reviews on several sites, such as Yelp, Google, Yahoo Local, etc., then your business may rank even higher in a search. Why is that important? Customers are often choosing a business out of several listed online. Businesses that rank higher are typically going to yield more traffic.
Take a look at what shows up in a simple search for "Steak Dinner Dallas, TX":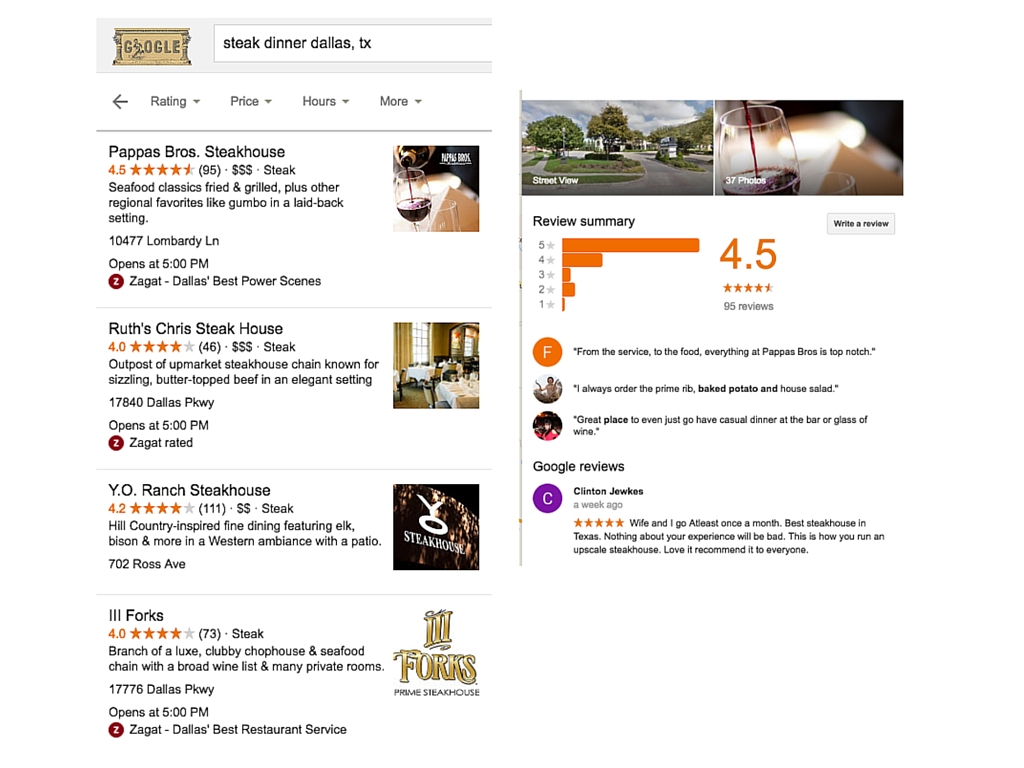 As you can see, the restaurant at the top of the page one search results appears to have the highest Google Plus rating, a 4.5 with 95 reviews. But look what happens when we expand that listing for the top restaurant listed: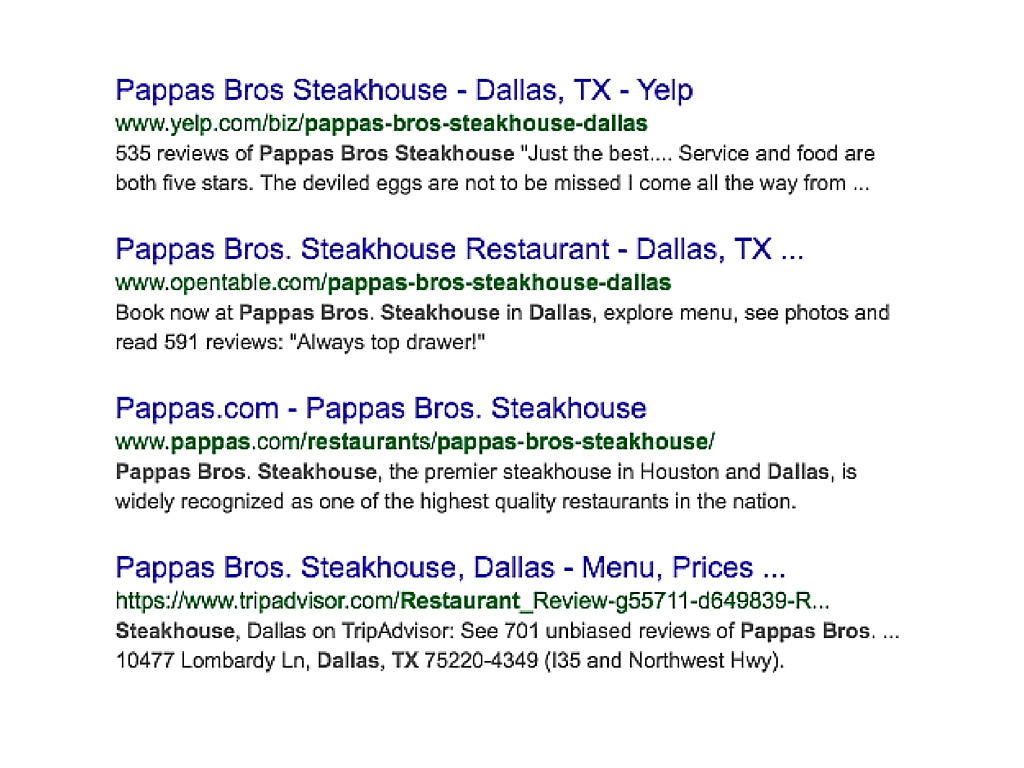 The restaurant that appeared at the top of the page one search results also appears to have reviews on three other sites: Yelp, OpenTable and TripAdvisor. So this further supports the idea that reviews on multiple sites only helps your ranking and visibility.
So while having reviews on any review site is a smart idea, there's quite a bit of evidence out there to suggest that a multi-faceted approach is the most strategic. When your customers are searching online, having reviews on multiple sites will likely add legitimacy to your business, and attract more ideal customers. Ultimately, having positive reviews is really what matters most, so focus on getting those first.