Today we wanted to tackle Apple Maps and the changes they've been making, specifically in relation to ratings. But first, a recap….

Apple Maps Added Ratings in iOS14
As reported by 9to5Mac in August of 2020, iOS14 beta 6 included a new UI that let users recommend a place. Mike Blumenthal actually wrote about it then, sharing some insights and speculation on the value of this move, such as will review spam be an issue, could this mean a bigger decline for Yelp business users, etc.
Back then we had this to say – "If they roll this out to all businesses it could be a game-changer for local search. At this point businesses don't have a way to respond to consumers that give their business a 'thumbs up' or 'thumbs down' on Apple Maps." Today this is still the case.
Apple Maps Prioritizes the User Experience
In November of 2020, Apple sent out emails to users stating "now there's more to Maps than just maps," and directed us to an announcement about the changes they're making to Apple Maps.
While Apple didn't actually use the words user experience, from the changes made you can determine that they are focused on improving the user experience. Changes included more detailed mapping in malls and turn-by-turn spoken directions whether walking, driving or cycling. We actually covered these Apple Maps changes here, along with a few more.
Apple Maps Ratings Are Now Hitting the Mainstream
Fast forward to the present day… it seems Apple Maps has now released the ability for most businesses to get reviews on their mapping platform to the US. And once again, Mike covered the topic in great detail.
As Mike pointed out in his article, "Apple has made leaving feedback on a business very simple with a Netflix-style thumbs up or down for many business categories. The rating feature does not include any written review, but for many categories Apple also allows for an additional thumbs up and thumbs down rating of attributes."
At Advice Local, we dug into this a bit more. For many categories it allows for additional attributes, and naturally we wanted to see those categories for ourselves.
What Categories Have the Additional Apple Maps Rating Attributes?
We got the same results as Mike for doctor listings in Apple Maps. We checked an eye doctor, a dentist and an allergist – all of them only have the single thumbs up or thumbs down. We also checked his other examples – restaurants, jewelry stores, tire stores and hardware stores – and confirmed they have the additional attributes.
What Business Categories Do Not Have the Apple Maps Rating at All?
According to Mike, "lawyers, professional services, government and academic institutions do not allow ratings," so we wanted to identify specific categories that didn't allow for ratings.
At first, we thought perhaps it was only home services businesses that didn't have ratings, since we checked a plumber, electrician and air conditioning repair company. Then we checked a flooring store in Dallas – nope, no ratings available for them either. Interestingly, a paint store does have the ratings feature. Their category was set as paint store vs. the flooring store, which has their category as flooring. Seems store may be one of the differentiators.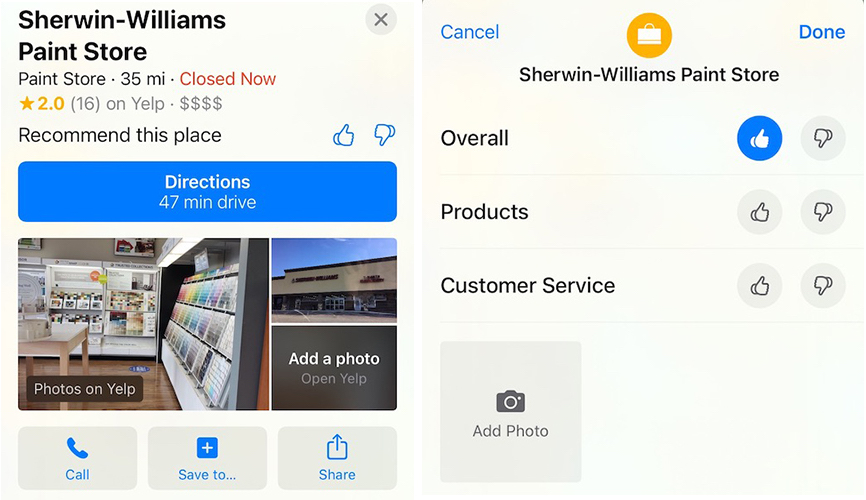 We are sure there are more categories that do and do not have Apple Maps ratings at this point. We can confirm that if you want your local business clients to be able to receive ratings on Apple Maps right now, the category for their listing will be extremely important. And you'll have to do some research before you determine what that best category is.
Local marketing and agency partners, we checked for you too. Seems those in the marketing category don't have ratings either, which was expected since this falls under professional services.
How Can Apple Maps Ratings Impact Your Local Business Clients?
Since the user has to be logged into their Apple account on their iPhone to leave a rating it will be harder to spam the system, which is good. However, since it's so easy to click to give a thumbs down, with no ability for the business to reply, it's also not good.
At this point, in the US the rating is only visible to the person giving the rating. You can expect these ratings will be visible in the US soon. Apple reviews have already replaced Yelp reviews in some countries. You can expect it will happen here soon as well.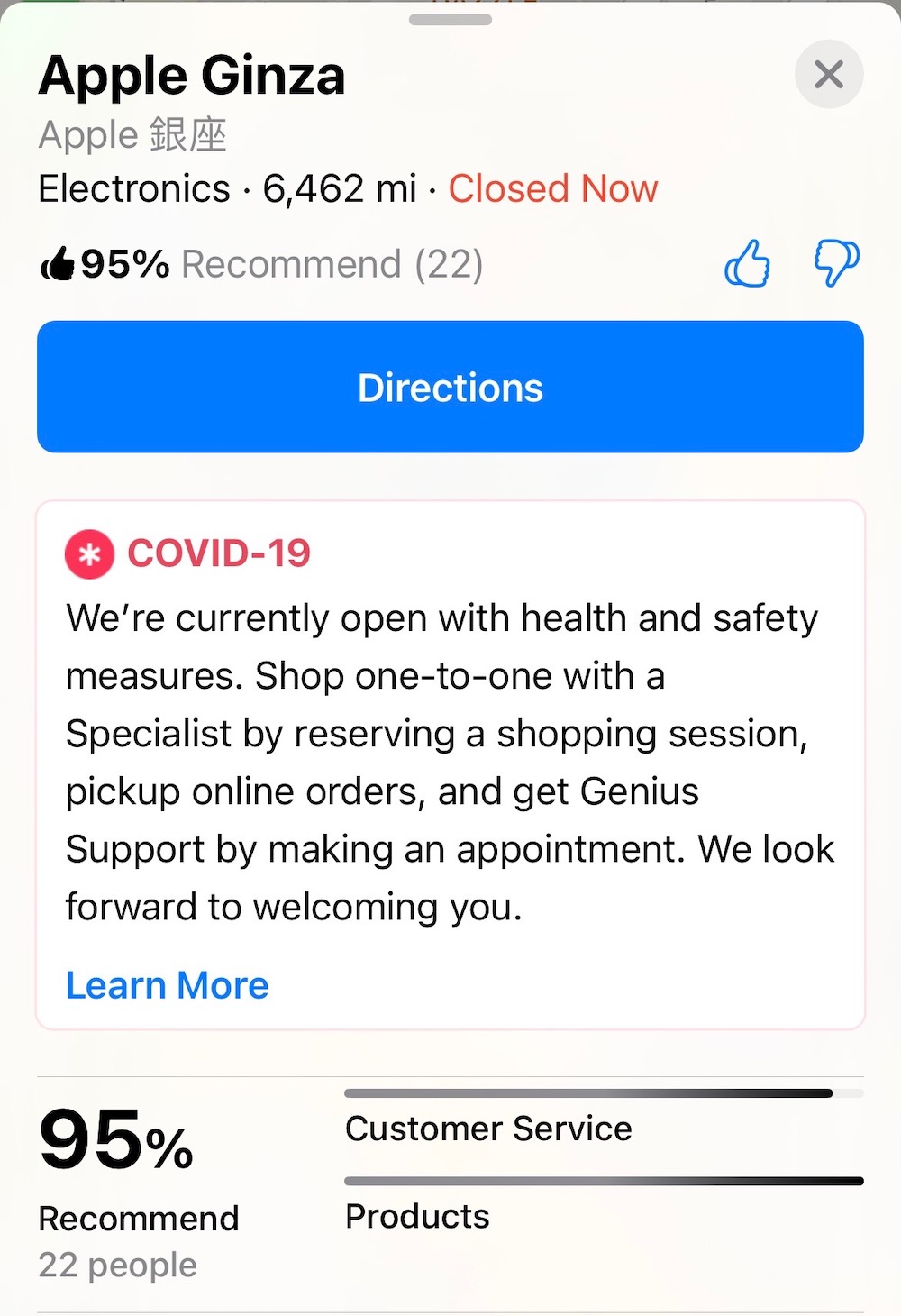 We can only assume that once Apple ratings rolls out to the US, the more thumbs down a business receives will mean that the less Apple Maps will surface that business as a recommendation in typed and voice searches. Just like negative reviews impact a Google Business Profile (formerly Google My Business) in maps, you can expect the same with Apple Maps.
Apple Maps Users Are Encouraged to Upload Photos, Too
Perhaps you noticed above the upload photo option when a user is adding a rating. Apple has provided ratings and photo terms that include details on the types of photos that are not acceptable. They also clearly say that "Apple may, in its discretion, suspend and/or terminate the accounts of users who violate these Terms (including users suspected of engaging in illegal activity) through their use of this Feature."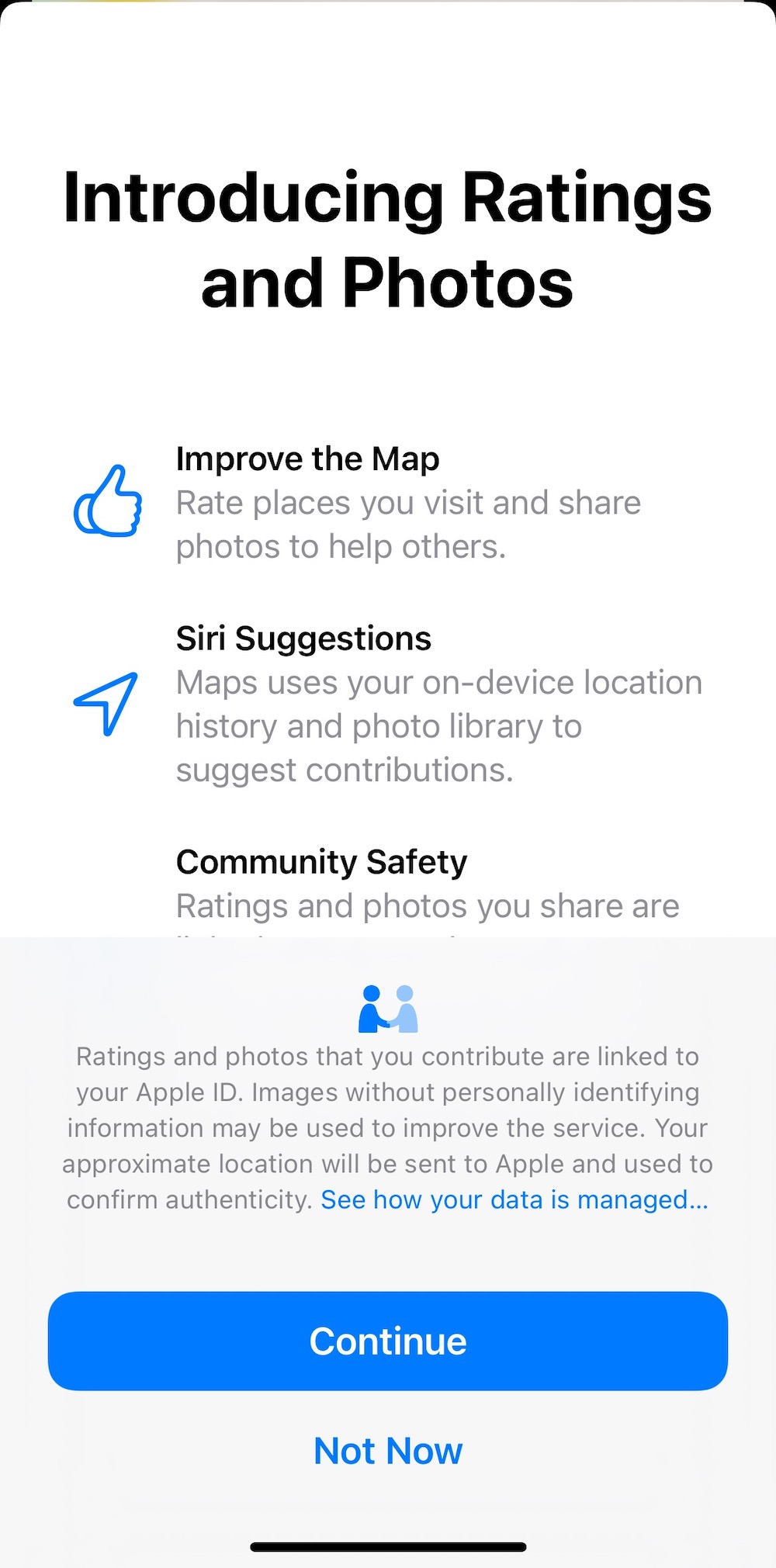 In the US, currently the photos and reviews are pulling from Yelp for Apple Maps. When the ratings change on Apple Maps the photos certainly may too. It is changed for the Apple Ginza listing, if you want to search that on Apple Maps and give it a look for yourself.
What's Important to Know About Apple Maps for You?
We've covered this before, but we'll say it again – every local business with a brick-and-mortar location needs an Apple Maps listing. If you are an Advice Local partner, we take care of creating Apple Maps listings for you. If not, we share details on how to create and optimize an Apple Maps listing here.
Request a demo of our solution, and our team can walk you through all the business listings we create for local businesses, including Apple Maps, Waze and much more. Call us at (214) 310-1356 to learn more today.