Last week we discussed why local businesses need solutions for mapping apps and in-dash navigation. This week our theme is a task that's often overlooked – writing business descriptions for your clients' business listings.

Are You Optimizing the Business Listing Descriptions You Are Writing for Clients?
Business descriptions are needed everywhere, from Google Business Profile (GBP) and Bing Places to Yelp and LinkedIn. As an Advice Local partner, it's probably safe to assume that you've written a good number of business descriptions for your local business clients.
But how much time and effort do you spend crafting these descriptions? At Advice Local, we've become accustomed to finding descriptions that were seemingly created with little to no thought put into them.
These descriptions can play an important role for consumers and for search engines. However, all too often these low-quality descriptions are added to a business' GBP, or dropped into our listing management partner dashboard for use in online business listings around the web.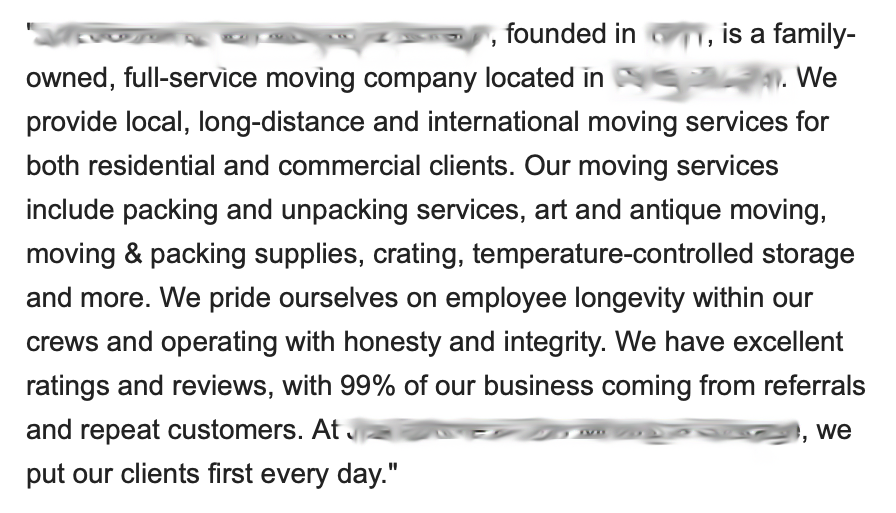 How to Create a High-Quality Business Listing Description
Fortunately, writing an engaging business description doesn't take too much work. Most of the heavy lifting will occur at the start, then each description can be adjusted to satisfy a site's requirements. Simply take your master description and adjust it as needed, such as for platforms like Twitter that call for a lower word count. Here are the main elements to consider.
1. Create an Overview
A good place to start is by describing your client's business clearly and concisely. Remember, the Google Business Profile allows 750 characters (including spaces) to work with. LinkedIn provides up to 2,000 characters, while Twitter limits you to only 160 characters. Ideally, a good business description can be adapted to all platforms without losing the essence of the business' identity.
2. Develop a Keyword List
Avoid keyword stuffing at all costs – along with any other low-quality content – but do think about the keywords that offer the most potential. What are the search terms most likely to reach ideal customers and deliver targeted traffic?
3. Identify the Brand's Tone
Clients will usually have a brand tone that can be identified across marketing materials, website copy and blog posts. Think about the consumer's journey from GBP or another platform to the website, and make sure it's congruent.
4. Include the Location
Don't forget to mention the main city or regions where your clients are active. We've talked before about proximity and its growing prominence as a ranking factor. When you can add geographical relevance to the description, do so.
5. Highlight a Point of Differentiation
Why should a consumer care about your client's business over any other listing? To a consumer discovering a business for the first time, a unique factor can make all the difference. For example, if your client is one of many businesses offering the same service, including a differentiator such as their guarantee or mission can show how they are better than the competition.
6. Showcase Credibility
Building initial trust can be achieved even when you have a limited character count. For example, a long-established or award-winning business could briefly mention these factors to add credibility.
Because so many businesses pay little attention to their descriptions, it's a clear opportunity for you to help your clients stand out. As we have discussed many times before, consumers are heavily influenced by the results they find in local listings, and it plays a major role in their buying decisions. With just a little extra work, your clients can carve out a distinct advantage in their particular field.
Try Our Agency Partner Business Listings Solution
Do you need help managing your clients' business listings? Our partner dashboard helps create and manage business listings on the platforms that count. Why not try it for yourself? Request a demo today and find out how we make business listing management simple. Call (214) 310-1356 for help.