A recent post on the BrightLocal blog compared several different citation services providers in a wide range of categories. While we'd like to thank the author, Myles Anderson, for shining a light on how various providers stack up against each other, we'd also like to take the opportunity to show you how Advice Local matches up against what Anderson terms the "most prominent services in the market." Anderson looked at six citation services companies: BrightLocal, Yext, UBL, WhiteSpark, Synup and MozLocal. To his credit, he was more than forthcoming regarding the fact that he took an unbiased approach even though his company was among those being compared. He also welcomed all comments – provided, of course, they were not purely self-promotional. He compared the different citation services in 18 different categories (which you'll see in the table below). Many of these include vital features that citation services provide. However, as you can see, not all of them offer those features.
Hard Evidence
We're posting this blog because we would like to show how Advice Local stacks up to some of these other providers – we want you to know just how much we have to offer. You'll see that we provide several features that the "Big 6" don't. Along with that, we also want to make sure you realize some of the other reasons you should consider us:
Our services are all manual.
Our process of finding citations and filtering them is the best in the industry.
Everything we do goes through a stringent QA process.
Our team includes more than 200 seasoned professionals.
We welcome you to compare us side-by-side with other providers. You'll see how we excel in areas where the others come up short.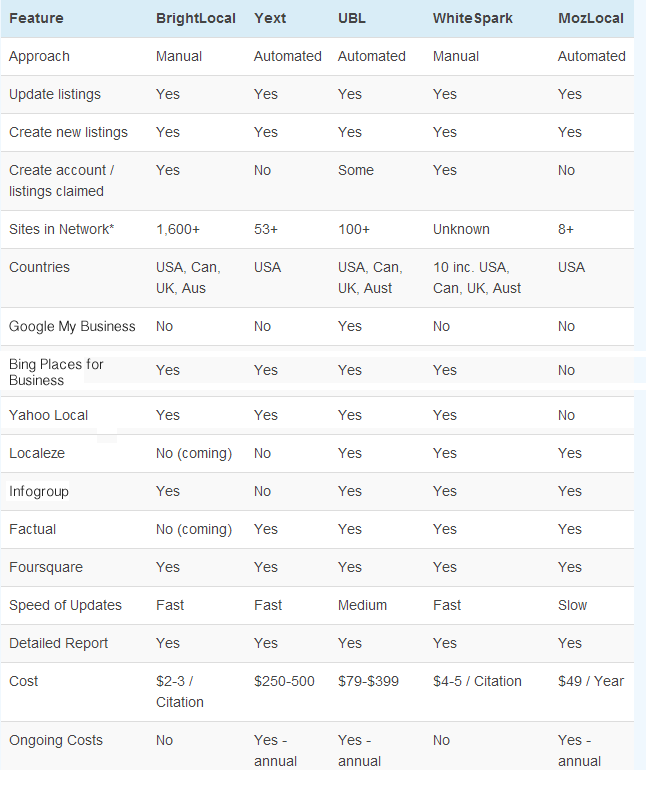 Advice Local: Superior Value
Here is what Advice Local comparison looks like:
| | |
| --- | --- |
| Approach | Manual |
| update listings | Yes |
| Create new listings | Yes |
| Create account/listings claimed | Yes |
| Sites in network | 20,000+ |
| Countries | USA, UK, Australia, New Zealand, France |
| Google My Business | Yes |
| Bing Places for Business | Yes |
| Yahoo local | Yes |
| Localeze | Yes |
| infogroup | Yes |
| Factual | Yes |
| Foursquare | Yes |
| Speed of updates | Super Fast |
| Detailed reporting | Yes |
| Cost | $29–$299 |
| Ongoing costs | No |
We also offer the following features that further set us apart from the competition:
| | |
| --- | --- |
| WhiteLabel reporting | Yes |
| PDF friendly reports | Yes |
| Turn around time | Most products 10 business days |
| Customer support | A dedicated team that is only a phone call away |
| Citation cleanup | Yes |
| How many submissions in total as of May 2014 | Over 1 million |
| Recheck to make sure listings go live | Yes |
| Languages spoken | English, Spanish, Aussie |
We hope that when you make your own comparisons between citations services, you'll weigh all the evidence and consider Advice Local. Call us at 855-714-7634 or contact us online to learn more.