The Internet has made it easy to write about pretty much any subject you want, but good business means writing about something that people will care about. It should also be related to your brand somehow, or the search engines could find it irrelevant. But how do you make content relevant?
Why Research is Key
When I know I will be writing a blog post, eBook, or even something related to what I do on a social media site, I always research. Usually, research doesn't even have to be extensive. What I look for is what my peers are reading about, the trending searches on Google, the big thing in pop culture at the moment. Just this simple knowledge can turn an average piece of writing into a masterpiece.
Two of our own have been able to use this method in writing our blogs. When I wrote about Doctor Who in "How Doctor Who and Quantum Physics Can Help with Your SEO Content Writing," I researched the show not only because I knew and enjoy the subject, but because I also knew that many of my friends, colleagues, and family members would love to read something related to Doctor Who. Another shining example of content relevancy is in Kaitlin's blog, called "What Daniel Day-Lewis's Method Acting Can Teach Writers." Strategically posted the same day that Lewis' new movie Lincoln came out, she caught the attention of many movie fans.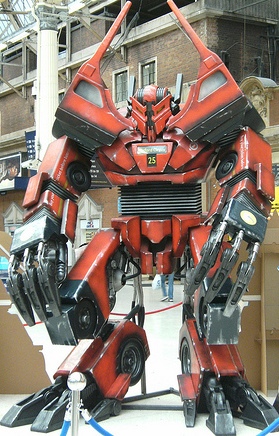 Transforming Content for Reuse
Now, the dilemma is that you've written a great blog or eBook, but a month or so passes, and it becomes useless. Right? Wrong! People are constantly re-purposing great content. In fact, in general, what was good a few months ago is still good now.
Content works much like a transformer. Bumblebee and Optimus Prime transform into vehicles for camouflage and transportation and back into their normal forms when they need to fight. The same can be applied to content.
For example, let's say you wrote a blog about the types of pancakes. A few months later you can take that same idea and some similar content and create a recipe book or even an eBook about the best foods to have with each of these pancake types. The content from your first blog will still be relevant and is easily shareable again through your social networks.
The key to re-purposing blog content is to choose subjects that people want to read about and to make that subject entertaining and informative—then you have a timeless piece that you can transform and re-purpose as many times as you want!