As you well know, search engine optimization (SEO) is a crucial component of a local business' digital marketing strategy. Really, no matter the type of business trying to attract new clients, how visible a brand or business is in search results will directly influence how successful they are.
Since I just finished up my DIY SEO Audit series that walks readers through a comprehensive audit process, I thought it would be a good time to touch on the basic SEO strategy for a new business' website.

The Starter Steps for Developing a Basic SEO Strategy
Any business serious about being successful in 2018 must have at least a few SEO basics implemented into their digital marketing strategy. To help these businesses get started, here is a process they can follow.
1. Develop a Keyword List
Keywords will act as the basis of the SEO strategy. The keywords the business chooses to target will determine which searches they may rank for and the message they will convey to site visitors that come across their content. To ensure the business is reaching the right individuals, proper keyword research is a must.
To begin, the business should come up with a list of keywords to target. Start this list by writing down a few words, terms or phrases that someone may search for when they're looking for the business. This should include different variations and the products or services that the business offers, too.
Start with 10 primary keywords that are a good fit for the brand or business. Then, plug those keywords into a keyword research tool, such as Google's Keyword Planner. The tool will also provide LSI keywords that may be popular with the target audience.
When selecting the keywords that the business is going to target, they should consider what individual words or phrases the target audience may use when searching for their products and services. Look for keywords that have a significant search volume but low competition, and be sure to include long-tail keywords into the SEO strategy as well.
As research continues, compiling a list of about 10 to 15 keywords is an ideal starting point. Remember, these keywords are not set in stone. Creating a robust SEO strategy involves some trial and error. The business can always come back and make changes if they find a keyword wasn't a good fit.
2. Create Pages Focused on Each Keyword
After the business has developed their list of keywords, they need to create pages on their website to help them rank for the specific words or phrases they decided to target. Rather than trying to include all the keywords within one or two pages, they need to create a unique page on the website for each one. The business needs to ensure the keywords fit naturally within the page content.
For keywords that are different variations of the same phrase (LSI keywords), the business doesn't need to create a unique page for each, but instead work the different variations into the content while ensuring it flows smoothly.
The business definitely needs to create unique pages for each of the products and services they're offering. This provides for additional keyword rich content opportunities that can potentially be found by a consumer in search results.
Within each page, the business needs to create content that is useful and relevant to the target audience and site visitors. Rather than creating pages packed with keywords and phrases they hope to rank for, include descriptions, information, and images that can help the target audience make a purchase decision.
While driving lots of site traffic is the goal, it's equally important that the target audience finds the page(s) they visit valuable. Search engines want to ensure they're delivering search results that will be useful to their users. Putting the reader's needs first can help guarantee this. Make sure the content fits within Google's E-A-T guidelines.
In addition to page content, each of these pages (and posts, for that matter) also need to be optimized to include the keyword focus within title tags (H1, H2, H3, etc.), page URL, image names and alt tag descriptions.
The business doesn't need to create all the pages at once. Instead, determine what keywords are the most important for the website's placement in search and start there. From there, begin to develop additional pages to match the keywords by order of importance.
Monitoring the results is important, and making adjustments or fixing mistakes early on can greatly benefit your efforts. Using Google Analytics will enable the business to see how site traffic is growing, how long site visitors are spending on particular pages, the bounce rate and even demographics like age, location, etc.
Through Google Search Console the business can see what keywords their website is getting found for in search results, how many impressions the specific phrases are getting in search results, CTR (click-through rate) and position within SERPs (search engine results pages).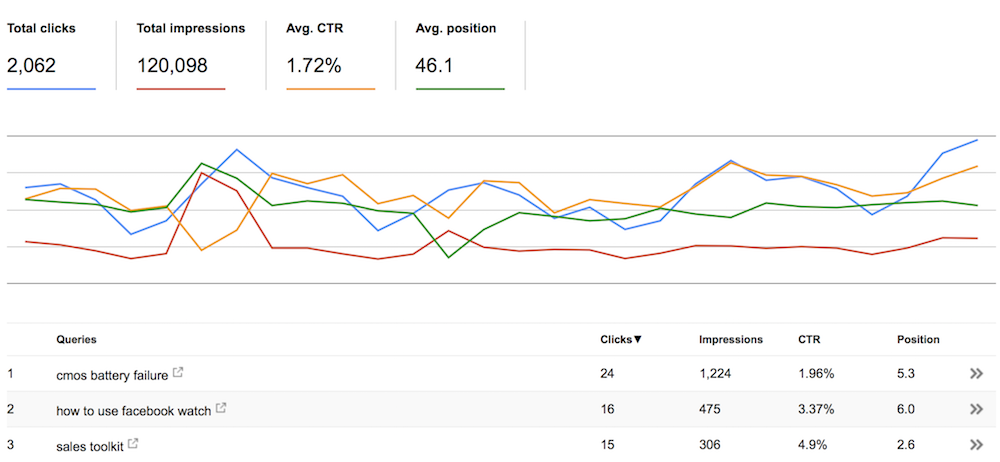 Shown in the example above, if this business is wanting to place in search results for "cmos battery failure" being in position 5.3 means they are on the first page of search results. This is good, but ideally, they need to work to move into the third position. If this business wants to place for "sales toolkit," they are in good shape and should continue to monitor to make sure they maintain the position. Search results fluctuate as new pages and posts are created and published by competitor sites, so SEO is not a one and done process.
3. Get Busy Blogging
When a search engine delivers results for various searches, it will look to sites that frequently use those terms or phrases. They're not going to want to recommend a website page that is merely plastered with a specific keyword. Instead, they prefer a highly relevant, accessible and detailed page that the user will find valuable as mentioned earlier.
Rather than having just a few pages to target a specific keyword, a blog allows a business to consistently publish new information around the topics their target audience is seeking.
The business should also share links to the blog posts on social media and in email newsletters. These blog posts allow the business to catch the attention of their target audience and convince them to also share the information with their friends and family.
Social shares and visits on blog posts can tell a search engine that the content the business is providing is valuable to their audience. If they find site visitors are frequently coming to the site and engaging with the content, they'll push the content closer and closer to the top of SERPs.
Within the blog strategy, the business will want to consider what the target audience will be looking for when visiting their site and make sure to provide it. (E.g. explanation of acronyms like I did with SEO, CTR and SERPs within this article.) When the business focuses on providing valuable content that potential clients and customers will want to engage with, they greatly improve the strength of their SEO strategy.
SEO Strategy Doesn't Have to Be Intimidating
If you represent a business that understands how important SEO is but is unsure how or where to start, you've come to the right place! Be sure to come back next time, I'll be sharing the next three steps.
Advice Local develops and implements local SEO strategies each and every day for local businesses around the web. We're here to help – request a demo to learn more.