Google is adding more advertising options on maps, and in doing so they're kicking up the ads on mobile. Not only will we see ads on mobile devices when we search Google, we'll also be seeing them in Google maps, especially in the Google Maps app.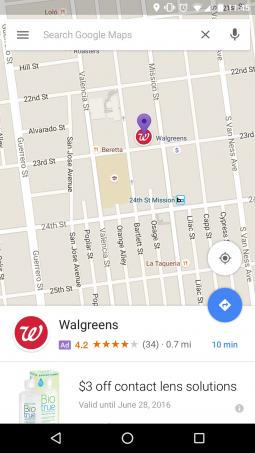 At the Google Performance Summit this week, Google announced that they will be including popup ads in the search results in Google Maps.  Paid pins, for example, will show a company's logo as a part of the pin on a map.
Fast food companies (and restaurants) will be able to advertise directly on Google Maps, as well as coffee shops, pharmacies, and other retailers. A good example might even be a gas station or other retailer trying to appeal to drivers along a busy interstate.
Google's Sridhar Ramaswamy, Senior Vice President, Ads and Commerce, wrote in a blog post about what they're doing on mobile:
"… investing in more branded, customized experiences for businesses on Google Maps — geared towards helping you increase store visits."
Google is calling these company logos on Google Maps "promoted pins", and currently there is no timeframe for all of this rolling out–they say that we'll start seeing these soon.
These ads that show won't be optional for consumers, so they can't be turned off.