What is the Google Analytics 360 Suite?
On March 15th, Google announced a new paid-for measurement platform: the Google Analytics 360 Suite. The new interface mirrors the aesthetics of Google+ with image-centric product cards displayed in multi-columns. The product suite features four new products and two revamped products, all in an attempt to create a "complete measurement platform."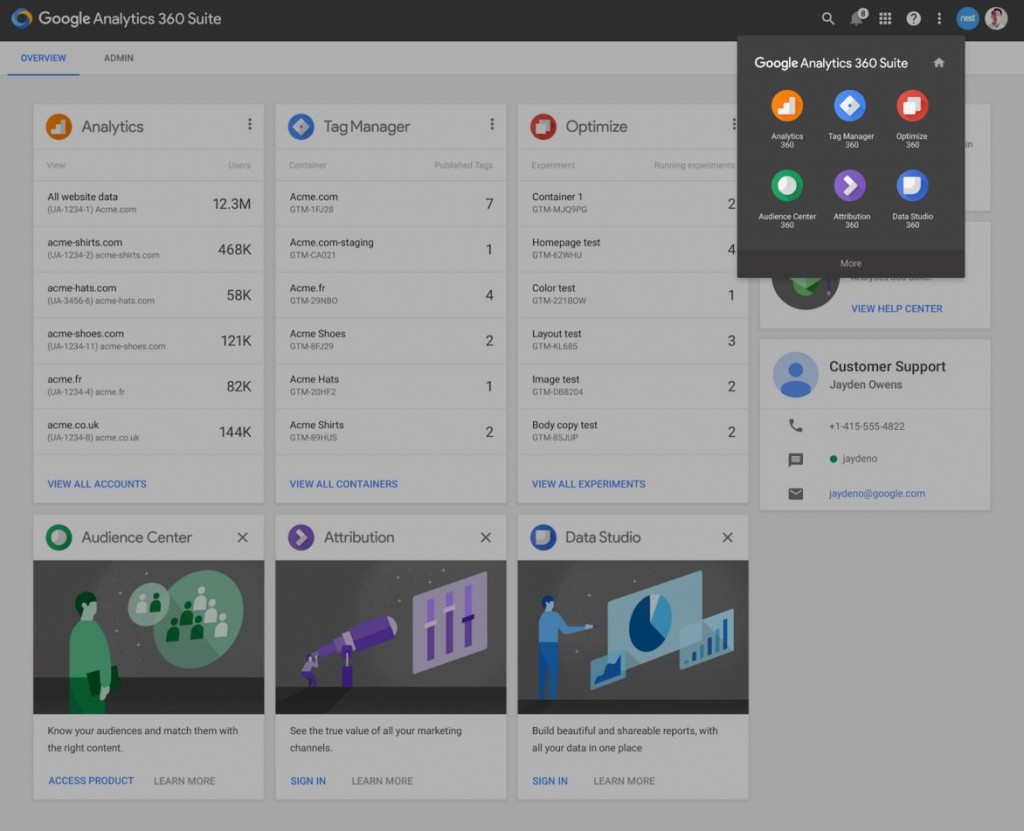 Essentially, this is a set of integrated marketing and data analytics products designed for enterprise-class marketers. With this suite, you should be able to understand consumer behavior, receive insights and make your brand more useful to its target market.
Inside the 360 Suite
Using the analytics platform will help you understand your customers' habits more extensively and improve their path to conversion. It is easy to use and has improved collaboration capabilities.
Some time back, the engineers at Google managed to simplify marketing analytics. The new infrastructure, which enables the engine to handle billions of daily search queries, will now be available to enterprise marketers in the form of Google Analytics 360 Suite. Here's what you'll find inside the new suite.
The New Products
1. Google Audience Center 360 (beta)
The Audience Center is a powerful DMP (data management platform) that will give you the ability to understand your customers and locate others like them across campaigns, devices and channels. It additionally offers integration with DoubleClick and Google and is open to DSPs, third party data providers, and others.
2. Google Optimize 360 (beta)
With this website personalization and testing product, you should be able to ensure that your site delivers a better browsing experience to your visitors. You can, for instance, show multiple variations of the website to your consumers and choose the version that will work best for each audience segment.
3. Google Attribution 360
As an advertiser, you can use Google Attribution 360 to value different marketing investments and allocate the right budgets accordingly. It will also come in handy whenever you need to analyze your performance across all systems, devices and channels to achieve the most effective mix of marketing strategies.
4. Google Data Studio 360 (beta)
This data visualization and analysis product is useful for integrating data from different sources and suite products, turning it into interactive dashboards and reports. You can also use the built-in real-time sharing and collaboration, which is based on the original Google Docs technology.
The Updated Products
5. Google Tag Manager 360
The tag manager will empower you to make decisions faster and with confidence. It comes with a simplified way to gather information from your website and powerful APIs for streamlining workflows and increasing data accuracy.
6. Google Analytics 360
This platform will serve as the main measurement centerpiece for analyzing useful consumer data from different touch points and integrating the data with other Google ad products. It helps streamline the effectiveness and efficiency of your marketing efforts.
When will Google Analytics 360 Suite be available?
Currently, it's only available in BETA if you're an Adometry or Google Analytics Premium customer.
How much does Google Analytics 360 cost?
No prices have yet been published, though when the product does officially launch to the public, all products will be available to purchase individually.
Have you tried out the new Google Analtyics 360? Tell us what you think!