Is there another change coming to the local pack? It seems the Googlers are at it again. Can you future-proof a business from Google Algorithm updates?
Historically, consumers could search for a product or service and within the local pack the top results would appear with a call, directions, and sometimes website button. However, it seems at this time that across multiple verticals the buttons have been replaced with a featured image.
Below is a screen grab of what the search results looked like in January for "engagement rings Dallas." Be sure to take note of the "Call" button.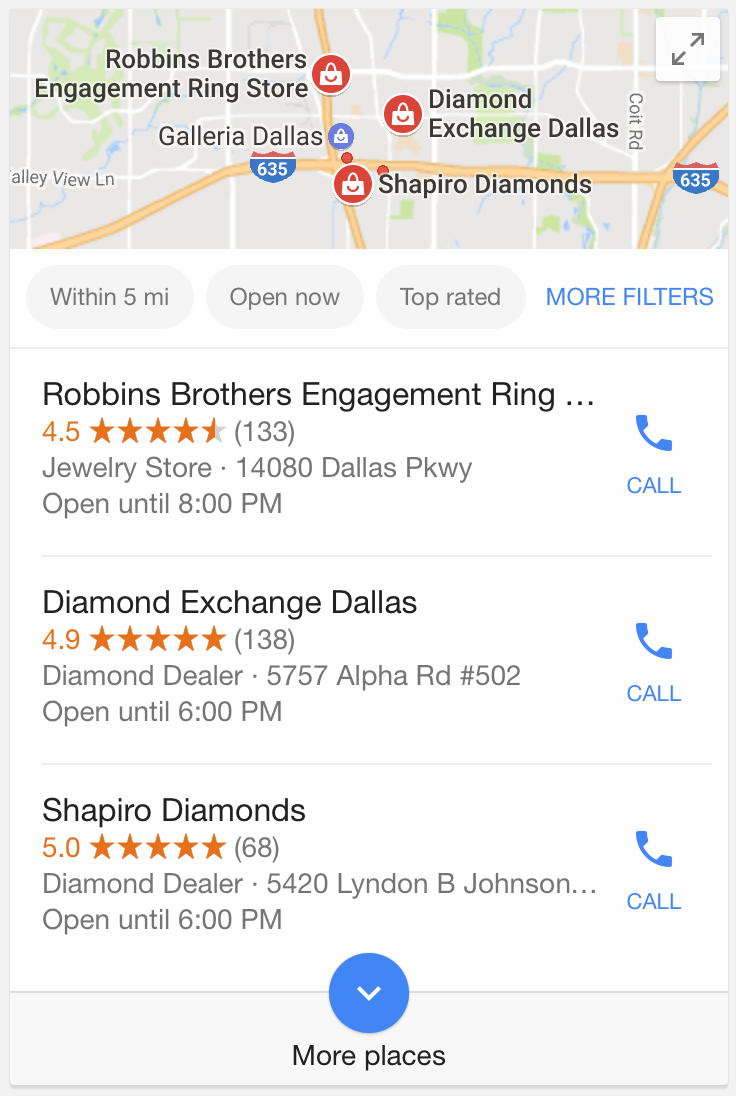 Now, in order for the searcher to get to the result where they can actually get a phone number, website link, etc., they must click on the listing. The Google My Business listing then appears, which is where the searcher can access the information or see more about the businesses.
Below is a screen grab taken today of the search result "engagement rings Dallas." Please note the featured image that now appears where the "Call" button once was. Does this image add any value for the consumer? On the mobile screen it's so small it can't really be seen well. As a consumer myself, when searching for a local business I want to be able to take immediate action. If I want to look at their photos, I'll visit their website.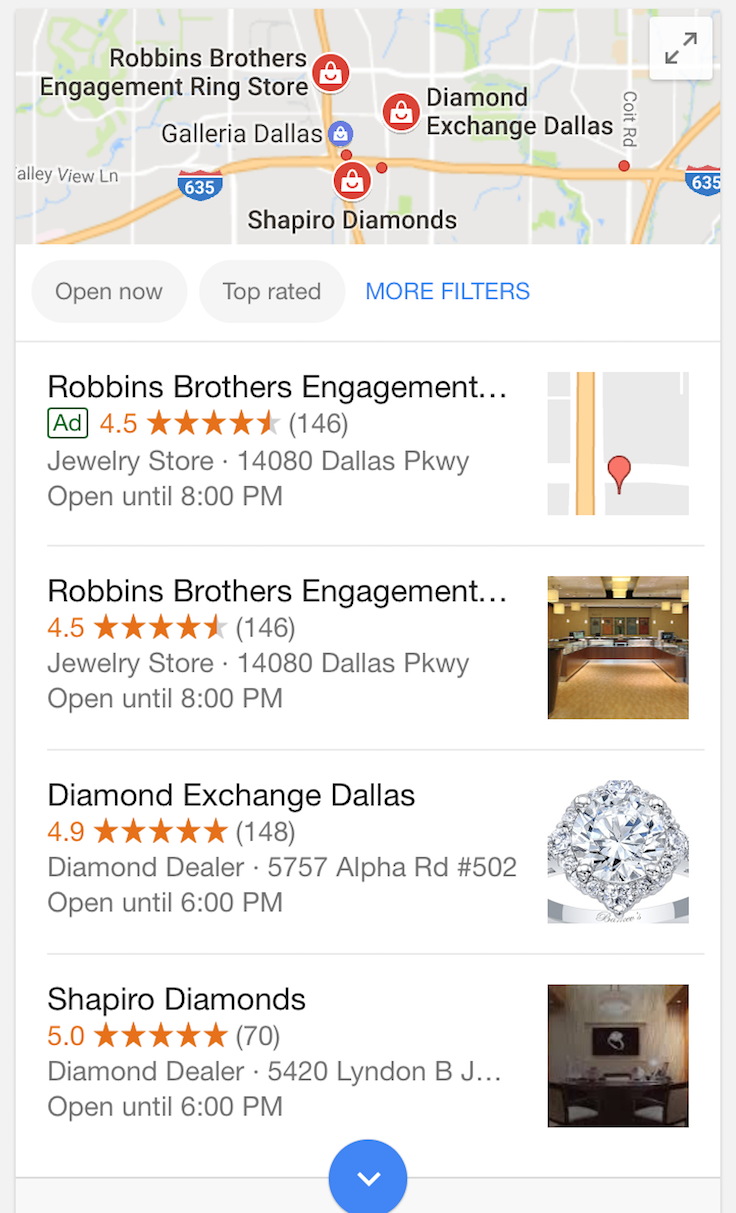 Both of the above images represent a mobile search result. When the searcher starts the search on a desktop the experience is a little different. The local pack still appears pretty much with the same look and feel of the mobile.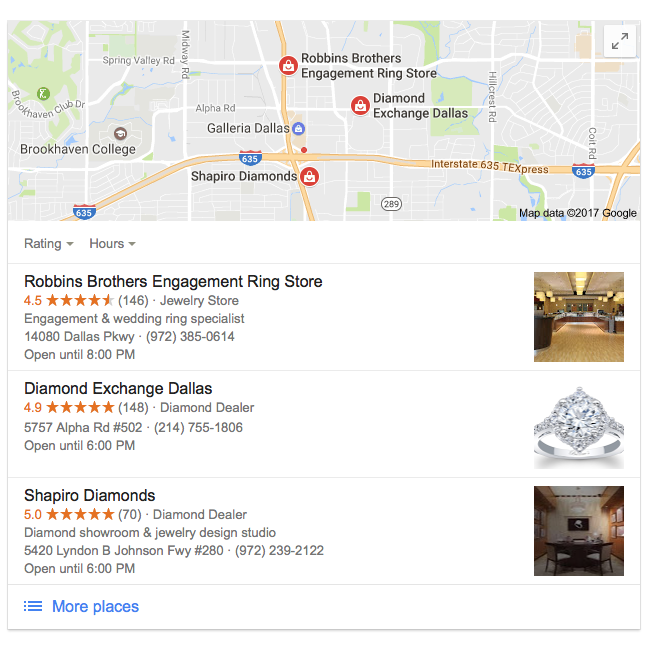 When the searcher clicks the business name they are then taken to Google Maps. The business they selected has an expanded listing displayed. The downside? Right to the left of the listing, all of their competitors are highlighted too.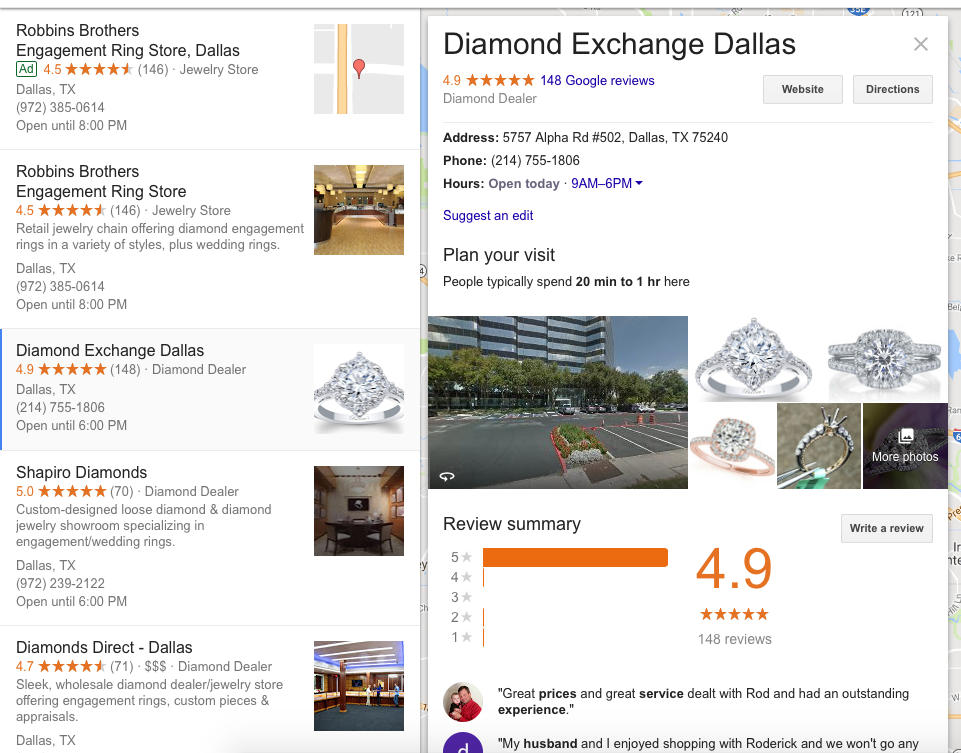 In case you didn't know, once the searcher clicked a listing on desktop, it has always taken them to the maps listing which showed more competitors, but the big difference now is that the consumer must click through to the second screen to access more information about the business.
Since this change hasn't impacted all verticals yet, I thought I'd show you a glimpse of what it looks like when you search "plumbers Dallas" on desktop.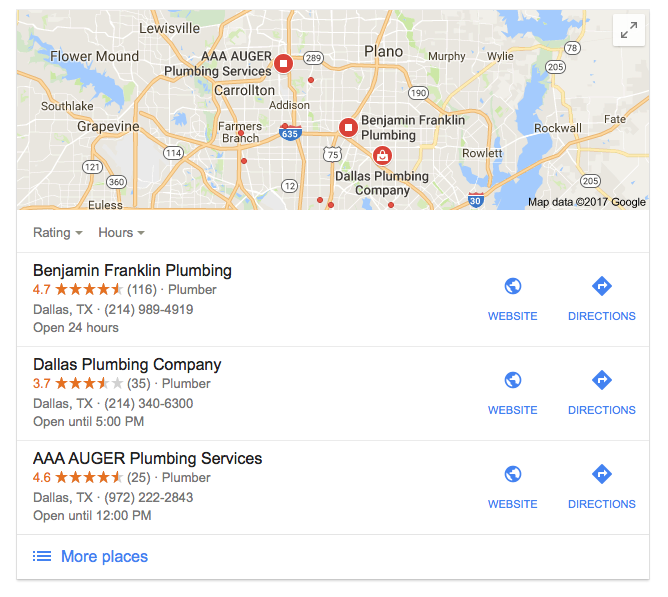 Please note the "Website" and "Directions" buttons still appear in the local pack for this vertical. This is how it used to look for most other verticals, i.e., engagement rings Dallas. This vertical has not been impacted yet. Who knows if / when it will. Are any of these changes permanent or just another thing Google is testing? Another mystery we'll all have to wait for Google to solve.
This isn't the only change Google has been making lately. An update named "Fred" (given that name by Google's Gary Illyes) seems to be reeking havoc on ad heavy content sites in search results.
A few months ago we discussed how Google was placing ads above the local pack in mobile search results. I searched again today and didn't see this happening. But soon after, they made another shift and started injecting ads into the local pack results on what seems a more consistent basis. (BTW…if you look back up above, you'll see those ads still in the mobile results today. In fact, Robbins Brothers Engagement Ring Store got two placements in the local pack. One was the ad and the other the organic placement.)
In this article, What's Happening with Google Lately? How These Changes Can Impact Local Businesses, I highlighted four other updates Google has made recently.
We've said it before and I'm sure we'll say it a million more times… Google is not going to stop changing things. The only assurance local businesses and brands can have is that consumers will be able to continue to find their businesses in search results. This is mostly because Google wants consumers to continue coming to their search engine. Google will continue to give consumers what they want and need in their moment of need. Businesses and brands that meet these needs will continue to win.
Are you giving consumers what they want in their moment of need? Here's a research paper to get you started!