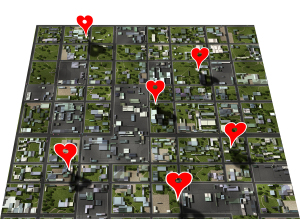 A recent inquiry has surfaced on Google Product Forums regarding a new Google Places policy that would ban Regus business locations to advertise on Google. Virtual offices have long been abused to try and acquire rankings and visibility in a city the business is not really located in. If all Regus-based locations were no longer able to advertise on Google Places, thousands of local businesses would be affected.
User cm1960 comments:
"I've been informed by someone at Google Places that there is a new policy to disallow Regus business location businesses to advertise using Google Places."  
They go on to say a Google Places Representative named Travis has confirmed the policy, saying it's "non-negotiable" and labeling it as a black and white issue.
Linda Buquet of Local Search Forum responds:
"It's been long known that virtual offices are not allowed and Regus offices are often abused just to rank in cities a business is not really located in. But I was not aware an official policy had been made that was that black and white. I'll escalate this post and ask Google to see if we can get official confirmation." 
Read the full conversation here.
At this point, the official policy is unconfirmed. Advice Local's representatives intend to monitor the situation closely and keep you apprised of any updates.
How do you think a ban on Regus business locations would affect local search and small businesses? Is this a good thing to clean up spammers or detrimental to legitimate local businesses?