What's a Plus Code? I'm not referring to Google+, which has died on the vine. If you haven't heard of Plus Codes, don't worry, you're not alone. I'm going to break it down for you today. You'll learn what a Plus Code is, why it can be important, and how to find a Plus Code.
Plus Codes– a technology silently rolled out earlier this year by Google Maps – is exactly what someone without an address needs to get deliveries, register to vote, and other handy things like access emergency services. "911, what's your Plus Code?" Think of them as addresses everyone can pronounce and understand anywhere in the world.

What Is a Plus Code?
When you don't have a street name and number to give out, a Plus Code gives out a short code – made out of 6 or 7 letters and numbers, a town and a city – to map out an exact location, even in places with no roads. Pretty handy, isn't it?
How Can Plus Codes Help Businesses Get Listed?
In this day and age, there are a lot of businesses that operate online only or are serviced-based businesses and don't accept customers at their location (some because they work out of their home). Would you feel comfortable or does it make sense to give out your home address as your business address? Definitely not! Yet, addresses are needed for directory listings and local profiles like Google Business Profile (formerly Google My Business). We're lucky because Google Business Profile (GBP) will allow us to mark an address as private.
While there has been no indication that GBP and other directories will begin accepting Plus Codes as valid answers, this doesn't mean it won't happen at some point in the very near future. After all, GBP and Maps are both Google products (and Maps uses Plus Codes already), and they would be mad to not take advantage of this potential use to capitalize on Google Business Profile listings for businesses that don't have an address.
Take Plus Codes for a Test Drive – Try It Yourself
While Plus Codes might not yet be accepted as an acceptable address for GBP listings, every location in the United States already has its own Plus Code. We dropped a pin on Google Maps right where our office location is and we got the following code: 47VM+3C McKinney, Texas, USA.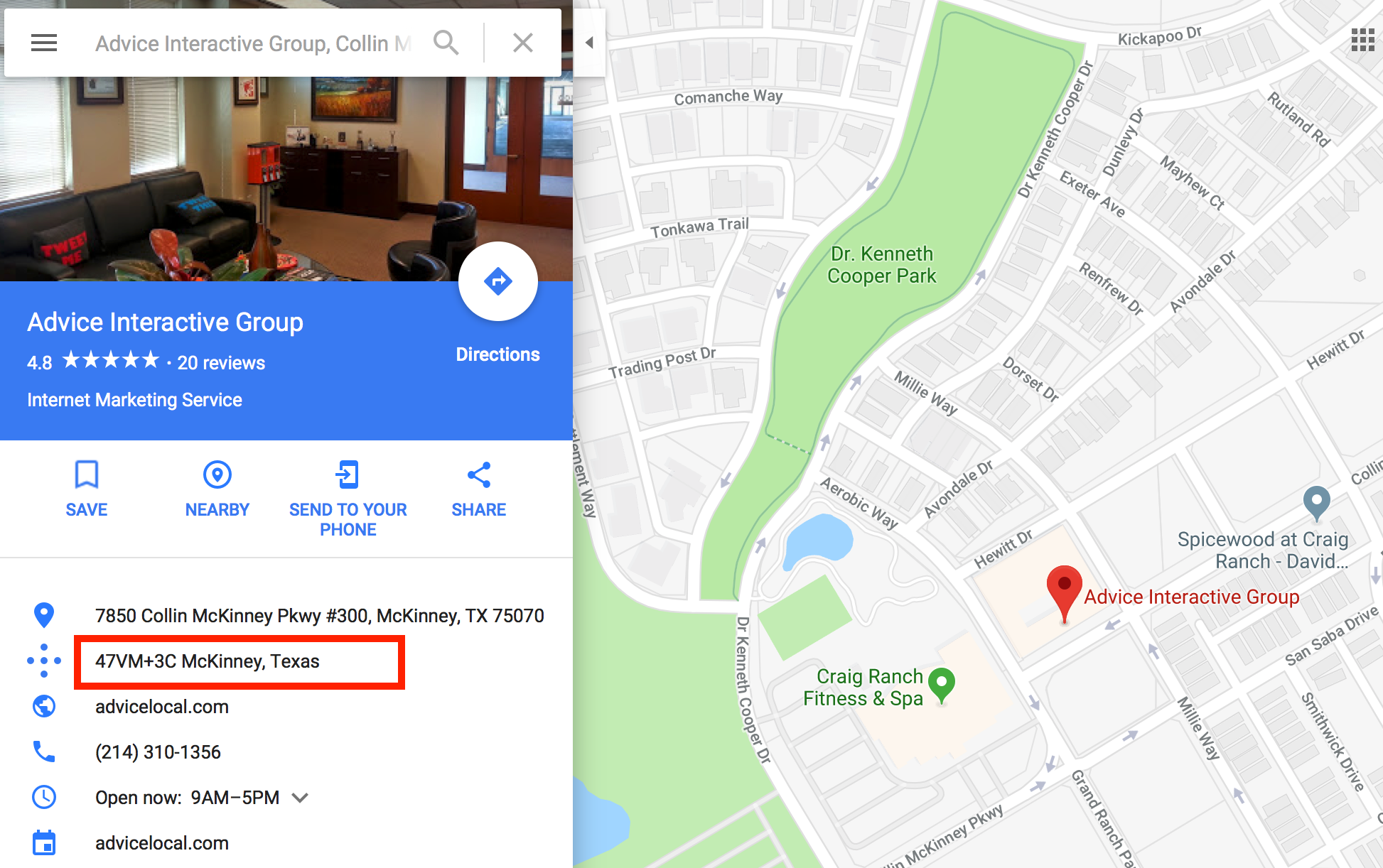 If you wanted to use this code to find us, just add the Plus Code to the search box on Google Maps. If you're near the place, there's no need to add an area code or a town or city.
How to find a business' Plus Code:
Go to Google Maps on desktop or a smart device.
Drop a pin on your location, then tap on the address at the bottom of the screen to get additional details. You will see the Plus Code near the address (placement varies depending on the device being used).
You can also search for a specific business and see the Plus Code on their individual Map listing (as shown in the example above).
Now that you know how to find a Plus Code, let's look at some of the things that make Plus Codes excessively convenient for everyone, from an individual to the local business.
Plus Codes Work for Everyone, Everywhere
Not only are Plus Codes free – the technology is open-sourced! – they are also accessible offline. Users don't need a network connection to find the Plus Code, which is super handy in a remote location where you can't get a cell signal.
With the way Plus Codes work, it's easy to find the place you're looking for, as places near one another have similar Plus Codes. It's also the perfect thing to use to avoid repeat addresses like "123 Main Street," which I'm sure is a street in every single city and town in the country. As if that weren't impressive enough, they also work regardless of where the business is located – with the exception of certain countries. There are no borders when it comes to Plus Codes.
Plus Codes are extremely easy to identify. You will see a plus sign within the code, something like V86P+C8, Paris, for example. If there's no city or town to link it to, then you will see an area code at the beginning of the Plus Code, for example 7GXHX4HM+3C.
What the Plus? Plus Codes, That Is
How do you feel about Plus Codes? Do you think they will significantly impact the future of addresses and online directory listings? Let me know in the comments!
In the meantime, the Advice Local team will be keeping a close eye on Plus Codes and how we can use them to help our listing management partners when they became more mainstream. Request a demo to learn how we can help you expand the digital footprint of local businesses online and drive more foot traffic offline!