Today, I'm back to talking about Google Business Profile (formerly Google My Business), but in relation to zero-click searches. For a refresher, a zero-click search is when a user searches for something specific on Google and they get the answer to their query directly in search results. Simply, they do not have to click through to the business' website to get their answer.

Google Business Profile & Zero-Click Search
As local marketers, we want the user to click through to the business' website to read, buy, request an appointment, etc. In the world of zero-click searches, this could make a business owner feel like they don't need search engine optimization (SEO) for their website. However, this is totally wrong! Stay with me… I'll explain why SEO is important below.
Now let's talk about how often a zero-click search occurs that can in fact be getting new business for your customers. In the example below, the user runs a search for "probate litigation McKinney."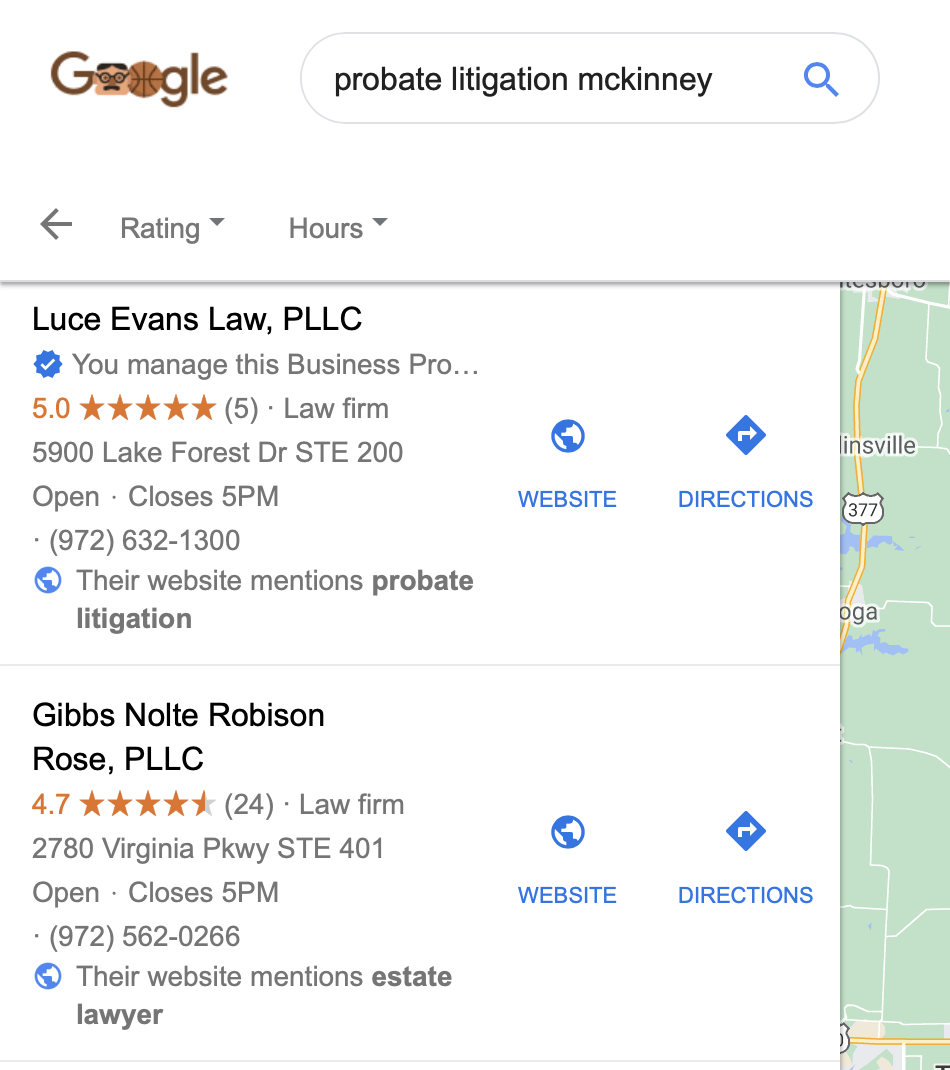 As you can see in this example, because the website references "probate litigation" the Lucé Evans Law Google Business Profile listing appeared in maps. The GBP listing for Gibbs Nolte Robison Rose appeared as well, as their website mentions that "estate lawyer" is the practice area that probate falls under.
If they did not have this content on their website – and optimized for search – each Google Business Profile listing may have not surfaced in maps. So, does a business need a website, and need it optimized for search? Yes – and right there this example proves it.
From maps the user can click to visit the website or for directions. When they click on the business name, the detailed specifics about the listing become visible. They can now call the business directly from maps, view their products, ask a question and much more. At this point the user hasn't clicked to the business' website, but they are learning all about the business.
Auditing the Google Business Profile Listings
I did a quick audit on a few of the GBP listings that came up above Lucé Evans Law and Gibbs Nolte Robison Rose in maps. The other listings had at least one of the following:
Probate within the products section
Had reviews that mentioned estate planning and/or probate
Had "Estate" as part of their GBP listing name
In the case of the two GBP listings, I showed above that they need to add information about probate litigation within the actual listing – in addition to having it on their websites. This would help their GBP listings to show up higher in maps.
I've talked about how mentions help a business' GBP listing to appear more often in maps before. And today I've shown you more examples proving that it works.
As a local marketer, you need to ensure your clients' Google Business Profile listings are 100% optimized for search. Whether you educate your customers on how to do this or do it for them, this is a must.
How are you helping your clients' businesses to appear in zero-click searches? Are you optimizing their website content, product pages & blog posts? Are you ensuring their Google Business Profile listings demonstrate expertise, authoritativeness and trustworthiness?
I know it's hard to measure a zero-click search, but it's possible. Take a deep look at tracking zero-click searches and the ROI you can get for your business clients.
It's Time to Take the Next Step to Leverage the Zero-Click Search
I know it's important to have the tools, resources and training to support your clients. At Advice Local, we are dedicated to this. Request a demo today to find out how our listing management solution can help you to better help your clients. We have a Google Business Profile tool you are absolutely going to love.