Local businesses need to be found — and Bing Places is a local profile that no business should forget. We've written before on how to create or claim a Bing Places listing. Today let's explore the Bing Places for Business dashboard and how to manage your clients' listings.

Exploring the Bing Places Dashboard
Did you know that 33% of people in the United States use Bing? While some forget about Bing, considering that one-third of the U.S. is using their search engine, it could be a costly mistake. Bing may not be the biggest player, but they are a major player. Anyone who manages the online presence for a local business needs to have them listed on every reputable site — and this includes Bing Places.
The Bing Places dashboard is fairly easy to navigate once you're familiar with it. Let's start by taking a look at each panel.  We'll cover tips on how to optimize a business' Bing listing along the way.
Edit Business Info to Optimize Bing Places Listings
If you created the business' Bing Places listing from scratch, you may have already fully explored this section. If you are claiming an already-existing Bing Places listing, though, you should give the business information panel special attention to make sure all of the information is correct and consistent with the information on the business' website.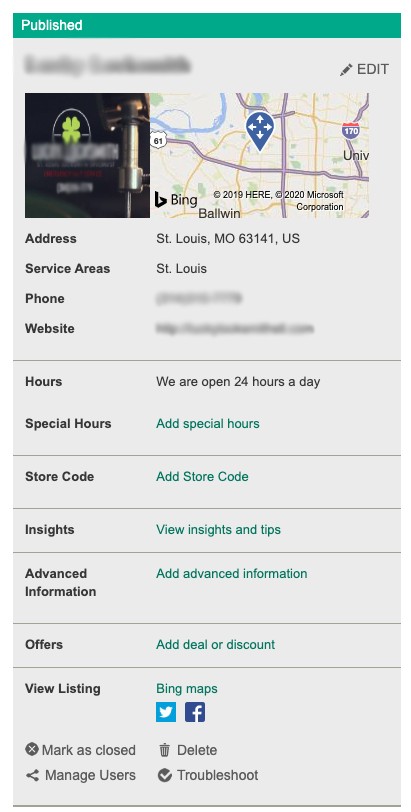 The business information panel in the Bings Places dashboard has the following sections:
Basic Info. This includes the business name, main phone number, address and website.
Business Category Info. Here you can choose the segment of business (broad category), multiple categories that describe the business, and a primary business category. This section also allows you to write your business description, which should be done completely and thoughtfully!
Additional Business Details. Here you can select whether the business delivers, enter serve area zip codes and select whether to show your complete business address.
Contact Details. Bing Places allows you to enter the business' email, Facebook, Twitter, Yelp and TripAdvisor links.
Add Photos of Your Business. Bing advises that businesses with at least 6 photos tend to get more clicks.
Working Hours. Select whether to show business hours, open 24/7, etc.
Resolve Data Conflicts. Here Bing Places will show whether it notices any inconsistent data between the Bing Places listing and the business' website, like showing different operating hours.
Don't make the mistake of presuming the information is accurate if you are working with an existing listing. In fact, oftentimes a business will make a change such as business' hours or even move to a new location and never give updating their business listings a second thought.
Showcase Features & Facilities on Bing Places
On the Bing Places dashboard, the next panel says "Manage all features and facilities". When you click it, you'll be able to choose between available/not available on several accessibility-type features (e.g. free parking, wheelchair accessible parking, wheelchair accessible entrance). You can also add payment options (cash, Apple Pay) in this panel. I've included an example image below.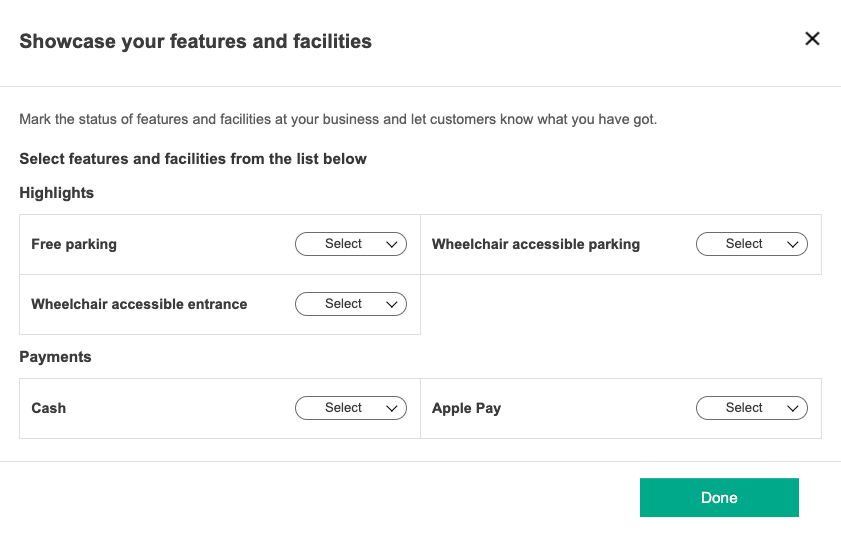 Bing Places Insights
Bing Places Insights is relatively simple compared to Google Business Profile Insights, but it still has some useful features that can help you understand the traffic coming to your client's Bing Places listing.
Bing Places Insights shows data for Total Views and Total Interactions. Total Interactions is subsequently broken down into how they interacted: website, directions or call. It also shows insights for similar businesses for each of those metrics as well.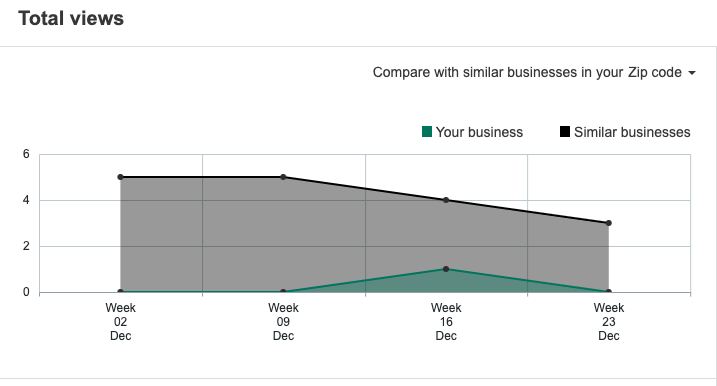 Bing Places Insights allows you to look at traffic data over three ranges of time: last 4 weeks (default), last 8 weeks and last 12 weeks. It also compares your traffic against "similar businesses". You can expand the comparison to similar businesses in your zip code, city, state or country. The comparison overlay cannot be disabled.
Add Deal or Discount
Another useful feature you can utilize on the Bings Places dashboard is the ability to add special offers, deals or discounts through the Bings Places listing. Bing gives you several options to customize a discount offer for customers who find the business through the Bings Places listing.
As you can see in the images below, Bing Places allows you to offer almost any type of free offer or discount you want.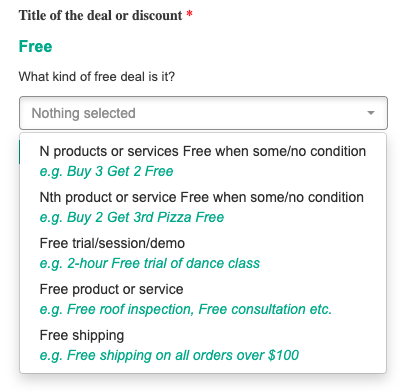 Once created, the discount will be advertised in the business' Bing Places listing. Deals are an excellent way to attract consumers who are deciding between two different businesses. The deal or discount offered could literally seal the deal.
Other Bing Places Features
There are a few other features on the Bing Places dashboard you may want to consider.
Bing Places allows a business to sync the Bing Places listing with a Google Business Profile (formerly Google My Business) listing. This could be an easy way to keep the data consistent between the two. However, you'll still want to customize sections like deals and discounts.
The dashboard also has an option to enable Facebook integration in order to receive updates on the Bing Places listing through Facebook messenger. These updates can include new interactions with the listing, such as website conversions or click-to-call.
Pay Attention to Bing Places and Win!
Every business local listing needs to be regularly monitored and maintained — Bing Places is no exception. Keeping an eye on traffic patterns and taking advantage of features explored above are one of the many ways to beat out the competition in search results.
Bing is wildly underestimated and forgotten far too often — but not by us. With our listing management solution, we can take care of Bing Places, Google Business Profile and all the business listings necessary for your local clients. Request a demo today to learn how we'll help your clients' get found fast and in real time.