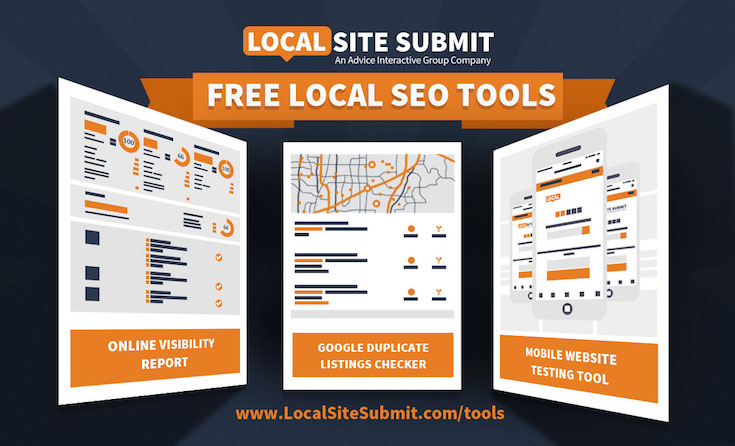 A business needs to be found in order to get customers, right? That may seem like a silly question, but let me ask you another one. What have you done lately to check on your online visibility?
More businesses than I want to think about will likely answer with, nothing or even, "I don't know how to do that". If you aren't monitoring your online visibility you will not know if there is bad data related to your business on the Internet. Potential customers are looking for your products or services online – will they find you?
The good news is that Local Site Submit (an Advice Interactive Group company) has created a set of free tools to simplify the process of monitoring and maintaining your online visibility.
Local Site Submit's Free Local SEO Tools
The digital landscape is becoming more and more complex every day with algorithm and protocol changes from Google and others, as well as the ever-changing habits of consumers. It can be overwhelming to keep up with it all and manage the day-to-day operations of your business. Let me tell you about our free Local SEO Tools we created for business owners just like you.
Online Visibility Report
Find business listings across the Internet with one click
Saves hours of time if you tried to find this information on your own
Easy to read report allows you to identify bad data
Google Duplicate Listings Checker
With one click, scan the Internet for any duplicate Google My Business listings
Enter your business name and zip code and click "Find My Business"
If duplicates are found, you can take the steps to get them removed or hire us to help
Mobile Website Testing Tool
If your site is not mobile optimized, Google could drop or remove your website from search results
Enter your domain name and, in one click, find out if your site is mobile friendly
If your website doesn't pass we have a quick and affordable option to take care of it for you
Digital Presence Management
Local Safeguard™ monitoring and maintenance of business listings
Baseline, Progress and Monthly Reporting
One-stop dashboard for reputation and review monitoring
My goal is to help your business succeed and our entire team is passionate about doing just that! So take advantage of our free Local SEO Tools offered through Local Site Submit and make sure your business is visible online to all future customers.
Take Control of Your Data TODAY!