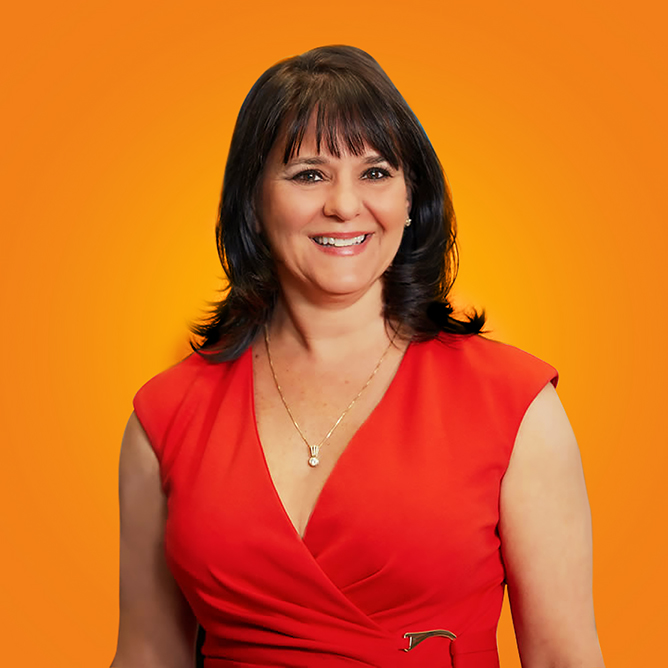 Each week, we scour the web for what's new and what's hot. This week, before I talk about "what's new," let's talk about "what's hot."
"Near Me" is "What's Hot"
As you may know, each year the #AdviceLocal team huddles up and pulls out the most impactful internet trends revealed by Mary Meeker of Kleiner Perkins (formerly Kleiner Perkins Caufield & Byers, aka KPCB) for our annual infographic based on her Internet Trends Report. Just this week we released the infographic. (Make sure you check it out! You can embed it on your blogs and share it with your friends.)
Following and understanding internet trends and how we can leverage these to plan local and digital marketing campaigns for the upcoming quarter and 2019 is extremely important.
Today, I want to explore a few insights revealed in the infographic and how it ties directly to your local search strategies.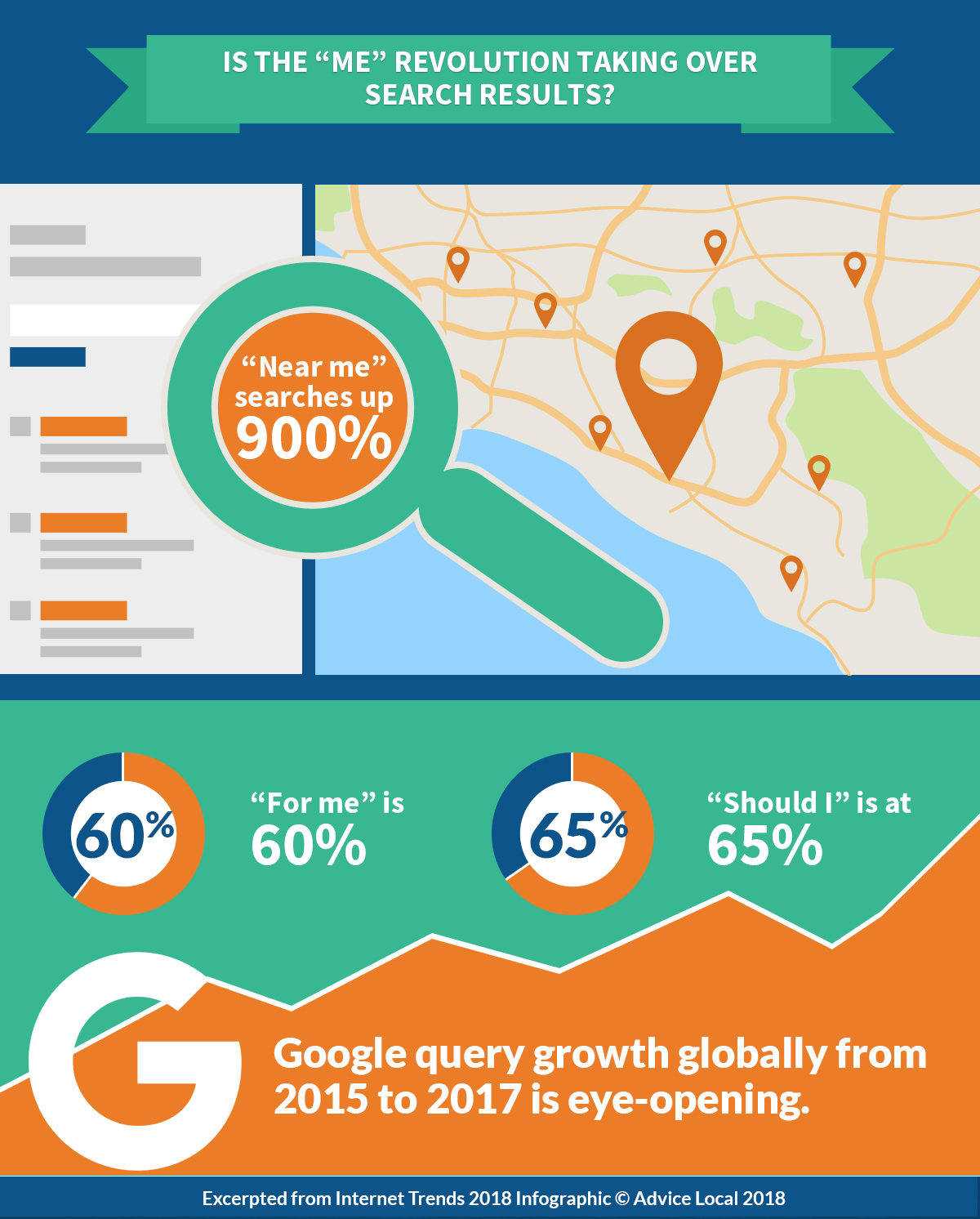 "Near me" searches are up 900 percent from 2015. It's not just "near me" users are searching, though. "For me" is up 60 percent and "should I" is at 65 percent. Why does this matter? Consumers are very serious about getting exactly what they want, when they want it.
Do you remember those micro-moments consumers have each day? They are now super-empowered too.
Are you providing frictionless experiences, answers consumers are seeking and a way to find and communicate with businesses easily – all of this directly accessible from search results?
It's Not as Simple as Checking a Box and Calling It a Day
You have to:
Continually fine tune the local marketing strategies you are employing for the businesses you represent;
Maintain the accuracy of the online data related to the businesses and monitor their reputation, and respond to reviews accordingly; and
Be proactive, present and aware of the best practices & how they are shifting and make changes along the way, almost as often as Google does.
The digital playground is no longer ours, it belongs to the consumer. We have to meet them on their terms and play by their rules to win. Digital marketers are not the only ones who have to comply.
The Industry Giants Are Keeping Up, Too
Just this week:
Google updated the local pack. Now, Google Posts on local business listings are viewable within search results. No more having to click the GBP listing to see the posts;
In an effort to avoid discriminatory practices, Facebook announced that they are removing 5000 ad targeting options. They are also rolling out a program all US advertisers must complete to certify they are in compliance with non-discrimination policies; and
It seems people (and Google) are tired of only hearing bad news. The Google Assistant will now find positive news stories when asked "Tell me something good."
This is the only news that happened this week to meet consumer expectations. It's all over the web. We've included more of it below.
P.S. I've only covered one of the nine topics detailed in the infographic: What happens when online impacts life offline. You can access the other big takeaways and my additional insights here.

You Asked and We Listened
Just this week we rolled out an update to our reporting, specifically to the rollup report export file. A link to each of the live directory listings will now be included within the export file.
While we only highlight the coolest updates here, rest assured we are making updates daily to make it easier for each of our partners to win at local listing management. If you are not a partner yet, request a demo to find out how we can help you and the local businesses you represent.
Featured Resources

From Around the Web
1. News From Google: Ads Scores, SERP Previews, Featured Snippets & More
Over the past couple of weeks, Google has rolled out new & updated features, including scores on ads, SERP previews on forum posts, and Google Suggest buttons on Featured Snippets.
2. Google Business Profile Posts Now Appear in Google Local Search Packs
This is huge news for local businesses! If a business uses GBP correctly, their posts should show up on its local search pack, thus increasing the business' local visibility.
3. A Nice Change – 'Good News' From Google Assistant
If you are tired of only hearing negative news, then this update is what you've been waiting for. The Google Assistant will now respond to the command "Tell me something good!"
4. Video Ad Budgets See a Raise, Will Hit $103B by 2023
Video ads have been experiencing mind-blowing growth in recent years, with over 200 million users expected in 2018. Advertisers are taking notice, so it's only natural that budgets are on the rise.
5. Wow! Here Are the 100 Most Searched Keywords on Google in the Last Year
This is a wonderful infographic that shows the most popular keywords in the past year. Would you be surprised to know that "weather" was number 1? Click here to see the rest!
6. Marketing Is Moving In-House, But Not Without a Fight
Brands have been transitioning their marketing in-house, in the hopes of controlling their company data; but is that ideal? Agencies are fighting back with arguments and results.
This Week's Featured Articles by the #QueenofLocalSEO

Micro-Moments Made Possible by Mobile
What are micro-moments, you ask? Take a look at this infographic to learn more about this interesting trend, made possible by mobile.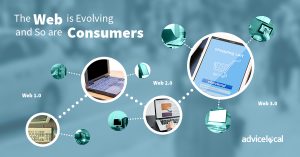 Web and Consumers Are Evolving Hand in Hand
If web is evolving and consumers are doing it too, it's only fitting that businesses evolve as well. Learn the actions that can make a difference to a business when it comes to evolution.
Like what you read? Subscribe to our newsletter and get this emailed to your inbox each week.