Is Voice Search Just the New Cool Thing to Talk About?
Or, is it a reality that all local businesses and brands need to embrace? How many times a day do you use a smart device to find something or learn something?
Alexa, Google Home, Siri, Cortana – all of these voice-enabled technologies are delivering answers or performing a task on your behalf daily, if you're like me. This is voice search at its simplest form.

While consumers may not be making all their buying decisions via voice yet, the fact is that they are searching. According to a BrightLocal survey, 46% of voice search users look for a local business daily. This is powerful. Voice search is no longer in its infancy. Local businesses can't afford to miss out on getting found through digital assistants.
According to the Kleiner Perkins 2018 Internet Trends Report, Amazon's Echo grew in popularity by more than 30 million users. Amazon Echo Skills have increased to 30,000 and Google Machine Learning word accuracy is at 95%. Remember, voice search and these types of devices barely existed a few years back. They have made tremendous leaps and bounds in their technology and growth.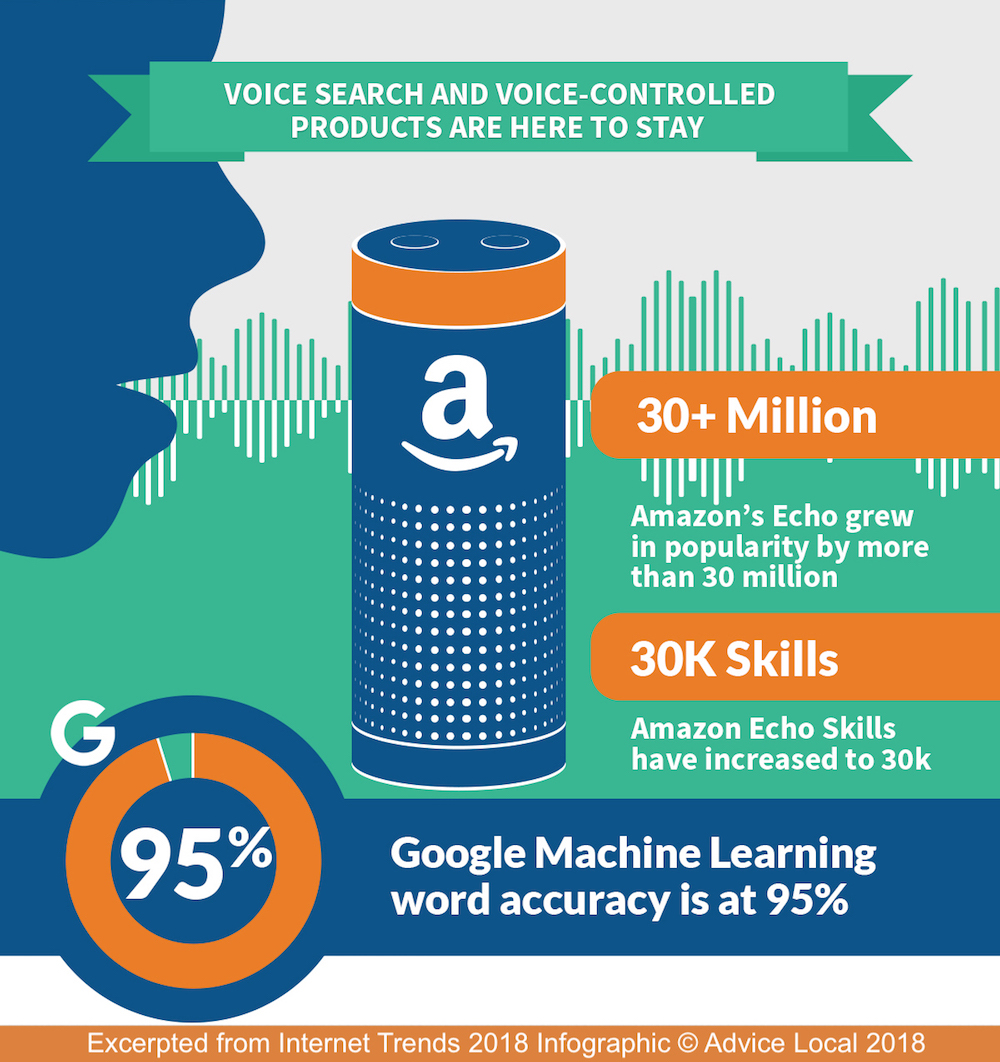 Amazon and Microsoft are even working together on voice technology. Just this week, they released a preview of Cortana with Alexa integration.
Voice search is so important that we want you – our partners, friends and local business customers – to know we have you covered on the top voice platforms.
Here's the Roadmap to Getting Found in Voice Search
Strong listings on Google, Apple, Yelp and Bing are a must. We include Apple and Bing in every package we offer. For an additional fee, we can also optimize and manage Google Business Profile (formerly Google My Business) and Yelp listings. With these options, Google Voice, Siri and Cortana are covered.
In order to be found in Samsung's Bixby interface, we submit local business data to Here and Foursquare. Here and Foursquare are included every package we offer, too.
Don't worry, we didn't forget about Alexa. Businesses that submit to the data aggregator Localeze are covered in voice search on Alexa.
Voice search is just one of the many reasons it's important to submit more than just the name, address and phone number (NAP) for local businesses to data sources. An optimized listing includes information about the business, photos, business hours, reviews, links to social media, and more. Each listing should leverage each component and feature available to maximize impact and visibility.
Not sure if the local businesses you represent are getting found online and in voice search? We can help you with that. Run our free online visibility report today and see how they stack up against the competition.
Like what you read? Subscribe to our newsletter and get this emailed to your inbox each week.