Google is heading in a direction where they can provide everything a consumer wants and needs through a Google My Business listing. (Yes, without the consumer ever needing to visit the local business' website. Eeek!! 😱)
It Starts and Ends with the Google My Business Listing
Let's look at what a consumer can access from local search results through a Google My Business listing. The consumer can:
Get directions
Call the business
Message the business
Read posts
Visit the website
Ask the community questions (available on mobile only)
I certainly don't love the idea of fewer consumers visiting my website or those of my clients, but there's not much we can do about it.

So instead of spending our time trying to stop a train that we can't even slow down, let's explore how to leverage it fully for our clients and customers so they are getting the local business traffic they deserve.
Five Google My Business Features that Need Attention ASAP
1. Claiming, Creating and Optimizing the Google My Business Listing
The goal is to create a compelling Google My Business listing, so when the businesses you represent show up in the local pack, the consumer is compelled to click on your customer's business vs. that of the competitor.
Here are the basics to include in a Google My Business listing:
Name, address and phone number (800s are a no-no in the GMB listing)
Business hours and website
Photos (not just the logo but photos of the storefront and inside of business)
I won't go into detail in this post about optimizing the listing, so here's a detailed post on creating a Google My Business listing and here's one on claiming and optimizing a Google My Business listing. We even have a post on the best image sizes if you need guidance there.
2. Get More Customer Reviews
That's right! I've said it before and I'll say it a million more times. Local businesses need reviews to place higher in search. Reviews indicate trust to search engines and consumers. In fact, a 2016 BrightLocal survey revealed that 84% of people trust online reviews as much as a personal recommendation.
Reviews are so important that Google actually displays within the local pack how many review stars a business has received. As a consumer, would you click on the listing of a one star business? I wouldn't.

Notice how the image above shows a business with only one star, and the "1" in parenthesis next to the stars represents that they only have one review. I'm sure they have at least a few happy customers that would give them a positive review. (If they didn't they wouldn't still be in business.)
Setup an easy process to help your local business customers get more reviews and monitor them, in addition to a process for handling negative reviews.
A few ideas to get more local business reviews include:
Include a review CTA in email receipts
Follow up after service calls with a survey
Integrate buttons, icons and badges on the business website
The best way to get more reviews is to make it easier for the customer to give the review. Here's a review tool you can use to see how a local business stacks up review-wise.
If you are already an Advice Local partner, you can monitor, share and report on reviews through our dashboard technology.
3. Create Google Posts
Haven't heard of a Google Post before? You are not alone in this! One of the newer features Google has launched enables businesses to provide customers with offers and information directly from search results.
Once the consumer clicks on the post, the content will display for them to read fully. This feature even includes button options so the business can provide the customer a link to learn more, reserve, sign up, buy or get offer.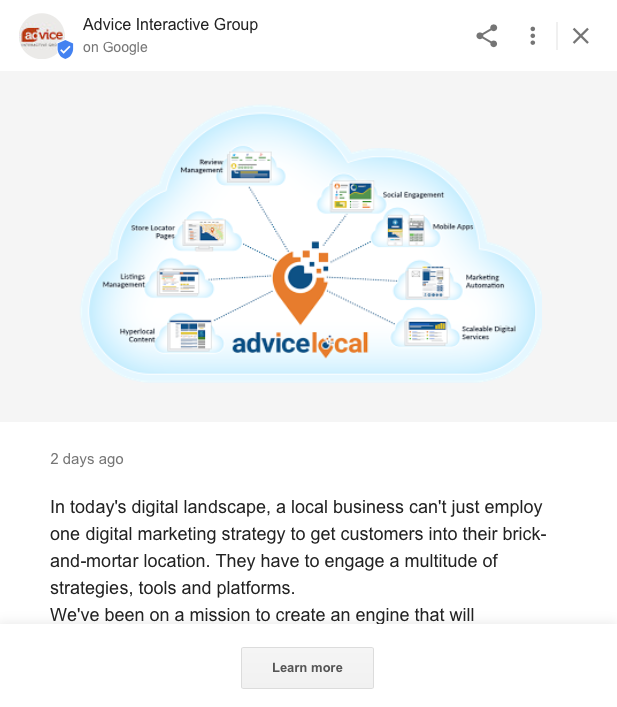 Above is an example of what a Google Post look likes in desktop search once the consumer clicks from the Google My Business Listing.
Posts expire after 7 days, unless it's an event post; those expire when the event date passes. The Google Post includes sharing icons so the consumer can share the post on their social media or email to themselves or a friend for later reference.
To get started with Google Posts, here's what I recommend:
Have a plan or provide a plan to your local business customers on how to continually fill the pipeline with new Google Posts.
Since they can only be between 100 and 300 words, repurposing existing content into shorter forms is an easy way to meet this need. (Don't duplicate the content, just the ideas behind it. Rewriting will be necessary.)
Think of other ways the local business can use the content they are creating for the Google Posts. e.g. an intro to an email newsletter or perhaps as a LinkedIn article (Only places that duplicate content wouldn't impact the local business or website placement in search results.)
While you may not be able to directly correlate website or local business traffic increase from a Google Post at this point, it's an excellent way to make a local business listing stand out a bit more in search and map results.
4. Monitor and Respond on Community Q & A
Another newer feature to Google is Community Q & A. Only visible on a Google My Business Listing in mobile search results, this is an excellent way for local businesses to address common questions like "Is your patio pet-friendly" or "What time does Happy Hour start?"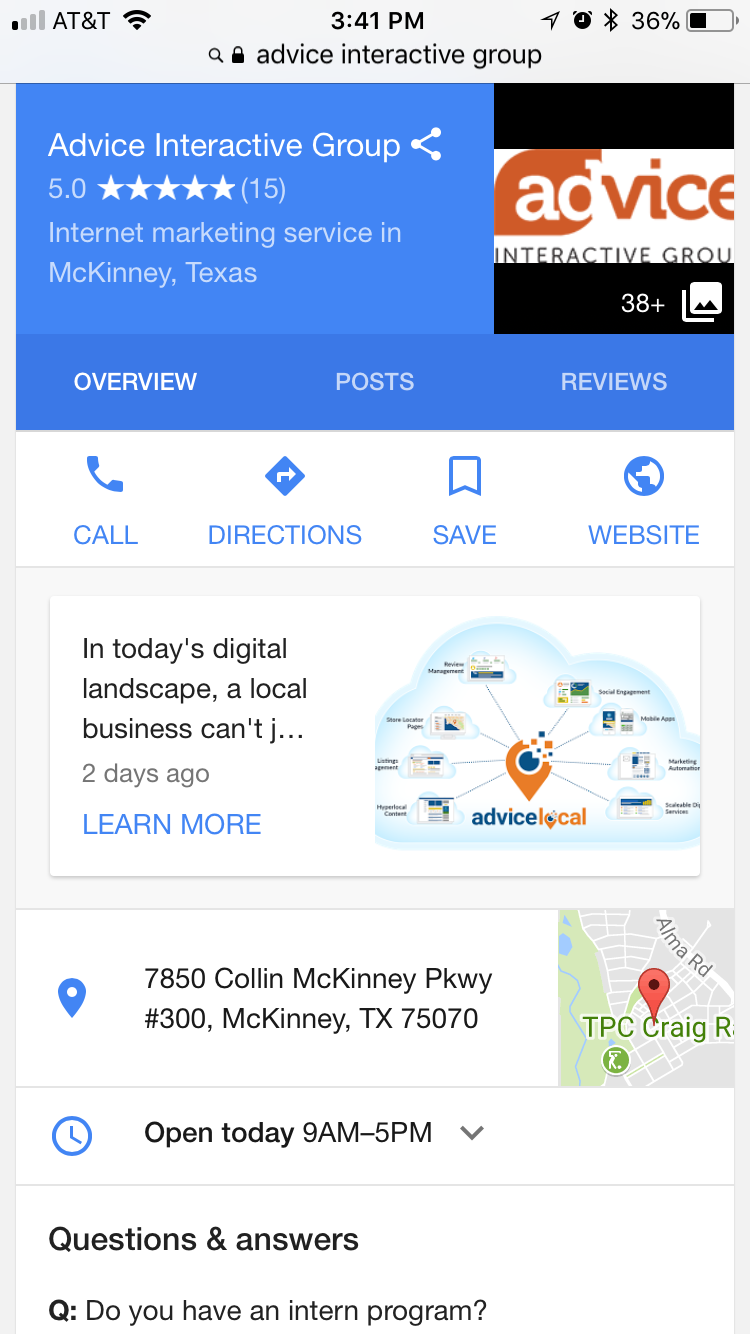 Use the business' frequently asked questions to get the business noticed a bit more in mobile search results. As a consumer, I would definitely select to visit the local business that has an engaged community over one that doesn't seem to have anyone talking about it.
Keep in mind that the business can't respond to questions as the business, but must do so as an individual, so it might be best to have a brand ambassador respond or make the response in the business owner's name.
5. Make it Easy for Customers to Contact the Business with Google Messaging
Another feature available to turn on and off through the Google My Business dashboard is messaging. When a local business turns Google Messaging on, they are, in essence, making it so consumers can send them a text message directly from search results through their Google My Business listing. This isn't an email, but an actual text message. The business can then text the consumer back with an answer to their question(s), or address whatever inquiry they may have.

If I was looking for a plumber, A/C or garage door repair service and went to local search results, the business with the best reviews that I could reach easily and first would probably win my business. After hours, I would definitely look to the businesses I could message easily (because after all, that gives the feeling of 24/7 access) and access someone eager to be available to meet my consumer need.
Consumers turn to their mobile devices in micro-moments, and when they have these moments, they want answers immediately. Many of these searches could be emergency situations like needing their car towed or a leaky faucet repaired.
Businesses that turn on messaging need to make sure they have solutions in place to respond in a timely manner and be able to provide a service or solution if necessary.
Wow! That's a lot of Google My Business Listing Features
Have you searched for the businesses you represent lately? How many of these Google My Business features are you leveraging for them?
I did a test and searched "Garage Door Repair Plano." Out of the top 10 map listings that surfaced, only two had a Google Post displayed with their listing and none of them had the Google Messaging featured turned on. (I'm glad it's not 9 p.m. and I have a garage door that won't close.)
Claiming, optimizing and leveraging Google My Business listings is one of our many areas of expertise. Request a demo and find out how we can start helping you today!