It's All About Local – And That's Not Just Because Google Says So
We live in a local-driven world, I'm sure you haven't let that slip your mind. Google knows it, which is why they are focused on serving local results; just like consumers are focused on eating and shopping locally (for the most part.)
I mentioned before that "near me" searches are up by 900%. I think it is safe to say consumers want things now, they want them fast and, obviously, as close as possible. If you Google "localized" you'll find a few interesting articles on the topic. They have some important insights to consider, even though not all of them are recent.

On Rank Ranger's website there is a detailed studied about Google's Local Pack distance patterns. Check it out, if you haven't already.
On the Moz blog, you'll find an article on geomodified searches, localized results and how to track the right keywords that is also worth a read.
Just this week, Barry Schwartz at Search Engine Roundtable shared some interesting thoughts on how Google My Business adds localized business names. A feature, by the way, that seems to have been out for a while but that not everyone has been able to access. This feature  – not accessible through the GMB dashboard – will let you edit the name of a business directly in web search. The example Barry used is McDonald's, but spelled in the Russian language. It's a country-specific feature.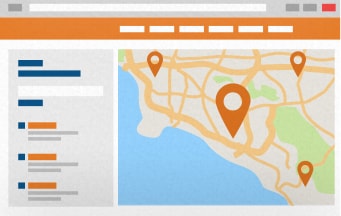 What's the Point of These Examples?
"Localized" can take many different directions and mean different things to different people – and to search engines, obviously.
This is why when a consumer searches for "wine bars near me" or "best plumbers near me" the answers will always vary. The answers are based on location, obviously, but also on the optimization of the business' listings, reviews, website content, landing pages, local presence and any ads that might be running.
Did you know that for intent searches (someone looking to buy a product), paid ads get 65 percent of clicks? On average, 41 percent of clicks go to the top 3 paid ads on the search results page!
To capture market share over competitors, it's important to track all the business' keywords, and write headlines and descriptions that compel the local searcher to click; and once the searcher clicks through from search results, to keep them on the page or clicking through to another one. Ideally, these posts will take them to a page to perform a clear task, whether buying, scheduling a visit or a consult, or taking other type of real-world action – one that generates a sale or a lead at the minimum.
Take Action Now
I have so many methods to drive local traffic that putting them all here would make this newsletter too long! Instead, you can read more about them in these links:
You'll find a theme through each of these articles, and it all starts with trust. Remember, 73 percent of consumers lose trust in a local business if they display inconsistent information online and 67 percent lose trust if they get lost en-route to the local business.
Local SEO is powerful and important. Take a look at BrightLocal's 2018 Expert Local Citation Survey, I chimed in on the impact and importance of local SEO, along with 21 other SEO pros.
What Are You Doing to Help Your Local-Business Clients Get More Local Traffic?
At Advice Local, we have the team and the talent to help you. Request a demo to learn more today.