When it comes to in-store and service area businesses, appearing on Google is vital. When was the last time you visited a store that wasn't on Google Business Profile (formerly Google My Business)? Chances are, if a location doesn't appear on Google Maps, then it may as well not exist in the eyes of the majority of searchers.

Know Your Google Maps Ranking Facts
Not only does a business need to show up on Google Maps, but it also needs to appear in the local pack if it wants to compete with similar businesses. That's where optimization of the Google Business Profile (GBP) listing comes into play. If a business wants to improve its rank on Google Maps, there are three factors every local marketer and business needs to consider. 
1. Location, Location, Location!
Ever since the Local Search Ranking Factors study by Moz in 2017, we've known that proximity to the searcher has a huge influence on rank. In fact, it was deemed the highest ranking factor that year. In an era of searches framed with the phrase "near me," Google highlights location and distance above all else. The search engine even automatically calculates the business' proximity to the searcher as soon as they load the results page.
Did you know that "near me" searches are up 900 percent from 2015? Kleiner Perkins Internet Trends Report revealed this in 2018.
One way to indicate proximity to the searcher, besides updating the GBP listing and other directory profiles, is to beef up the "service area" page(s) on the business' website. Take as many strides as possible to indicate to Google where the business is and why it should rank in the top Google Maps results.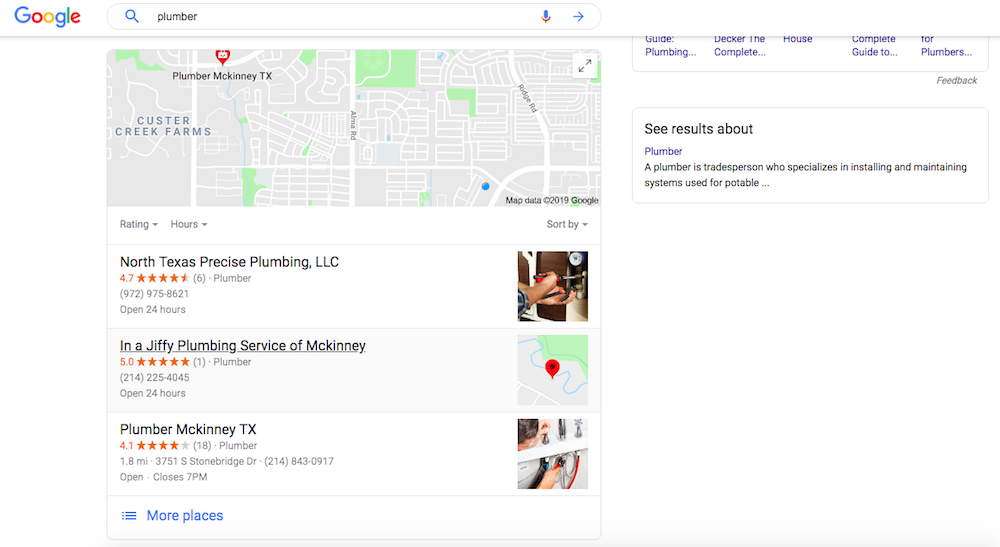 Take a look at this example. I simply searched the word "plumber" in Google and it immediately gave me results that were less than two miles away from my current location. Note that I didn't even specifically ask for a result near me – Google just assumed I was looking for something within driving distance because it prioritizes convenience based on observed consumer behavior. Although Google loves its reviews in search results, it loves proximity more. Make an effort to prioritize the business' location, both on business listings and on the business' website, content and social media posts. 
2. Keywords Matter Everywhere
There is one factor that can overrule location: relevancy. Google's top priority when providing search results is to accurately gauge what the user is searching for. The search engine wants to instantly know if the business matches the search. This means that even if a business is 100 feet away, Google won't include it in the results unless it specifically matches part (or all) of the user's search terms.
Keywords can certainly help prove relevancy to search engines. The more a business can help Google understand what it is and what services it provides, the more likely it is to show up in relevant searches. For example, if I search "dance school" on Google, it pulls up three results that all contain relevant keywords such as "dance," "studio" and "school."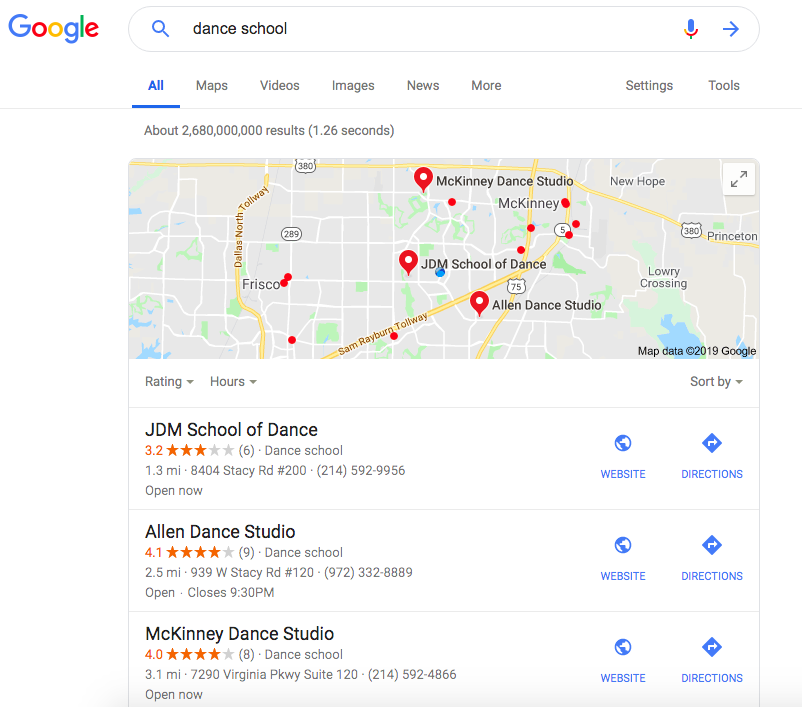 Many businesses make an effort to place relevant keywords in their website's content, but what about placing them in their business listing descriptions? Google needs to see what the business is about instantaneously, so scatter relevant keywords throughout every profile and post. Avoid keyword stuffing, but emphasize exactly what the business provides through careful word choices.
3. Prominence and Popularity Win Out
It's definitely possible (and sometimes easier) for small businesses to appear in the top three rankings on Google Maps. Google does prefer to include businesses that are well known and liked, so each component of a business' listing – like photos, reviews and links to the business – is important. Why? To put it simply, Google wants to provide reliable information to its searchers. Therefore, it pulls results that have gained plenty of positive feedback because they seem to be the most trusted businesses.
Gathering more reviews and ratings can undoubtedly increase a business' likelihood of popping up at the top of a Google search. Prominent places, such as local hotspots or landmarks, will likely rank ahead of locations that are lesser known. In the same vein, big brands that people recognize may be placed ahead of unknown small businesses if they have better reviews and such. Bad data can damage a business' trust in the eyes of search engines and consumers alike – no business is immune, no matter the size. In fact, BrightLocal's Local Citation Trust Report revealed that 68 percent of consumers would stop using a local business if they found incorrect information in online directories.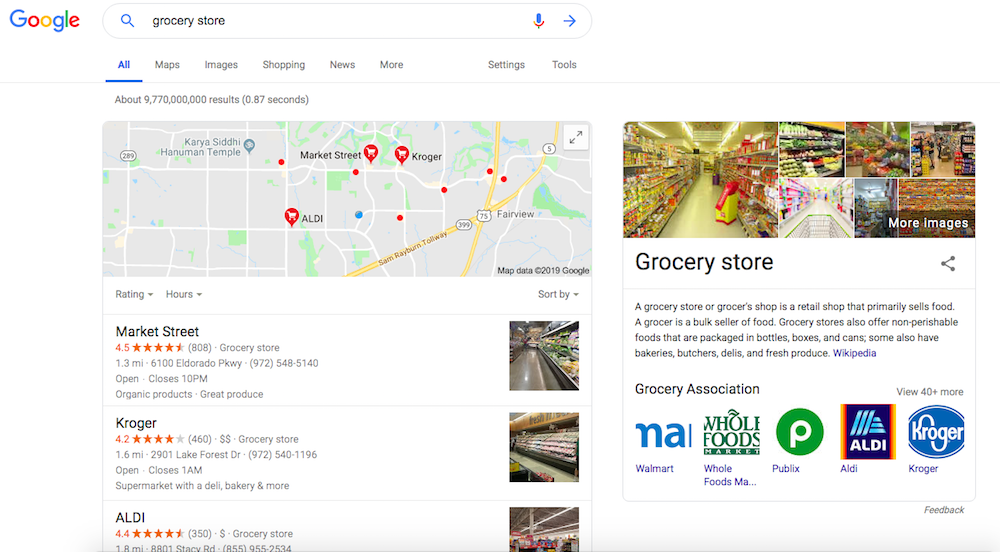 When I search for a grocery store, Google automatically provides me with three different Google Maps options that are nearby, well-reviewed, and owned by chains. These seem like extremely reliable options, which makes both the user and Google more likely to recommend them. The small local grocery store I know about, just two miles away, doesn't even appear in the first page of results due to its low number of Google Business Profile reviews and lack of popularity (among other factors).
It's not that Google doesn't like small businesses – it just doesn't trust them right away. That's why it's up to the business owners and marketing team to build the company's reputation and make it more prominent in the surrounding community. Give Google plenty of reasons to recommend the store in search results and very few reasons to ignore it.
Don't forget that establishing prominence can be done on a multitude of platforms, from blogs to social media. Cover as many bases as possible so that Google can see just how widely recognized the business is. The business may also want to turn to guest blogging and backlinking, both of which establish authority online.
The Bottom Line on Google Business Profile
Although many of us wish there was a way to game the system when it comes to appearing in the envied top three slots on Google Maps, there's no way to buy or cheat your way into a spot.
In many ways, that's a good thing; it keeps Google Maps authentic and reliable for searchers, which is something we all want. Plus, it means that no business has an unfair advantage when it comes to appearing in search results. Some might start out with a higher rank, but every business can work to improve its placement.
At Advice Local, we know how difficult it can be to improve a business' rank on Google Maps. That's where we can help. Schedule a demo today to see what a difference we can make!