I'm back again with more information about voice search! Surprised? Maybe not, since I've been touting the importance of voice search all year. Let me hop back up on my soapbox once again to talk about something slightly different: the specific importance of digging into Google Analytics and Google Search Console to help local businesses place in voice search results.

In order to do everything from rank with Google to gain more customers, businesses need to understand one thing: consumer behavior. Why do users do the things they do? What are they looking for? How do search engine algorithms adapt to this behavior? Understanding how a business' website is getting found and for which specific keywords, the length of the search, etc. can provide valuable insights into creating content for desktop, mobile and voice search.
Voice search is changing customer behavior and helping us learn more about the way the average person searches. Keep reading to find out more about how reviewing analytics can transform what you create.
Digging Into Analytics to Understand User Intent and Voice Search
Since there isn't a way to get voice search traffic analytics specifically, we must approach it in other ways. The number one reason businesses need analytics is to understand their customers' intent when searching. We already know that the way people search changes when they use smart devices – they use lots of long-tail keywords and speak more conversationally. Understanding factors like these changes the way businesses understand (and adapt to) users' wants and needs.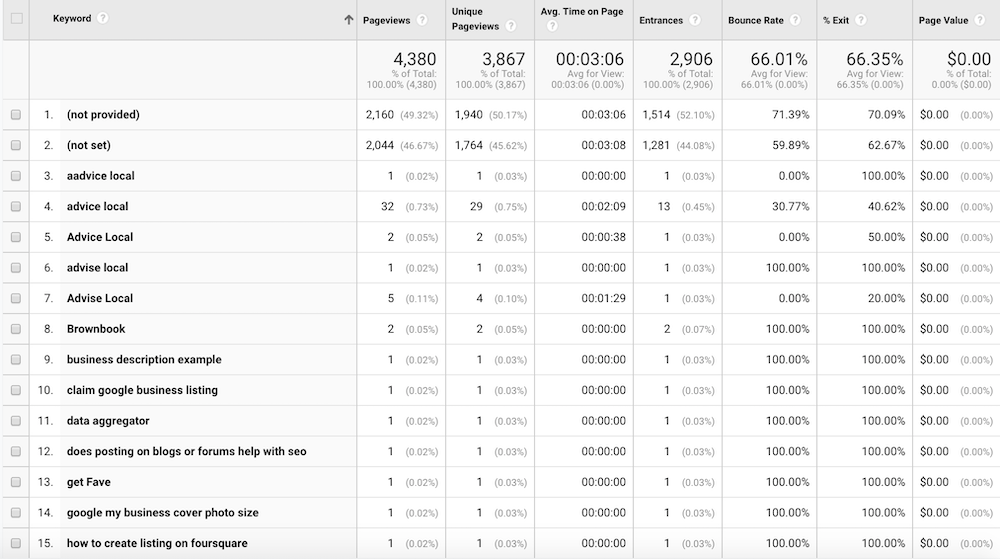 Let's break down this screenshot taken from Google Analytics over seven days and see what we can learn about the consumers' intent.
Those who searched "advice local" or similar searches most likely knew the business name they were looking for. Based on the lower bounce rate for four of the keywords, they were looking for a specific piece of information on the website and clicked through to another page(s) to find it.
The searches for "brownbook" and "get fave" were most likely seeking the specific directories, but since we had that directory's name on a higher-ranking page on our site, they clicked through to it. However, based on the 100 percent bounce rate, the searcher did not find what they were looking for.
The searches for "business description example" and "google business profile cover photo size" were most likely people wanting to know a specific answer. They both visited the pages for less than one minute, then bounced back to search results immediately.
For the "business description example" search, we may want to consider optimizing the page more by linking to a product page for the service we offer. Since there was only one search for this in the last seven days, we would need to look at the search traffic volume for this phrase and several other factors before taking any action.
For the "google business profile cover photo size" search, we wouldn't necessarily take any optimization action. Since we want to place in search results for "Google Business Profile," we could add a mention on this page to drive traffic to a product page about our Google Business Profile (formerly Google My Business) claiming and optimization service.
The search for "claim google business listing" could either be someone wanting to learn how to create a Google Business Profile listing or someone looking for a company that provides this service. Based on the bounce rate, they didn't stay on the site long enough to read the how-to, so perhaps they were looking for a service. We could optimize this post further by adding information at the top about the Google Business Profile claiming service we offer and perhaps benefit more from this type of search in the future.
The search for "data aggregator" was most likely someone wanting to find one. The bounce rate was 100 percent with less than one minute on the site, which tells me they did not find what they were looking for. Since this was a pretty generic search, while we like placing in the top of search results for it, it probably wouldn't make sense to optimize further based off this search term at this time.
The search for "does posting on blogs or forums help with seo" was someone looking for a specific answer. Based on the 100 percent bounce rate and the less than one minute spent on site, we can't say for sure if they found the answer they were looking for. They could have, perhaps, returned to search results to see what others had to say on the topic. If the bounce rate had been zero and the exit 100 percent, it would tell us they found the exact answer they were looking for and didn't need or want to do additional research. If forum posting was a service we offered, we would need to dig into this search term much more over a longer period of time. Adding additional information or a link to a product page about the service would be a couple of strategies to utilize.
The search for "how to create a listing on foursquare" implies the searcher intent was to learn how to create a business listing on this specific directory. They are most likely a DIYer and not looking to hire someone. Before taking further action, I would want to look at this search term volume over a longer period of time. Once I had more information, we could devise a strategy to drive the user to our listing management services page.
Before any optimization strategies are determined or implemented, there are many more factors, like overall search volume for the term in a tool such as SEMRush, variants of the phrase, how much search traffic a specific site receives for the phrase, etc. For ease of explaining intent here, we only used a seven-day period. We actually would use a much longer time frame before taking any action.
When talking about user intent, the intent may or may not be explicitly expressed in the user's query. Understanding which keywords are used isn't the only important part of learning about user intent. Businesses also need to know where searchers land and what answers they were seeking, regardless of how they phrased their queries.
For example, maybe users in the business' area have been searching for local "attorneys" when the company's content and website have been using the term "lawyer" or "legal representative." Understanding where users are trying to ultimately land for their answers will help businesses alter their tactics to provide instant, accurate answers to users' searches.
As Jenny Halasz said in her contribution on Search Engine Watch, "Try to match your customers' intent with your content, seek to answer questions, and provide details wherever possible. The same steps you take now to optimize for answer boxes are going to help you in voice search, too."
Voice Search Analytics Influences a Business' Content Strategies
User intent isn't the only part of voice search analytics that impacts a business' content. Learning to rank on Google with voice search and mobile search, as opposed to desktop search, is a different experience entirely. Businesses may rank well on a computer but fall short on other searches for a variety of reasons. Perhaps the site is too slow to load or appears unfriendly on mobile devices.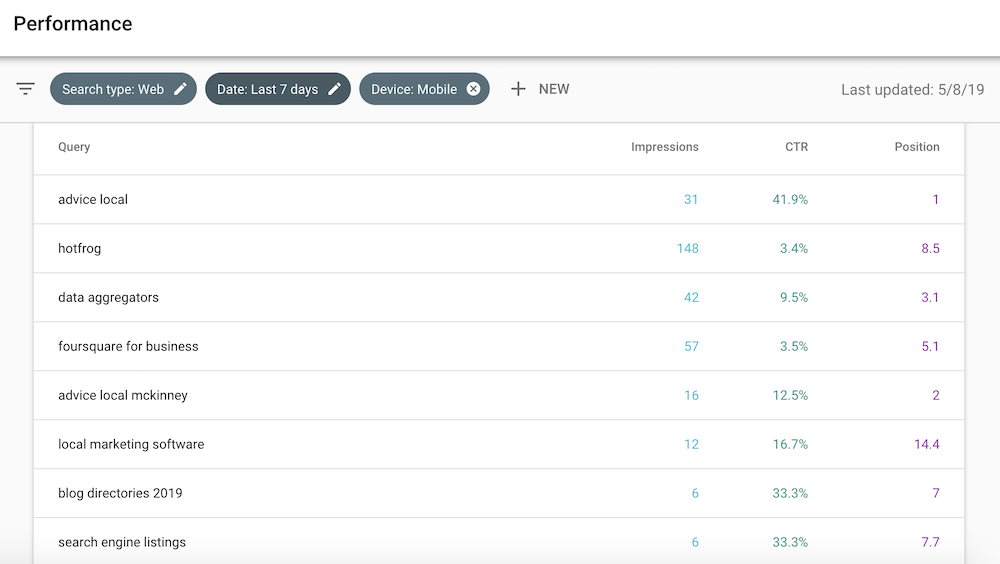 Above is a screenshot from Google Search Console showing mobile traffic for specific queries over a seven-day period. While you can't see the bounce rate or exit rate like you can in Google Analytics, you can see specific mobile traffic in relation to search queries. To understand and optimize content, it's important to dig into not only Google Analytics, but also the multiple other tools available that relate to the business, such as Google Search Console.
Roughly 22 percent of voice searches are built around local content. Therefore, it makes sense for businesses to build content strategies that highlight location more than ever before, especially on mobile devices. Having access to statistics on how users search for local businesses can help businesses tailor their plan to accurately target nearby customers.
Additionally, voice search analytics can help businesses employ specific phrases that are commonly used by searchers. The more it can incorporate popular wording into their content, the more likely the business is to obtain customers via voice searches.
Let Analytics and Tools Guide Your Local SEO Strategies
Although some SEO tactics have held up throughout the increasing popularity of voice search, there are a handful of methods that specifically target voice search results. For instance, many businesses are now placing more emphasis on location due to the rise in "near me" phraseology in searches.
Furthermore, we've come to learn that 80 percent of Google Home results come from featured snippets. This information has encouraged more businesses to answer questions in a concise, detailed manner so that the content might be picked up in a featured snippet. Understanding more about how voice assistants select their highlighted answers can only improve businesses' SEO strategies, especially as voice search becomes a more common method of looking things up online.
Using SEMRush, a business can identify which phrases have made the featured snippet. Here's a screenshot showing how to apply that filter.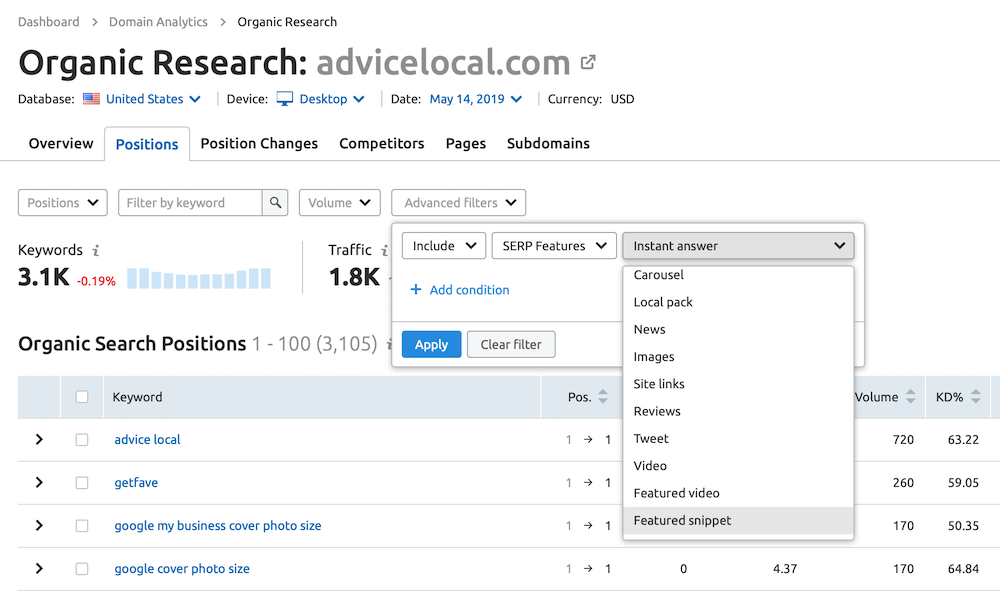 As we said before, a large chunk of voice searches are built around local queries. Of the voice searchers surveyed in this 2018 BrightLocal study, roughly 46 percent said they search local businesses' information on a daily basis. Considering that the use of voice search is steadily increasing, it's safe to say that local businesses need to be on top of the latest trends and tools in the field.
To Sum It All Up
At Advice Local, we've been doing our best to research and understand voice search so that we can help local businesses optimize for the coming changes. Voice search analytics play a huge role in our development of SEO strategies and content plans. We're continually trying to gain more insight into how voice searchers behave and what they want from businesses.
To find out if your business' listings and website are optimized for voice search, schedule a demo with us today!