Last week, we discussed using Google My Business for holiday marketing campaigns. This week, we're sharing some pretty big news on a rebrand… Keep reading to get the scoop.

Meet Google Business Profile
It seems renaming is the new thing to do for big business. At the end of October, Facebook became Meta and last week Google My Business rebranded to Google Business Profile.
Does this move by Google really surprise you? Here at Advice Local, we are not surprised. As you may recall, we recently discussed how it seemed like Google is making big shifts to be more like a social network.
Google Business Profile is depending more and more on user-generated content (UGC). Consider this…
What do the major social media networks depend on to succeed? UGC.
What has a significant impact on the visibility of a Google Business Profile in the local pack and maps? UGC.
How can you add more UGC to a Google Business Profile? UGC comes in many forms.
Reviews
Photos
Questions & Answers
It's clear Google wants more businesses to leverage GBP (is that what we call it now?!?). Google is now encouraging businesses to claim and/or manage their profiles from search or maps. They announced that single location businesses will now manage their individual Google Business Profiles solely from maps.
Search Engine Land reported that the previous Google My Business dashboard will now become Business Profile Manager, used for multi-location brands, agencies and local marketers to manage multiple Google Business Profiles.
Is EAT the Answer for Google Business Profiles?
For those of you who have been following along with our journey of EAT (expertise, authoritativeness and trustworthiness) since around this time last year, you are well equipped to maximize the full benefit of this shift.
For those of you who have not prioritized EAT within the Google Business Profile, now is the time.
EAT Resources We Created to Help You
One of our Advice Local partners implemented this EAT strategy for their local clients' Google Business Profiles and has been getting stellar results. We have been tracking their results since March.
Today, we're going to share the combined map and search views' data for one of the Google Business Profiles we have been tracking that this partner optimized.
March 9 – 2.76K (before optimization)
April 13 – 6.18K (after)
June 8 – 12.2K
August 9 – 20.K
November 8 – 22.8K
Yes, you are reading correctly. We just checked in and the very same business is now at 22.8K combined views for maps and searches in just one quarter. Here is the screenshot showing the data for your review. Notice the views continued to remain high each day. The valleys are on the weekends which would be expected for this type of business.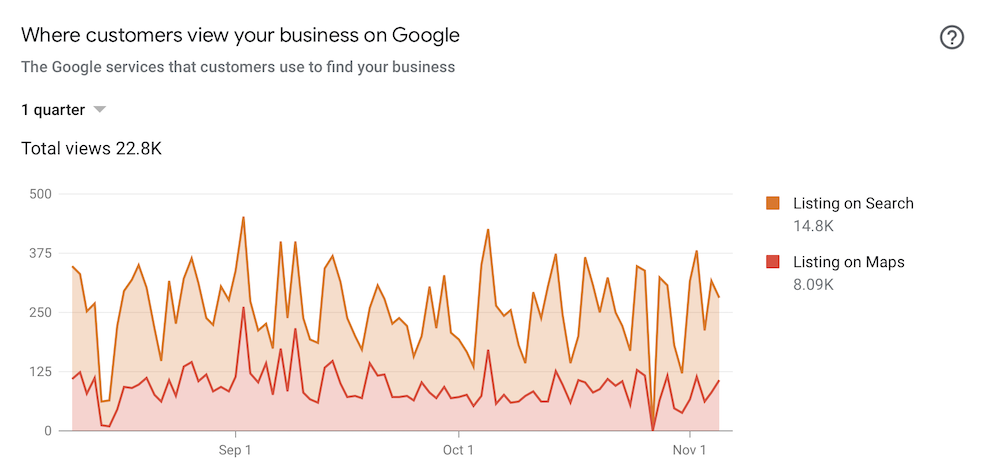 By implementing EAT, this business went from 6.18K to 22.8K combined views in search and maps. And this specific business does not have a review management campaign going. If it had, these views would be even higher.
We Have the GAS Score to Help You Too
Not only have we provided you with how-tos for adding EAT to a Google Business Profile, but we have added the Google Authority Score (GAS), within our partner dashboard, to help you evaluate how well a Google Business Profile is performing.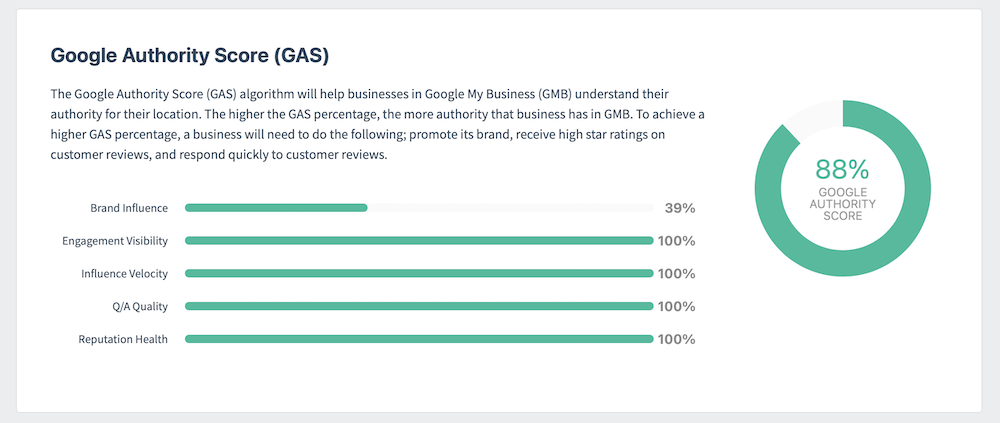 The GAS score is available in your partner dashboard for all active business listings. You will have to be a manager of the Google Business Profile and grant access to your partner dashboard to view the GAS score.
Premium Partner Solutions to Manage Google Business Profiles Are Available to You
At Advice Local, we're all about providing premium solutions for our partners to make listing management easier. This includes the Google Business Profile. With our solution, you can add photos, posts, questions & answers, and monitor and respond to reviews from a single platform.
Whether you are managing one Google Business Profile or those for a multi-location brand, our Google Business Profile tool makes it easy. Request a demo or give us a call at (214) 310-1356 to learn more.