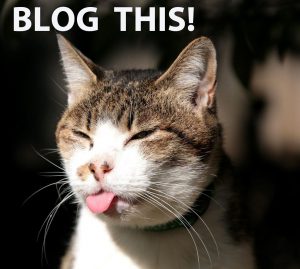 Blogging is a MUST for any business nowadays. As a CEO of an Internet marketing company, I insist that we have fresh, relevant content on our web site as well as our clients' sites. We have a blogging schedule our employees should follow and they have come up with some very creative and informative blogs. I enjoy reading them; however, I hate writing them. That's right, I said it! I hate putting my thoughts into words.
The thing is, I know what I want to say and I know what to do, but I never seem to have time to sit down and write a blog. It's not because I don't have ideas or opinions; it's not because I don't have more than enough to say (just ask my husband)—it's because I hate to blog.
First of all I am not that good of a good writer. Even though I am taking the time to put these thoughts into words for all to see, before it's published on our website I will send this to one of our copy editors for review and most likely a number of changes. I can just see them now snickering behind their hand, "Did you see what she wrote? Haha"
That being said, I've come up with my personal "Rule of 10." These are 10 things that I do to make my blogging count. I believe that if I'm going to take the time to blog, my blogs better be good and they better matter!
1. Post on a regular schedule.
You need to post on your blog at least once a week (at least two to three times would be much more ideal) to build a loyal readership. Remember the mantra in Internet marketing now is that "it's all about the content."
Pick what days of the week you want to publish the posts on your blog so you have a regular schedule. Visitors will learn what your blogging schedule is, making them more likely to return when new posts go live. There is no reason to come back to your site if there isn't fresh content to read.
2. Collaborate with other bloggers.
You don't have to go it alone with your blog. There are other bloggers out there who have interests that line up with your bog's subject. Teaming up with these similar or complimentary bloggers means you can pool resources, do guest posts on each other's blogs, and potentially share readers. You'll both win from the arrangement.
You can also feature links to collaborating blogs on your blog and those blogs can share a link to your blog, further increasing your traffic.
3. Use pictures and videos.
I am a visual person—I love an image that tells a story. I believe no blog post should go live without at least one picture or video embedded in it. Not only do pictures and videos make a blog post more interesting, but search engines index them. For example, if someone is searching for information on monk seals, your post on the subject will be ranked higher in search engine results if your post has multiple pictures and even a video of monk seals.
Here are a few other ideas for putting images in your blogs.
4. Leverage social media with each post.
Every time a blog post goes live, you need to spread the word about it using social media. Digg it, Reddit it, Stumble it, Facebook it, post it on LinkedIn, start a discussion about it… The possibilities are endless!
Once you place the link to the blog post on sites like Facebook, Twitter, and Pinterest, the link might spread from user to user virally, drawing in huge amounts of traffic to your blog.
5. Embed social and email sharing buttons at the bottom of each post.
These buttons allow readers to quickly and easily share different posts from your blog, which draws in more traffic. Most blogging platforms have an easy solution or widget for embedding these buttons at the bottom of each post, such as ShareThis.
6. Use links in each post.
Linking to legitimate and well-established web pages helps increase your blog's search engine ranking. Any time you write a post about a current news story, leave a link to the story in your post. Link to large companies, universities, and other trusted institutions' websites so that search engines give your blog more weight in their search results. (Look, I'm linking to Search Engine Land right now!)
7. Tag each post.
You have the ability to tag keywords in each blog post and should do so every time. These tags are actually used by search engines to help sort out queries, so tagging with related keywords helps people find your blog when they might otherwise never have seen it.
8. Make each post valuable to readers.
Posts should never be pure fluff; instead, offer something of value to your readers so they continue to come back. You might offer some information useful to people's everyday lives, show some behind-the-scenes action at your company, or craft posts that are highly entertaining. If people feel they are getting something from your blog posts, they will be more likely to not only come back to your site, but also to recommend your blog to their friends and family members.
9. Spread the word about the blog through email signatures and other methods.
It's likely that your friends, family, and current customers would love to visit your blog and gain additional insight into your business, but they're not even aware you have a blog. Put the word out by embedding your blog's link in your email signature and sharing it on social media sites.
Businesses should have the blog's link on their main webpage, as well as on business cards, stationery, and in areas where customers frequent (such as waiting rooms or front desks).
10. Allow comments and respond to each one.
You should allow comments to be made by your blog's visitors, but it's a good idea to set up comment moderation to avoid spamming. Whenever someone comments on a post you should reply within a few hours. Be conversational in your replies to start a dialog, which will result in more return traffic.
Whew! That's it, my "Rule of 10." Follow these simple blogging rules and start making a difference in the way you blog. You may even find that—gasp—you start to enjoy blogging because of it!
Oh, by the way, before you leave this page, please like my blog, share my blog, dig my blog… See how easy that was?