Humans are visual creatures, so it's no surprise that images are more attention-grabbing than text alone. Not only are consumers more drawn to visually-pleasing content, but they're also more likely to remember it later.
There are many types of visual content – photographs, videos, infographics, and GIFs. Sharing a variety of visuals is an easy way to create interest and drive engagement, which translates into in-store profits.

Today I'm going to focus in on sharing relevant visuals on social media, but all of these ideas can be implemented for usage in blog posts, email campaigns, downloads and print pieces. The end goal of these strategies is to connect with the community online and offline to attract new customers and showcase products and services.
Why and How to Use More Visuals to Market Products and Services
Images Leave a Lasting Impression
Converting blog content or product features into a compelling graphic like the example below creates a much better social experience.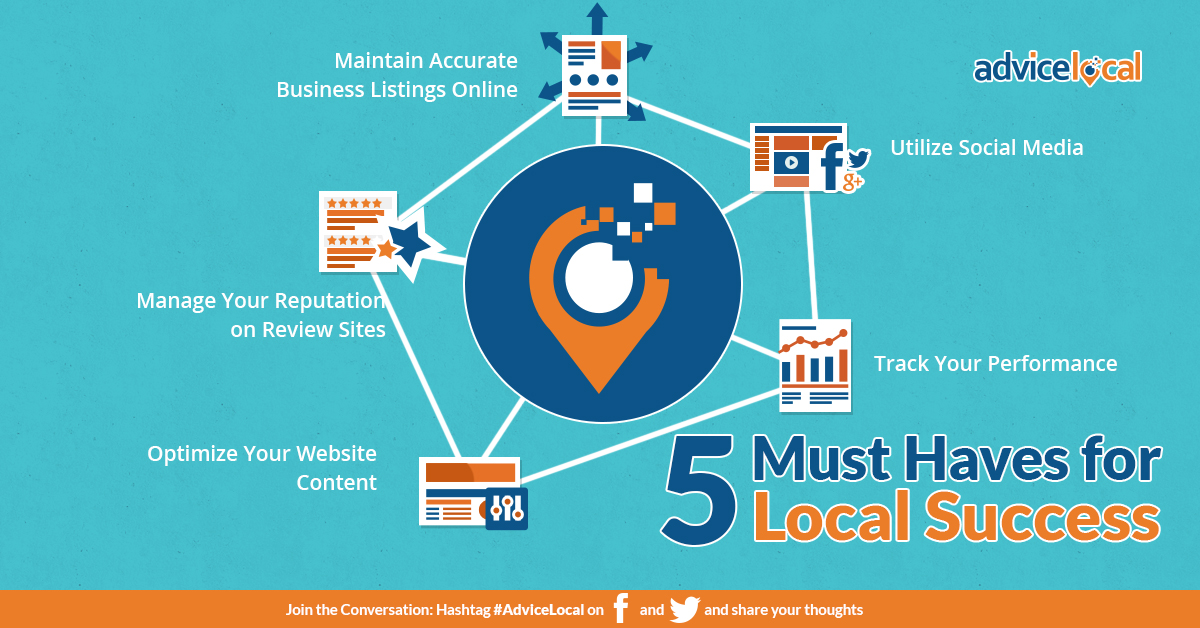 Featured on the Advice Local Facebook Page with the caption "Having trouble figuring out #SEO? We have the basics covered with 5 must haves for #localsuccess. #AdviceLocal #DigitalMarketing http://bit.ly/2jWurJd," this image served two purposes for us. It allowed us to both:
Generate traffic to the blog post on the Advice Local website
Increase our Facebook reach to 3X what a link-share normally receives
Generally, when people hear information, they can only recall 10% of it three days later. But if that same information is presented alongside relevant visuals, people will retain 65% of it – that's a 55% improvement and a stronger lasting impression. It's been reported that including an image in a Facebook post results in 2.3X more engagement on average.
Increase Engagement, Conversations and Conversions
Businesses that are looking to score more likes, shares, comments, and retweets can liven up their social feeds with GIFs. This is a clever way to attract more eyeballs to a social media post while featuring a product.
In this example, we tied in Betty White's 95th birthday (which was trending on social media) with the usage of a GIF and a link to drive traffic to our Advice Mobile landing page.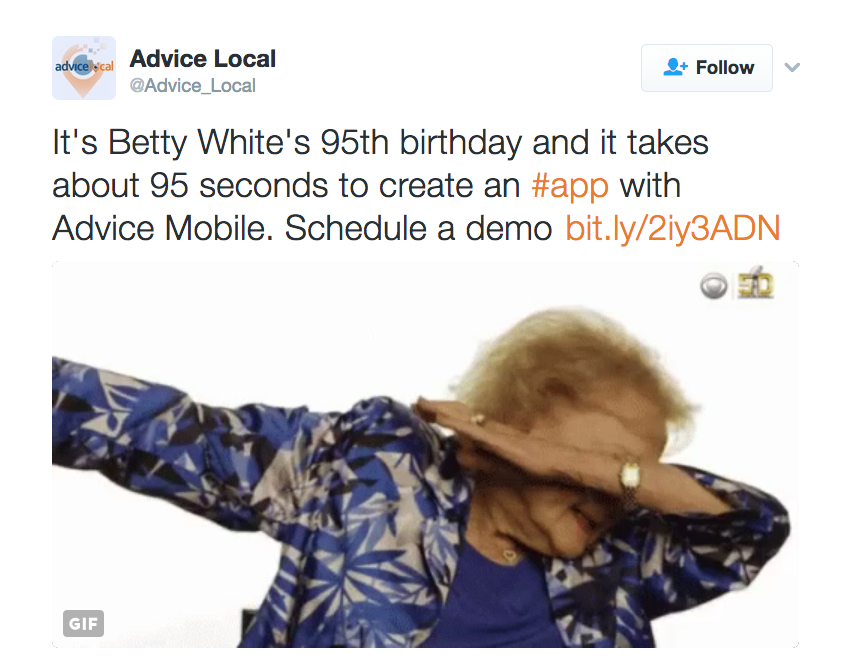 Research shows that sharing visuals on Twitter can get a business 150% more retweets and 313% more engagement than tweets without visuals.
Build a Stronger Local "Mobile" Presence
Done right, building visual influence strengthens the local presence of a business, converts more fans into brand advocates, and drives more foot traffic into the business.
Businesses that have a branded mobile app can use these same visuals to send out rich push notifications to their customers.
Are You Ready to Turn Followers Into Customers?
A well-crafted local marketing strategy is most valuable when tied to a specific goal or campaign. For instance, be sure to encourage followers on social media to call or visit by a certain date to benefit from an exclusive offer, take email subscribers to a landing page, and include the business phone number and a landing page URL on print pieces.
I'd love to hear about your own experiences and how you're integrating visuals into your local business strategy! Comment below.