The simple fact is brands and business are already aware of the important role mobile plays in local business marketing, but are they really taking action? As I shared in my earlier article on the mobile-first index, according to data from the market intelligence company SimilarWeb, mobile now accounts for 56% of all website visits.
Mobile-Friendly or Mobile-First? You Decide
Having a mobile-friendly website is the very minimum that a business needs – and that's all businesses. The widespread rollout of the mobile-first index is already happening. And in my opinion, mobile-first is about much more than just a responsive website.
Businesses must also consider very specific factors and optimize for mobile SEO. My article, The 411 on How to SEO a Local Business Website for the Mobile-First Index, discusses this in-depth. You'll definitely want to read both of these if you are not familiar with Google's mobile-first initiatives, and how to succeed with these changes.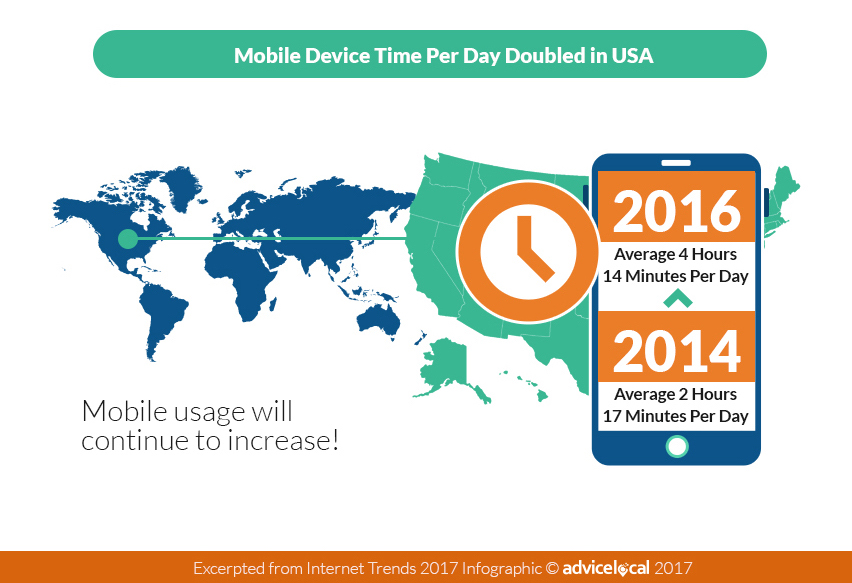 Time spent on mobile devices per day has doubled, according to KPCB's 2017 Internet Trends Report. In 2014, consumers spent an average of 2 hours, 17 minutes per day, and data reported at the end of 2016 reflects increased usage – up to 4 hours and 14 minutes per day! Can you imagine what this number is today?
For the most part, a true mobile website offers a user experience very similar to that of a mobile app. A mobile website is the starting point for most local business mobile marketing campaigns. Let's take a look at the various mobile options available to businesses today.
Responsive Website Design
The simplest, cheapest and easiest approach to take, as well as the bare minimum you should be considering, is responsive design. Through the use of CSS queries, a responsively designed website automatically scales to fit the size of the screen it's being displayed on, whether it's on mobile, tablet, desktop or a different device entirely. The most obvious advantage of this approach is that the business need only maintain a single website.
Although mobile usage surpassed desktop several years ago, claims of the death of the desktop are greatly exaggerated. As such, taking a mobile-only approach is actually a bad idea, since it completely disregards desktop users. Even though a responsive website is undoubtedly something of a jack-of-all-trades but master of none, it definitely offers a decent user experience on any internet-enabled device.
Having a single website presents many advantages, such as being cheaper to build and maintain, easier to market, and easier to create content for. It's also good for search engine optimization, especially with the primary index that influences search placement for pages on mobile and desktop switching to the mobile-first index.
Mobile Websites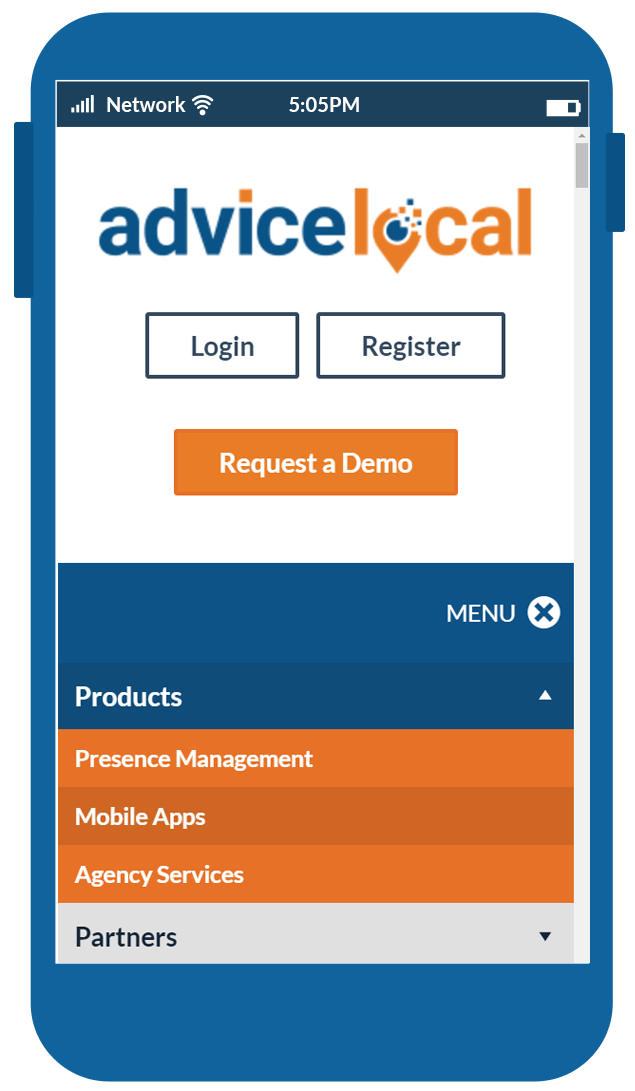 As mentioned above, with the mobile placement of an individual page on a website potentially influencing where it places in desktop search also, is having a separate mobile website even a good idea? Let's explore this a bit.
A mobile website is designed exclusively for the small screen, taking into account the specific limitations and features exclusive to mobile devices. A mobile website typically looks dreadful on the big screen. When someone visits the website, they should automatically be directed to the version appropriate for their device. This ensures an optimal experience for the user at all times.
Since a mobile-specific website is purely optimized for the small screen, it tends to offer improved performance over slower and less responsive internet connections. It's immediately accessible as well, since it doesn't need to be downloaded and installed like an app.
Unfortunately, mobile websites have some glaring inherent drawbacks. At this point, Google is only changing the primary for sites that are ready for the mobile-first index, so this is a plus for businesses that have a separate version of a mobile website. How long will Google handle it like that? Who knows. While in the past so many have said that being mobile optimized doesn't make sense for everywebsite, this seems to be changing quickly.
The most obvious drawback of having two websites is the complication of maintaining them separately. A user switching from mobile to desktop and desktop to mobile may find a broken user experience, as they look for features that are just not available on the other site. This can definitely confuse a target audience! Finally, a mobile website is only good on a mobile phone (usually), and since it's not responsive, won't necessarily work correctly on all of them. It could potentially fail to look good on a tablet, or on many high-end smartphones with larger screens. (And believe me, these seem to get larger every day.)
Mobile Apps
With mobile websites presenting something of a halfway solution that rarely solves the problem in either case, native apps take a quite different approach. A native app is a program written specifically for a specific platform (i.e., iOS or Android). Unlike a website, which is the same across all devices, native apps aren't just for mobile devices. Windows 10 has a built-in app store which can run apps on any device, whether it's a desktop or tablet or something in-between.
Apps offer the ultimate user experience, with the added benefit of many being able to provide an offline experience as well. They're faster and more responsive, and they allow a brand to take advantage of all of the features and functions of a specific platform, such as push notifications, integrated geo-targeting, and so much more. Once downloaded and installed, an app also offers visibility like no other solution, unless the user uninstalls the application.
Apps are great for certain situations, but they're not always the right choice. For a start, the cost of developing a mobile app can be extremely high, and involve two major platforms to think about (Android and Apple). Each has different requirements for submitting and getting an app approved, with Android being a much faster and easier process at this point. Brands will need to adopt a completely separate marketing approach for a mobile app.
Most apps installed by the consumer are used only a few times and then abandoned. It's extremely important for businesses with a mobile app to keep users engaged. Since we have a branded mobile app solution, Advice Mobile, we definitely have some tips, tricks, and incisive points of view on the benefits of mobile apps, so don't rule out having one just yet!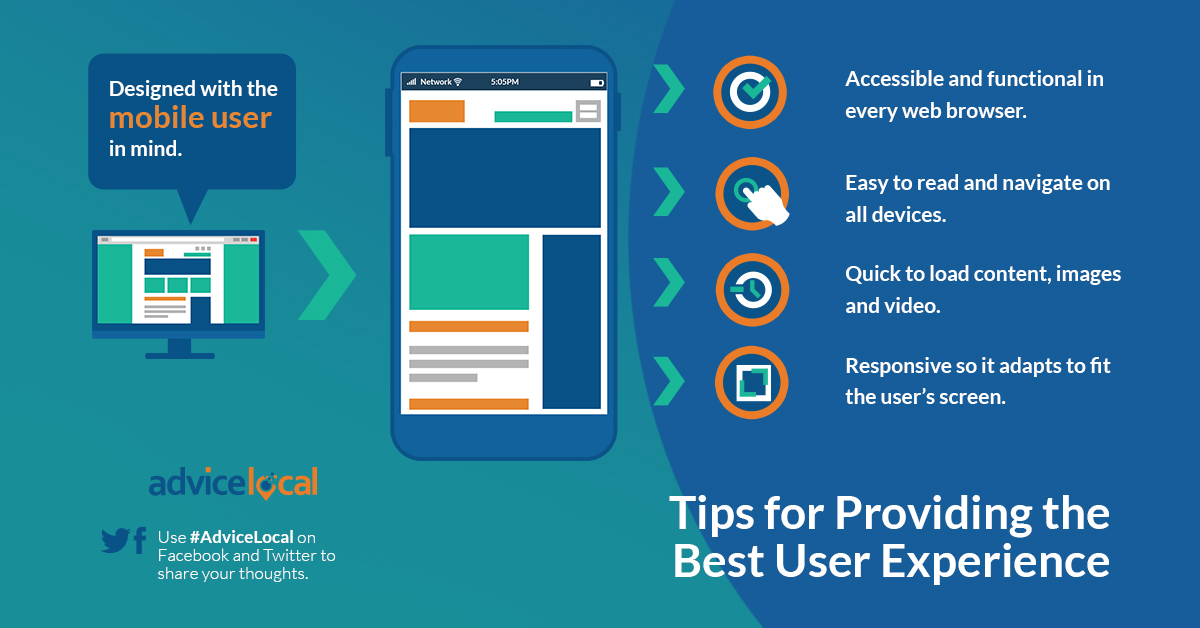 Which Mobile Solution Should a Business or Brand Choose?
Businesses definitely need to start off with a responsive website at a minimum, and this will be perfectly satisfactory. If the overwhelming majority of a target audience uses a mobile device exclusively, developing a mobile-specific solution could be a necessary expense. Mobile apps offer some specific advantages, such as the ability to send push notifications and offer coupons to loyal customers. Many local businesses with a mobile app like to use it to send push notifications during slow times to drive more in-store traffic.
When it comes to things like interactivity and games, for example, the mobile app presents the obvious content format. Businesses that require native smartphone functionality, such as GPS, messaging or calling, can also profit significantly by having a mobile app. Similarly, for businesses that need to provide a personalized service for regular use, such as online account management, a mobile app can offer that easily to on-the-go consumers.
As a business grows, it makes sense to take their mobile approach to the next level. As mentioned earlier, we have a branded mobile app solution that makes it affordable for almost anyone to have a mobile app. The best part? Our solution creates mobile apps on-the-fly in minutes, and anyone can create a mobile app for free that is instantly ready to submit to the app stores.
You're Not Alone – Advice Local Can Help
Businesses and brands of all sizes struggle with finding the right solution that meets their customers' mobile needs, while meeting their needs and budget! From responsive websites to branded mobile apps, we have you covered.
Request a demo to learn about our solutions, mobile and otherwise, today. We can help!