The Internet seems to be buzzing almost every day with a new update to Google's algorithm and guidelines. And surprisingly, it's come with a level of transparency we digital marketers haven't seen before.
One of the biggest surprises came in November 2015 and again at the end of March 2016, when they openly released their Search Quality Evaluator Guidelines. Read my take on that here.

Today I'm discussing the latest updates to the "Improve Your Local Ranking on Google" page that the Google Business Profile (formerly Google My Business) support team made. They clarify some important points and hint at possible changes to the way the search giant lists local businesses. Specifically, this update details how relevancy, proximity and prominence affect search.
Prominence and Local Rankings
One of the most focused on segments in this update is prominence. The basic, dictionary definition is as follows: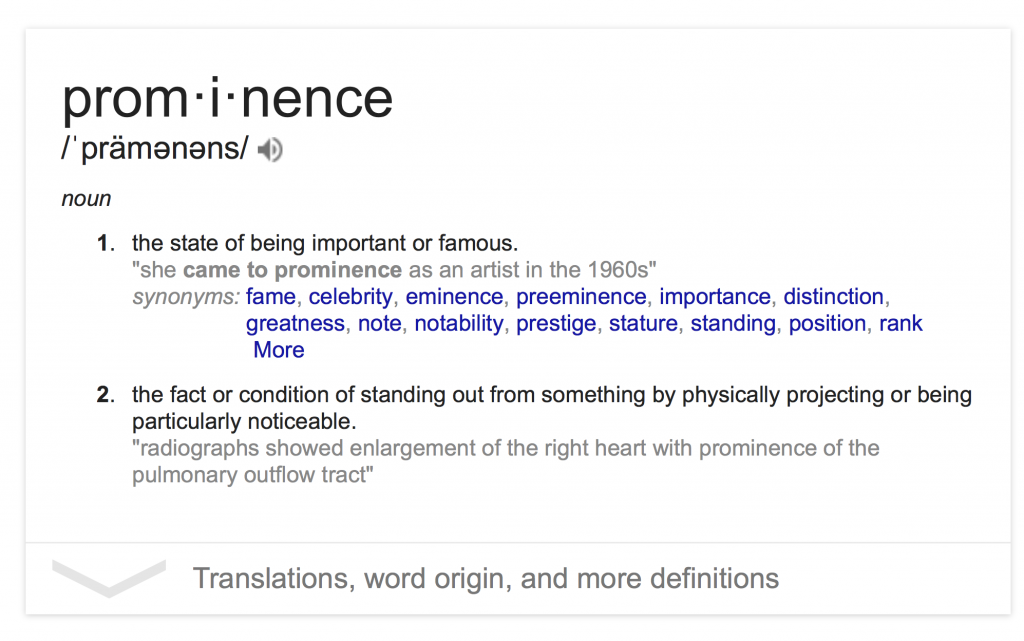 When applied to Google specifically, prominence is all about how well known a business is.
Their recent update goes into brief detail about the importance of a business's prominence in local search results. The offline popularity of a business actually plays a role in its online visibility; it is factored in, even if there is not a strong digital presence. Think of a place close to you that all the locals favor. The location may be older and perhaps not technologically savvy, but due to its favor with the population, it has a better chance of having the necessary ranking signals to show up in Search, Maps, etc.
Of course prominence pays close attention to online ranking signals, too. This popularity is based on information search engines find about the brand or business elsewhere on the Web. This includes but is not limited to conversations on social media, consumers interacting with websites and content and consistent, positive ratings and reviews. These ranking factors have played an important role in all of search, not just local, for some years now; however, the recent update confirms this information includes elements typically associated with traditional SEO, such as links, articles and directories.
Beyond a Definition: The Effects of Prominence
The biggest takeaway from this update is that a business website's overall ranking in organic search results also has a direct effect on the exposure of its Google Business Profile in search results. Marketers of local brands, who have focused primarily on traditional SEO methods, rather than local SEO, may start to see their business's local rankings go up. On the other hand, local brands that have neglected traditional SEO may find their visibility in local search results taking a significant hit.
Google's primary driver, to deliver relevant and quality search results, has not changed at all. And though this update to local ranking signals will have an effect on many local businesses, for the most part, it should be a positive one. The reasoning behind the changes lies in recognizing that some local venues are more prominent online than they are offline, and Google is trying to establish balance by taking this fact into account.
In addition to prominence, content relevancy and proximity continue to be important ranking signals, so the changes are not a reason to move away from local SEO. However, there should be a focus on adding more traditional SEO best practices into the mix, since the update clearly states that traditional SEO ranking factors also play a role in local search rankings.
Ratings and Reviews Are Still Important
Google reconfirmed in this update that it factors customer ratings and reviews as ranking signals, which shouldn't come as any surprise. In fact, Moz previously discovered that customer reviews accounted for 8.4 percent of all local ranking signals. The same study revealed that business signals, including categories, keywords and proximity accounted for 14.7 percent of local ranking. Citation volume and consistency also remain extremely important, as well as on-page signals like NAP data, domain authority, keywords in titles and other important elements.
In the last six months Google has become increasingly transparent about its ranking signals. I don't know about you, but I find it refreshing and hope they keep at it.
Be sure and come back each week for #TuesdaysWithBernie. Who knows what will happen between now and next week!