Today I'd like to highlight one of the addons available to our Advice Local platform partners at no additional cost – data aggregators. When you're selecting a listing management partner, it's important to weigh the benefits and options available with each provider.

Data Aggregators Are Included for Free With Advice Local
With Advice Local, our platform partners can get their clients' business data submitted to the data aggregators at no additional cost. If you are an Advice Local legacy partner, this is yet another reason you may want to consider upgrading today.
At Advice Local, we understand the importance of having your clients' data accurate on as many sources as possible. This is exactly why we include distribution to the data aggregators.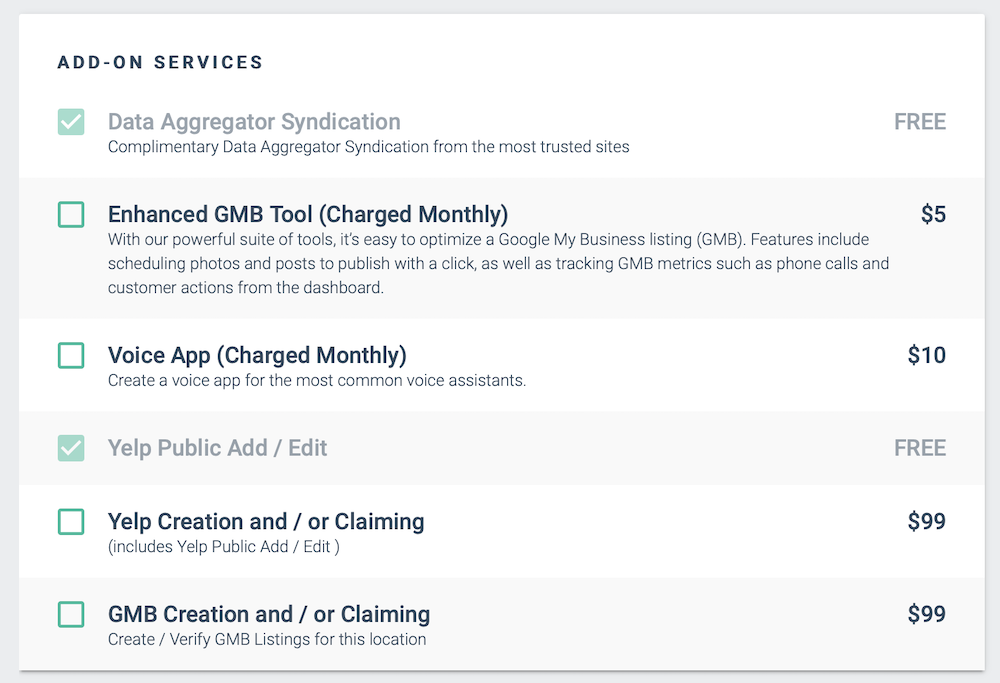 Competitors Charge for Data Aggregators
Many other listing management companies (who shall remain nameless here) charge an additional fee for submitting to data aggregators. The additional fee is separate from what you pay them for the business listings.
I did some quick competitor research and looked at two other listing management providers. I found one provider charges $60 and includes only 3 data aggregators. Another charges $129 and includes 4 data aggregators.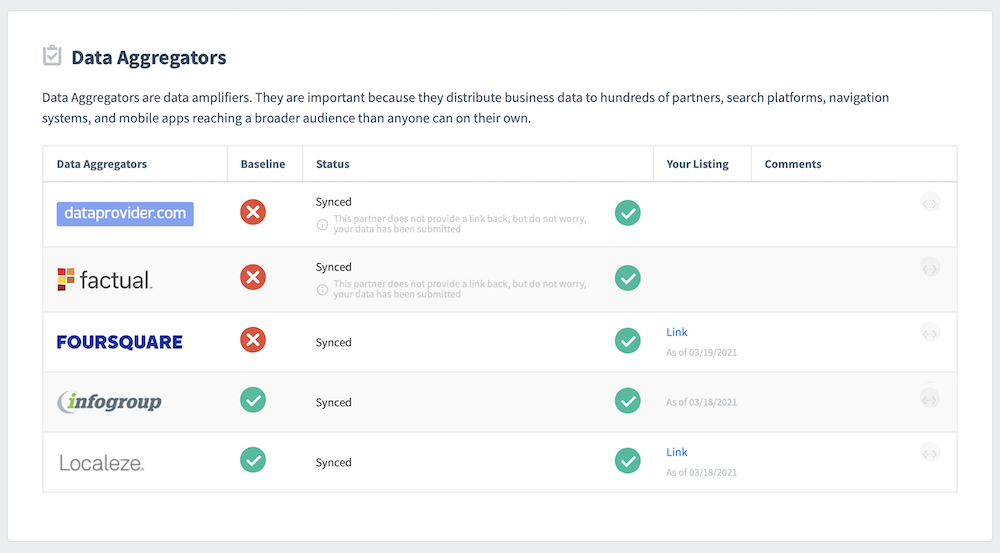 At Advice Local, we include 5 data aggregators. We submit your clients' business information to dataprovider.com, Factual, Foursquare, Data Axle (formerly Infogroup) and Localeze. And as you correctly read above, as an Advice Local platform partner you won't pay an additional penny for this.
Data Aggregators Are Data Amplifiers
Do you know that data aggregators feed other websites, directories and mapping solutions? This is why it's so important to have your clients' data submitted to them, and that the information listed on them is accurate.
While some may think submitting to data aggregators is not important, or that you only need to worry about submitting to them one time, at Advice Local we do not agree with that point of view. Data aggregators are important.
Joy Hawkins did a study on whether a business should annually pay for data aggregators or not. While their study found that "the inconsistent name being listed on other sites online didn't have any measurable negative SEO impact," consumers say it matters to them, loud and clear.
Local Citations Trust Report, a study conducted by BrightLocal, revealed the following: 
93% of consumers say they are frustrated by incorrect information in online directories
80% of consumers lose trust in local businesses if they see incorrect or inconsistent contact details or business names online
68% of consumers would stop using a local business if they found incorrect information in online directories
These stats alone highlight why data aggregators are important. Remember, since data aggregators are data amplifiers, if the information on there is incorrect, the bad information will be distributed around the web to other directories and sources, which can result in hundreds (and even possibly thousands) of business listings that contain bad data.
Joy summarized her study by stating: "We found that the reason why you'd want to pay annually for a data aggregator would be accuracy. If you're worried that people might see the wrong name or phone number online, it might be a good idea to stomach the annual fee."
Are You Ready to Add Data Aggregators to the Solutions You Offer Businesses?
Thank you for joining us in our dive into data aggregators today. Does the listing management company you use charge you an extra fee? Request a demo today and learn about all of the features included within our listing management solution.