Being a CEO has its perks, and one of those is getting to share product announcements and exciting company news – and today, a new algorithm we have integrated within our local presence management solution – the Voice Search Readiness Algorithm.

And Yes, Our Voice Search Readiness Algorithm Is the First of Its Kind
We help local businesses get found online, so the reason for creating this score is pretty clear! Local businesses, brands and franchises need to know if they place in voice searches, and this newest feature achieves this perfectly.

To help these businesses get found, they must be showcased where potential customers are looking. Today, that is in desktop, mobile, and voice search, and many consumers are turning to voice devices such as Google Home, Amazon Echo, iPhone, plus the other Apple and Samsung devices.
 Did you know…
58 percent of consumers have used voice search to find local businesses in the last 12 months.
Mobile voice-related searches are 3x more likely to be local-based than text-related searches.
46 percent of voice search users look for a local business on a daily basis.
52 percent of voice-activated speaker owners would like to receive information about deals, sales and promotions from local businesses.
When a business is listed on many different directories and sites like Google Business Profile (formerly Google My Business) and Bing Places, it's easy to lose track of so many areas of opportunity to improve the business' online visibility. At Advice Local, that's why our partners turn to us. We manage these multiple listings and all this data for them. With our report, it's easy to see how visible a business is – and what must be improved to be seen by people who really matter: local customers.
The Voice Search Readiness Score is part of our Baseline Report, so even if a business isn't listed through our technology yet, it's easy to see if they are voice search-ready. A simple "Ready" or "Not Ready" result displays for the major voice assistants. Here's an example of the breakdown: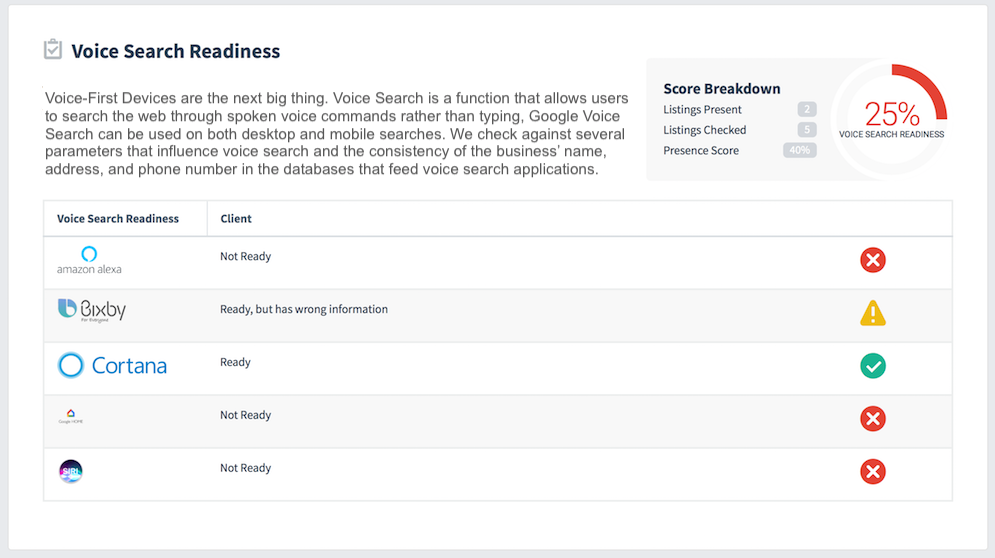 Enter the Voice Search Readiness Algorithm
Let's examine the options: A business can choose to wait to get voice search-ready, but they will be beaten by the competition. Even with the best services and products , and stellar customer service, if potential clients can't find that business, how can they hire them? It's either wait or act, and now is absolutely time to act!
Helping businesses get found online is what we do. Request a demo today to see how we can help your clients or your business get found via voice search. Our team is standing by.