The last time we were here, we looked at data aggregators and the local search ecosystem. This week we want to talk with you about Bing Places.
But we won't tell you how to claim a Bing Places listing today since we've already done that. And we're not going to cover how to optimize a Bing Places listing, because we've done that too! Rather, we are going to expand upon why Bing is so important.

Why Bing Places Matters for Local Businesses
Google is the dominant player in the search market, that's a fact. But neglecting Bing means losing out on a vast amount of engaged traffic.
According to data published at Statista, Bing has around an 8.8% share of the worldwide desktop search engine market. The platform also gets 1.2 billion unique monthly global visitors.
Crucially, U.S. Bing user households earn over $100,000 per year, making them the exact type of consumer that most businesses want to attract.
Many solutions also use Bing as their default search engine. Microsoft's own devices (such as the Xbox and Cortana) naturally use Bing Search. And many third-party products like Amazon Fire tablets also use Bing to power web searches.
The popular search engine DuckDuckGo uses Bing as one of its data sources, while LinkedIn uses Bing Search data for interest targeting.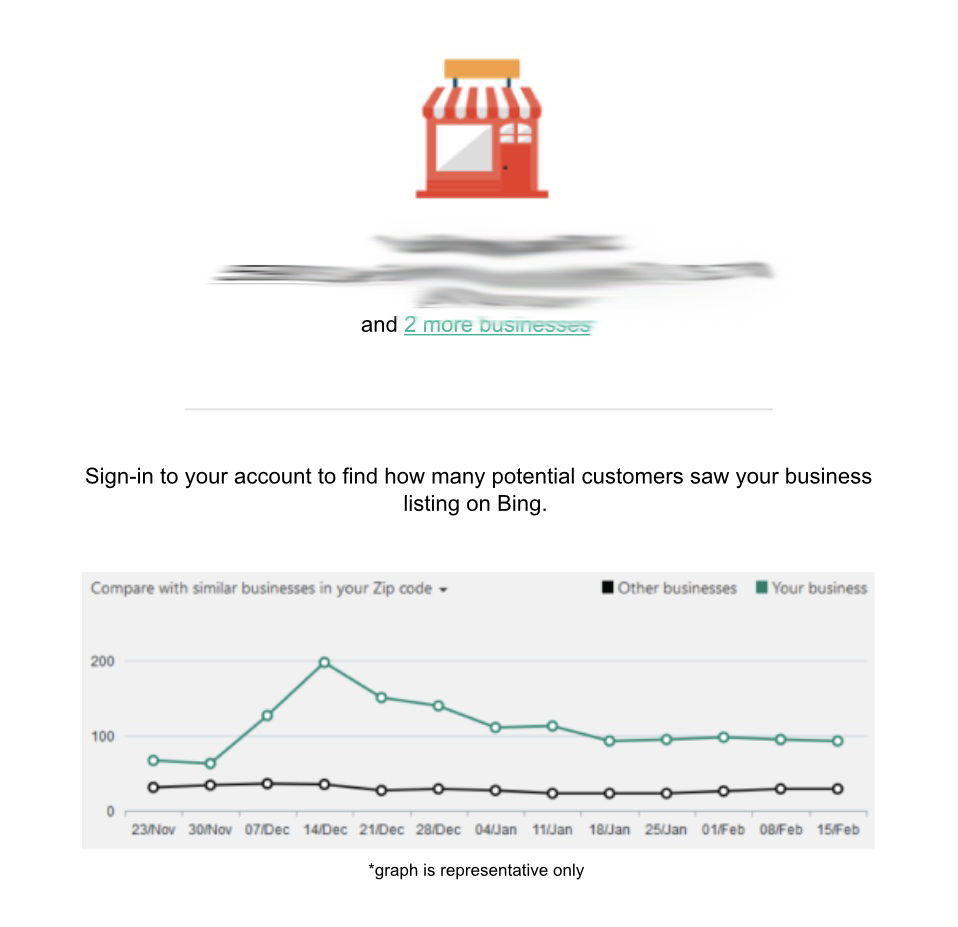 It seems Bing is also trying to engage businesses with their listing services. One of our partners just received an email shown above. With many business owners underestimating Bing's reach, it makes sense that Bing is proactively contacting users as a way to show the active user base within their grasp.
Now that we've presented why you should not ignore Bing, let's discuss how at Advice Local we can help you create a Bing Places listing for your local business clients.
Efficient Data Distribution With Our Listing Management Solution
At Advice Local, we include creating Bing Places listings for the businesses submitted through our listing management solution for free. Since we create these listings via API, you will possibly want to go in and manually claim the listing later (so you can further optimize it).
One of our Advice Local partners shared their secret for leveraging our business listing solution to quickly and easily distribute local business data to Bing and other directories around the web.
Creating Local Business Listings Quick & Easy With Advice Local
Optimize the business' Google Business Profile on Google.
Submit the business for listing distribution in our solution.
Using the GBP Sync feature within your partner dashboard, sync the business' Google Business Profile to your partner dashboard. The basic data about the business will automatically be populated in the Edit Client section of the dashboard for you.
You'll want to further optimize the business within your partner dashboard to populate the information that didn't sync, such as the products, answer the voice search questions and so on.
You can take Bing optimization a step further by doing the following:
Claim the Bing Places listing we created.
Sync the business' Google Business Profile with the Bing Places listing to incorporate any information that didn't sync from the partner dashboard.
Complete any additional information within Bing that didn't sync.
Now you have created an optimized Google Business Profile, completed listing distribution for the business – and have an optimized Bing Places listing. It just doesn't get much easier than that.
The Premier Listing Management Software for Businesses
At Advice Local we prioritize quick and easy solutions to help local business clients get found – request a demo and we can do the same for you. Call (214) 310-1356 to learn more.