Last week we discussed the appearance of justifications in the Google Maps mobile interface. This week we're going to discuss mapping app solutions for local businesses.

Reaching Consumers With Mapping Apps and In-Dash Navigation
Every now and again, we head back to the basics and explore the core elements of a business' local visibility. As you may recall, we talked with you earlier in the year about why local businesses need mapping app solutions, and today we're digging into this a bit more.
A local business trying to make the best use of its time and resources should go where its target audience is looking for it. And with the growth of mobile search and customers researching businesses on the move, this means one thing – mapping apps, in-dash navigation and GPS devices.
According to Google, 28% of searches for something nearby result in a purchase. Consumers typically have a buying intent when they conduct local searches. So for businesses, this means that being visible and removing friction in the buying process delivers higher probability of a purchase being made. In practice, this comes from ensuring your clients are listed with accurate data on the online resources that consumers are searching – and yes, this includes mapping solutions.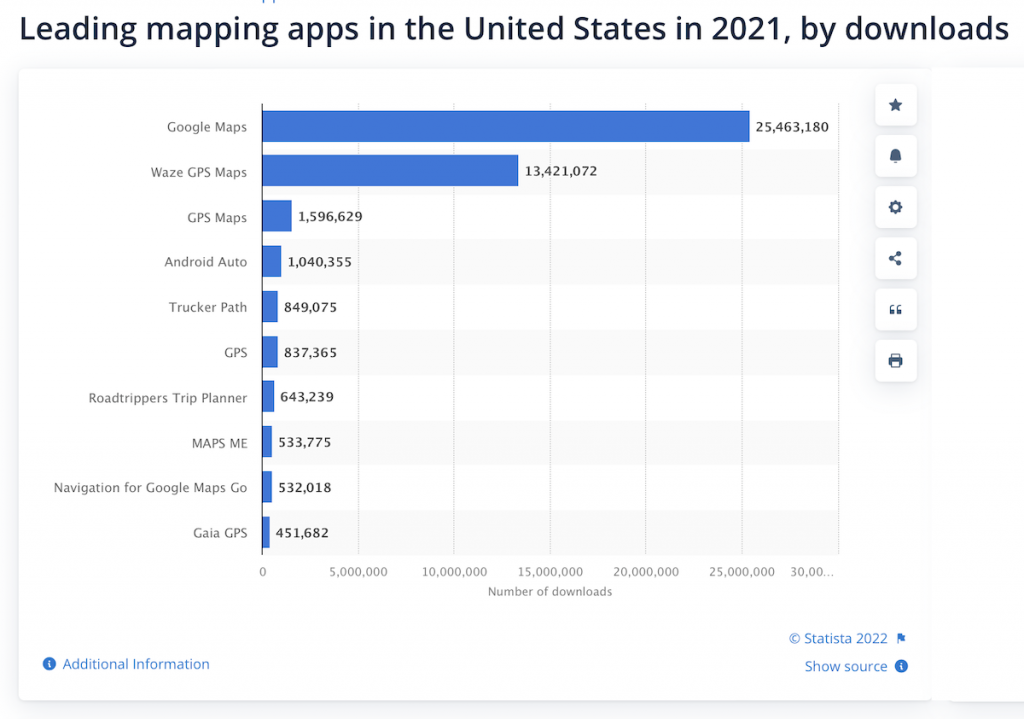 What Mapping Apps & Solutions Do Local Businesses Need to Be Listed With?
1. Apple Maps
As the default mapping app for iPhone users, Apple Maps is used by millions worldwide. But far beyond the iPhone, Apple Maps extends into Apple's entire ecosystem. CarPlay lets users control their phone using the car's infotainment system. Naturally, Apple Maps constantly improves their solution and is currently prioritizing getting real-time data to alert users while using their mapping app, adding routes for biking, etc.
2. Waze
With an active community and crowdsourced information, Waze offers more than a typical navigation solution. Waze users can use the location search option to find local businesses to visit, figure out the best routes and discover the busiest times of day. Consumers need to trust that the business information they get will be accurate, and Waze has become a go-to solution for reliable updates. As Waze is trusted by more than 140+ million users, a business simply cannot afford not to be found there.
3. Google Maps
As the most downloaded map and navigation app in the United States, Google Maps must be a priority for a local business. We have discussed Google Maps extensively, and it continues to develop as a highly sophisticated mapping solution with the ability to increase visibility through the local finder, add trust with reviews – and gain targeted traffic through an ever-growing feature list. And as we discussed last week, a business with an optimized Google Business Profile can increase their odds of showing up in a Google Maps search through justifications (this applies especially for long-tail keywords searches).
4. In-Dash Navigation Solutions
Recognizing the importance of in-dash navigation, car manufacturers have created innovative solutions for drivers. However, this approach means local businesses need to ensure they are listed for every brand. Without a distribution system like the Advice Local dashboard, reaching every manufacturer will be difficult. This is exactly why we include the most popular in-dash navigation solutions with our business listings management solution.
5. GPS Devices
While many people have made the switch to using a smartphone for navigation, GPS devices are still popular. Brands like TomTom and Garmin are trusted, and consumers expect up-to-date data for local businesses. Of course, any bad data out there will damage the user experience and reflect badly on a business. This means the ability to syndicate accurate information is crucial when distributing to GPS platforms – and we've got you covered here too.
Mapping Apps & Navigation Solutions Are a Breeze With Advice Local
At Advice Local, we provide directory listings, mapping apps and data aggregator services for agencies and local marketers. Ensure your clients can be found on the platforms that count using the Advice Local partner dashboard. To try it for yourself, request a demo today. Call (214) 310-1356 for help.