From recent updates to the local pack to the introduction of lists for Google Maps, Google is always looking for ways to improve search results. The latest weapon of choice is machine learning with Google Adwords as the victim.
We already know Google is using an artificial intelligence (AI) system known as RankBrain to serve results that match user intent. But what we couldn't confirm until recently is that AI and machine learning will soon play a major role in many of Google's products, starting with AdWords and likely expanding to Google My Business and Google Maps.
Here's What is Changing with AdWords
Google recently announced an impending AdWords update that will change the relationship between search queries and results. Over the next few months, Google will broaden close variant matching to include rewording and reordering. The goal is to display relevant ads in search results based off a user's intent rather than on the exact search query.
The machine learning process will be used to determine when function words (like 'in' and 'of') should be ignored. If the function words don't impact the user's intent, Google will choose to ignore them and return results that either contain different function words, no function words, or additional function words.
For example, Google will be able to understand that a search for "hotels in McKinney" can ignore the word "in" because it doesn't change the meaning. However, in a search for "flights to Dallas," the function word "to" cannot be ignored because it directly impacts user intent.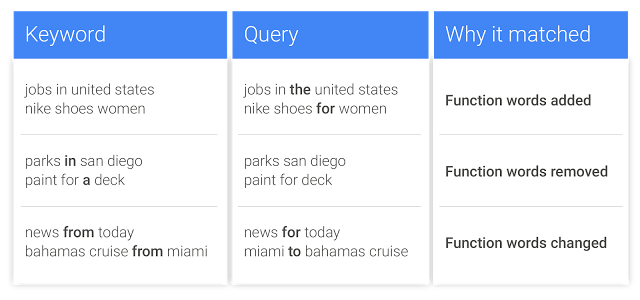 Image Credit: Google
With this change, advertisers won't have to create lists of reworded and reordered exact match keywords to have their ads displayed in relevant search results. However, Google recommends continued usage of remarketing, Smart Bidding, and negative keywords to control the type of web traffic they attract.
This update highlights the importance of searcher intent and all but confirms my continued belief that machine learning will play an important role in the majority of Google products as they release updates.
Local Search is Linked to Machine Learning
The simple solution to ensure the local businesses you represent will continue to be served in local search results is to have optimized Google My Business listings and consistent citations around the web. It's only a matter of time before Google rolls out intelligent solutions for all of its search-related products. Will the businesses you represent be ready?
Find out today about our Local Presence Management solution and how we can help your clients to rank higher in search results!

Be sure to come back next week for more local search news from the #QueenofLocalSEO.