A few weeks back we talked about E-A-T, but more specifically about expertise, which is represented by the "E" in E-A-T. Today we are going to explore authoritativeness, so let's start by defining it.

What Is Authoritativeness?
Authoritativeness is defined as: The quality of possessing authority. The quality of trustworthiness and reliability.
When Google added E-A-T to their Search Quality Rater Guidelines, they didn't give local marketers a definition – it was more like a guideline and examples. You can go to page 19 of those guidelines to read about E-A-T. (BTW… on October 12 they just updated them again.)
As we explored earlier, you can't have real, substantial authoritativeness without expertise. It's proven – we know you can't build trustworthiness without showing your expertise.
We Must Define Authority in Relation to Google Business Profile
Thankfully, Google actually shares with you – through their Google Business Profile (formerly Google My Business) Insights – the important information that will help you to understand a business' online authority, if you look at it closely enough.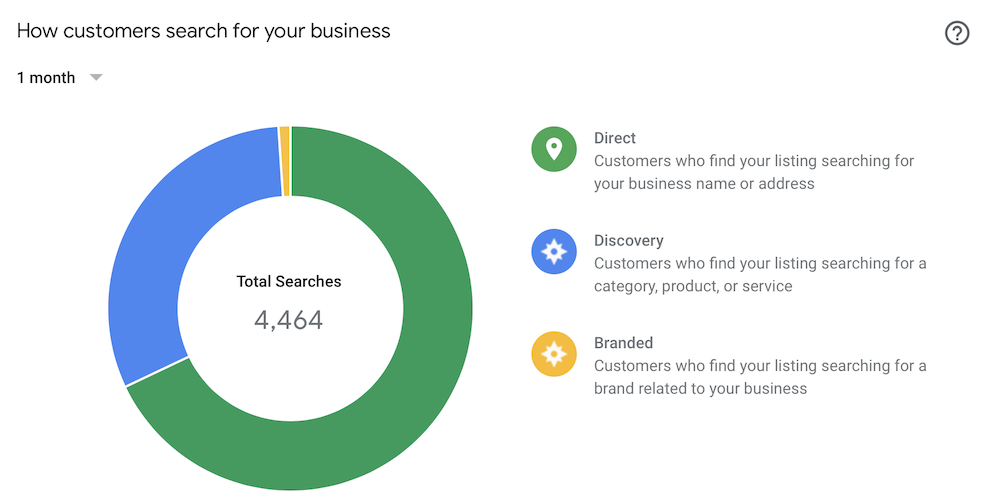 As shown above, you can see that within the last month this business' Google Business Profile (GBP) listing has been discovered through search 4,464 times.
9% of those were through a direct search for the business name or address
31% through discovery searches
1% through branded searches
67.9% percent of people knowing this business' name is good news for the business! That means people are talking about them enough, and wanting to know about them enough, that they have brand awareness.
However, since they only appear for 1.1% of brand-related searches, this means that Google doesn't quite connect their business' products and services to their bigger competitors. This isn't on Google. Our first recommendation here would be to make sure this business' listing is 100% optimized.
Next, look at competitors' GBP listings to determine what information the well-known competitors have in their GBP listing that they are missing. In short, a few adjustments could impact their Branded percentage quite positively.
In addition, we would definitely like to see a higher Discovery percentage for this business. There are definite steps this business can take to ensure they get discovered in more searches.
How Can a Business Build More Authority?
First and foremost, add the business' products and services with descriptions of each. If this has already been done already, it needs to be revisited. Perhaps the keywords used are not the words the consumer uses when searching for their type of services.
Also, the business needs to increase activities and actions taken on the business listing. The following tips will help.
Tips for Building Authority Long-Term
Focus on getting reviews and responding to them
Adding Questions & Answers to their GBP listing
Publishing GBP posts
Adding images that have EXIF data added
Implementing these practices will help the business increase their expertise, which in turn will increase their authoritativeness. As they get more reviews and interactions on their listing, their trustworthiness will also increase.
When Google is referring to E-A-T, they are directing their raters how to review a business' website content. This reveals how you know – and with great confidence – that E-A-T is an important component that impacts when a business' GBP listing appears, and when it doesn't.
In fact, a partner just reached out to us about a GBP listing they created for a client's 2nd location. When searching for the business name a few miles away from the new location, the older GBP listing that is 15 miles away is appearing in the local map pack. It has reviews, photos and other essential components. Since the new location is closer in proximity to the searcher's location, common sense says the newer listing should surface, but it does not.
Why is that? Well, the older listing simply has more authority. This partner needs to work on building more authority for the second location, and there's a solution – our Enhanced Google Business Profile tool will help make this possible for them, quickly and easily.
We're Here to Help With Your Google Business Profile Needs
At Advice Local, we're all about equipping our listing management partners with the tools necessary to help their clients place in local search results. Request a demo to explore how we can help you to better help your local business, brand and franchise clients. Our solution is 100% white-label, so be assured that the client will always see your business name, not ours.