Last week we detailed how to manage multiple Google Business Profiles (formerly Google My Business) from a single dashboard. Today we'll look at monitoring these listings and, in particular, a user-generated content update that is getting featured in search.

Customers Can Get Content Featured on a Google Business Profile in Maps
This week we want to highlight a feature of the Google Business Profile (GBP) that's been stirring up some discussion. This is the ability for customers to add updates to a Google Business Profile in the form of photos, along with a message.
As Google announced it in March of 2021, this isn't a new feature. What seems to be new is Google featuring these updates in Google Maps with a message saying "Updates from customers."
Traditionally, updates featured in maps have been reserved for the business alone, but with Google spotlighting updates from customers more, this is absolutely something to watch closely.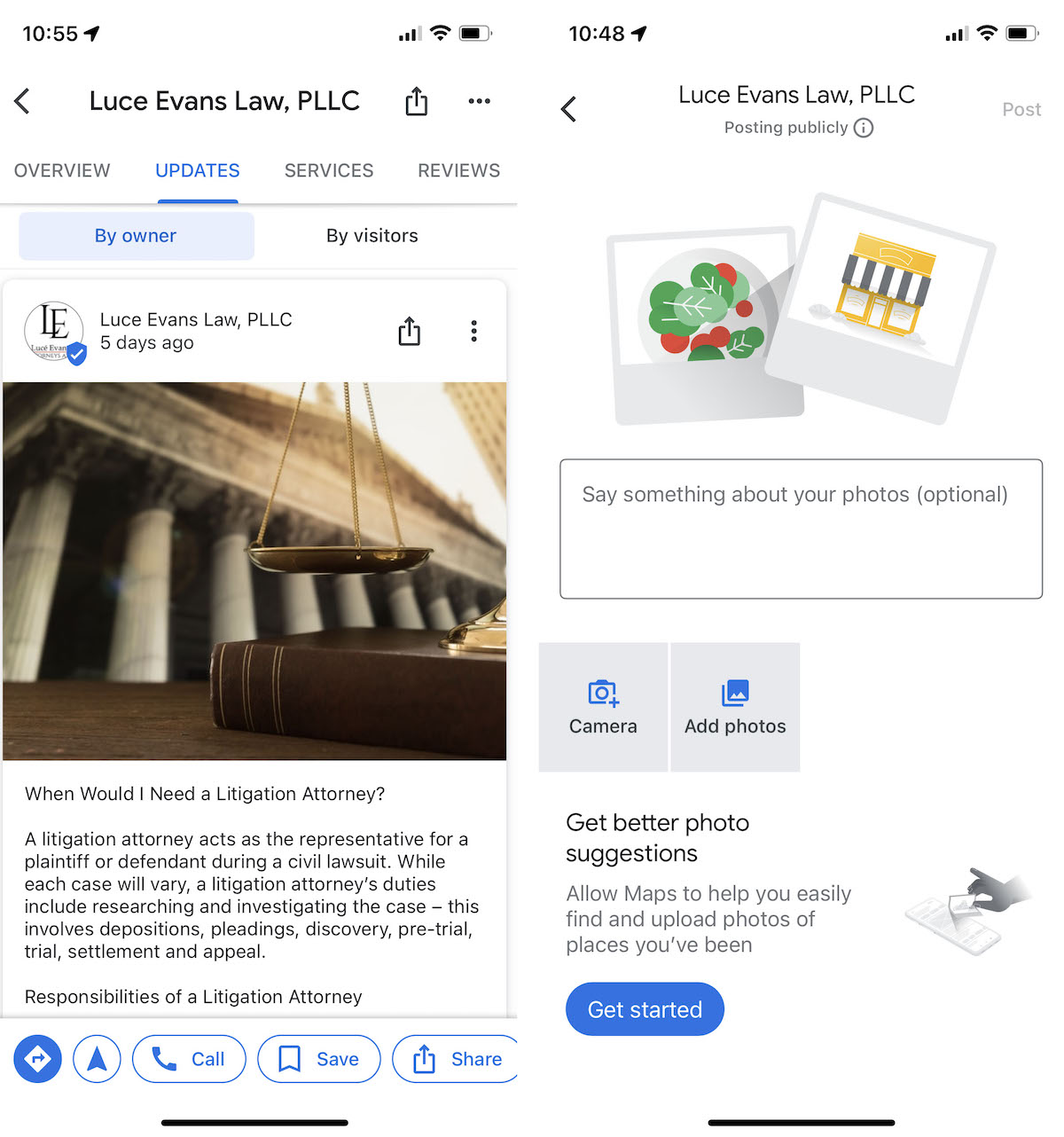 In Google Maps on mobile, within a business' GBP there's a tab under Updates that says "By owner," then next to that, "By visitors." While most local guides and others don't seem to be using the option of adding these updates as of yet, as it becomes more popular you can expect it to occur more often on your clients' Google Business Profiles.
Remember when we discussed user-generated content (UGC) in relation to the Google Business Profile? These photo updates are another type of UGC. Please note, these are not the photos a customer uploads when they review a business, this means adding an actual update to the GBP.
We have always been strong advocates of ongoing management, optimization and monitoring for a business' Google Business Profile. Features like this demonstrate why local businesses need to hire agencies and local marketers just like you. We'll keep you updated as more information on this feature becomes available.
Other Related GBP Updates to Consider
Over at Sterling Sky, Joy Hawkins took a closer look at the Google Business Profile Manager Agency Dashboard. Recent changes to the Google Business Profile have led to some unfortunate issues, prompting agencies to consider this new interface for their agency dashboard.
If you choose to use this dashboard you'll need to make some adjustments to organize your clients' businesses correctly, and to continue receiving notifications. Joy highlights how to migrate for you.
Last week, BrightLocal released their Local Consumer Review Survey for 2022. Not surprisingly, the survey emphasized many of the points we discuss with you each week, focusing on the importance of positive reviews – and what can be expected to happen when you don't have a solid review process in place.
For example, 89% of people said they were "highly" or "fairly" likely to shop at a business that responds to all its reviews. Also worth noting, increasing numbers of consumers are using Google to evaluate local businesses – up to 81% from 63% in 2021.
And BrightLocal had more to add, touching on why GBP is not something you can simply set and forget. Most agency owners recognize that listings need to be continuously monitored, and essentially the process never ends.
Consequently, you need tools and processes in place to track search visibility across all platforms, stay on top of reviews, plus get deep insights. This is where our Enhanced Google Business Profile Tool comes into its own, with the ability to complete much of this monitoring, responding and uploading from a user-friendly dashboard. Our tool includes the ability to respond to reviews, schedule GBP posts and photos, add and answer the questions and answers – and more.
A Brief Look at SEO Signals
Search Engine Journal has been looking at the case for inbound links as a search ranking factor. You may remember we recently laid out the case for citations as a key SEO signal. And while some blogs have been downplaying the need for developing inbound links, Matt Southern at SEJ is firmly on the side of relevant, quality links as an SEO factor.
Now might also be a good time to revisit the Local Search Rankings Report and refresh your memory on the important ranking factors for 2022. GBP signals topped the list, but there were some other factors you might have missed.
Try Our Business Listings Management Solution Today
If you need help managing and monitoring your clients' local visibility, why not try our real-time listing management solution? Find out how powerful our listing management software really is – request a demo today. Call (214) 310-1356 for help now.