Last week, we looked at the disastrous effects of a poorly optimized Google Business Profile. This week, we're switching focus to the 2021 Local Search Ranking Factors report – an industry survey developed by David Mihm originally in 2008.

2021 Local Search Ranking Factors
If you're unfamiliar with the Local Search Ranking Factors report, each year local search experts are surveyed for their thoughts on SEO rankings and conversions. We discussed the 2020 survey results on the Advice Local blog and now it's time to see what, if anything, has changed.
And remember, results won't always mirror your own findings – we certainly don't agree with everything in this report – but they are a good gauge for what the industry is thinking and the local marketing strategies that are working for others. Apply these findings to the businesses you represent in 2022 and you can expect to see improvements to local marketing results.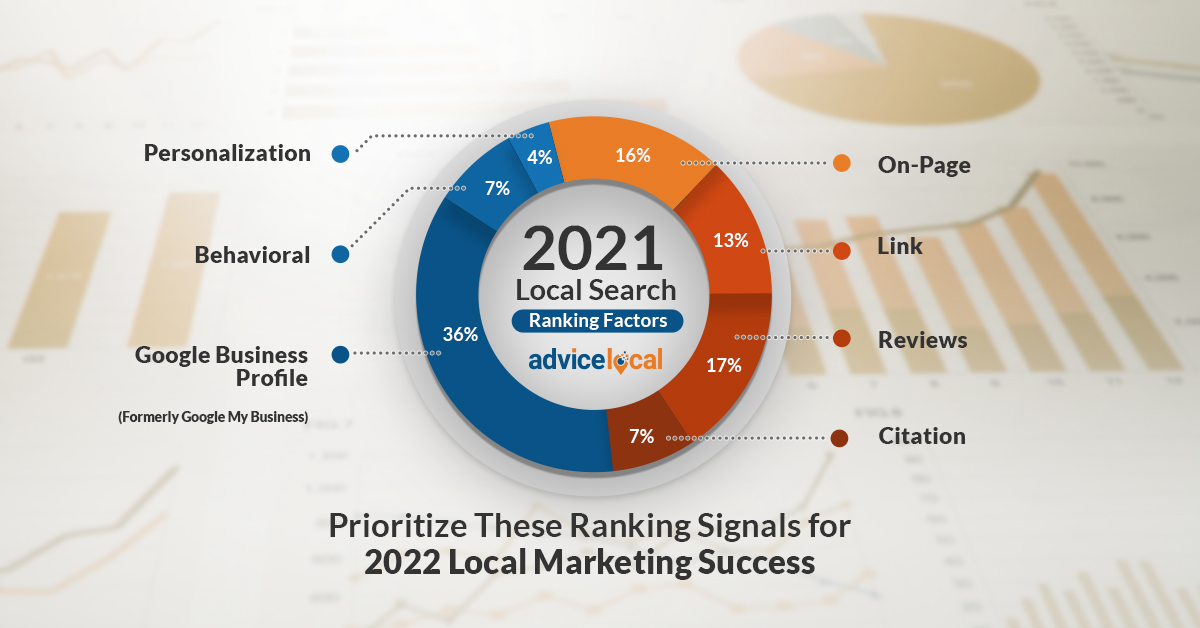 What Local Ranking Factors Will Be Important in 2022?
The report starts by looking at the important ranking factors for the local pack/finder results. Participants were asked how much weight Google placed on each factor. The results were as follows:
Google Business Profile Signals 36%
Reviews 17%
On-Page 16%
Links 13%
Behavioral 7%
Citations 7%
Personalization 4%
Google Business Profile (GBP) signals have been on an upward trajectory as Google continues to update the platform. By a significant margin, an optimized GBP is considered the most important factor for gaining visibility in local search.
In particular, the signals that stood out to the contributors were the primary GBP category, keywords in the GBP business name, proximity of the address to the searcher, and additional categories on the listing.
It's important that we clarify that this doesn't mean we recommend putting keywords within the business' name that are not part of the actual name. However, if you were to do this, this could cause the listing to get suspended at worst. The lightest penalty would be Google automatically renaming the business name to what they believe it to be.
Businesses often have added keywords within their business' name on a Google Business Profile.  And in some instances, have actually renamed their businesses, filing a new DBA, etc.
As a reminder, Google My Business recently rebranded to Google Business Profile. References to GMB throughout the ranking factors report are in fact referencing GBP. This survey was completed prior to the renaming.
1. Google Business Profile Ranks No. 1
Results indicate that much of the focus for 2022 should be the development of the business' Google Business Profile. This includes categories, titles, reviews and photos. If your local marketing strategy for business clients has been marginalizing Google listings, now might be the time for a different approach.
As we have discussed before and in our free Google Business Profile guide, there are many other GBP factors to consider like E-A-T (expertise, authority and trustworthiness).
Here are the top 20 local pack/local finder factors you'll want to use when evaluating your local business clients' Google Business Profiles.
2. Google Business Profile Reviews Are Next
The local experts were asked to give their top GBP conversion factors and four of the top five results highlighted the importance of reviews. A high numerical Google rating and positive sentiment in review text led the list, with quantity and recency of reviews at four and five respectively. The third position – completeness of the Google Business Profile – is another factor we frequently recommend.
At Advice Local, we have long been recommending making reviews a key strategy for clients. The addition of positive, recent and keyword-driven reviews provides clear benefits for local search visibility and conversions, with the survey backing this up. It is important to note that keywords should originate from the reviewer, not the business owner.
Did you know that our Enhanced Google Business Profile Tool offers a review-management component that makes it easier for agencies to respond to reviews. While responding to reviews is not one of the top factors according to this study, it is extremely important, which is why we included this as part of the Google Authority Score we created.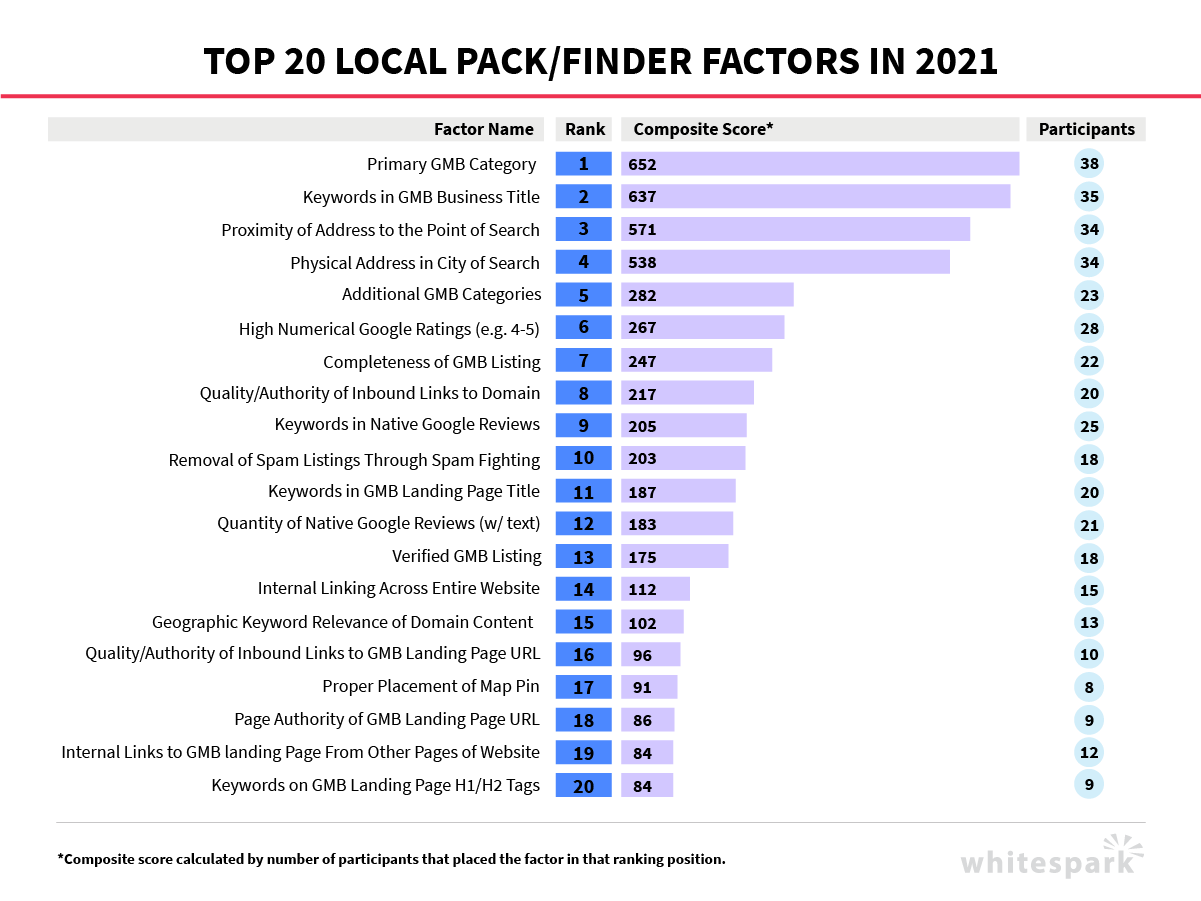 Image Credit: Whitespark
3. The Business' Website On-Page SEO Comes in Third
It's worth noting that the business' website optimization, specifically on-page SEO went up significantly in importance in the 2021 Local Ranking Factors' analysis. For those who are in the website SEO game, they know how important this is, but for those offering other local marketing services (not specifically website SEO),  they do not always prioritize it.
In fact, one of our Advice Local agency partners has clearly demonstrated how optimizing a business' website content, along with the Google Business Profile, has greatly improved the appearances in the local pack and maps.
Where Does Citation Building – Listing Management Fall?
There are many other signals in between building citations within this survey, but we are going straight to it. While citations are not as important as they were in the past, listing management is a very important key factor in a comprehensive local marketing strategy. And we are not the only ones who feel this way. Whitespark has addressed this topic in the past and Moz recently did with its survey of more than 6,000 enterprises.
Results revealed significant increases in local pack visibility when these businesses had their data pushed to more than 10 directories, compared to only the big four platforms. We discuss this further in our Advice Local blog.
So now we ask, have you tried our listing management solution yet?
It's Time to Help Your Clients Take Control of Their Citations
A consistent business name, address and phone number (NAP) data is important. Not only does this impact the business' visibility in the local pack, but also elsewhere on the web including mapping apps.
Customers do not like getting lost en route to a business and this means making sure your local business clients are easily found in mapping apps. And when the business is found online or in an app, make sure it is the correct information about the business.
Our listing management solution enables you to quickly distribute a local business' data in real time and real fast, to the top directories, data aggregators and mapping apps. Request a demo today. Call (214) 310-1356 to get started.