If you are like the majority of other local marketers in the world – anytime a ranking factor report relating to local comes out you head right over to give it a read. While you may not agree with everything said in the report, it's important to read it, consider the information presented, then test it for yourself.

In December of 2020, Darren Shaw of Whitespark shared a summary of his analysis of the 2020 Local Search Ranking Factors. The study is compiled based on answers to key survey questions from a group of local search experts.
At Advice Local we wanted to share our insights on the study and our recommendations for 2021. We have actually been sharing many of those recommendations and tools to support them over the last few months, especially relating to Google Business Profile optimization. Keep reading and you'll understand why.
2020 Local Search Ranking Factors Results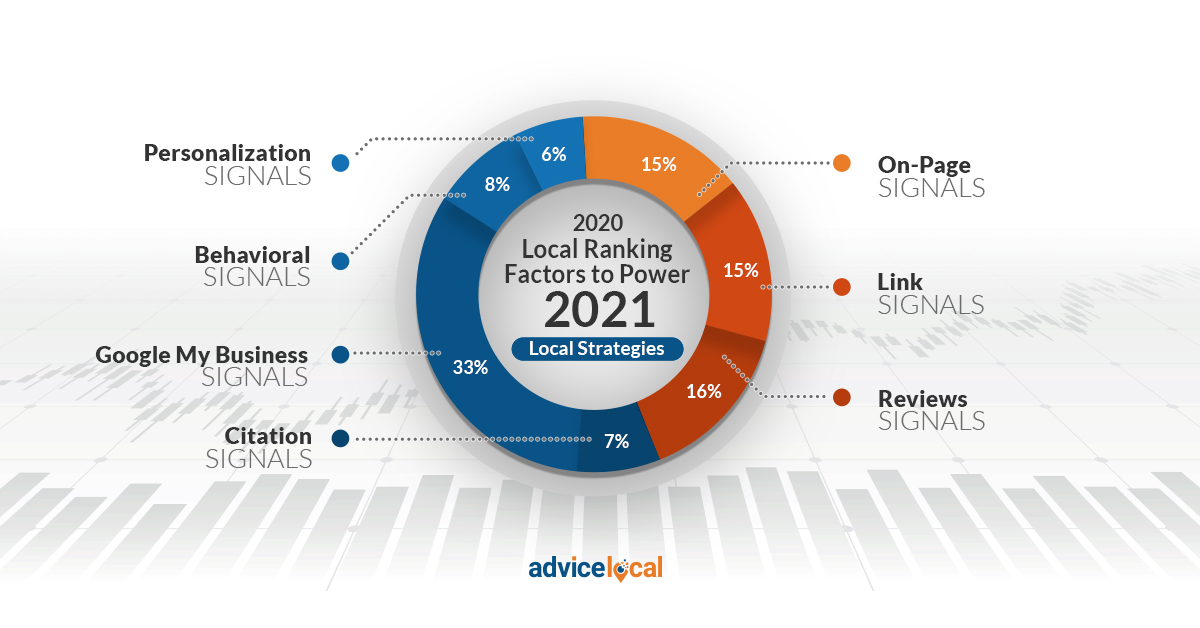 Whitespark compiled the answers from those local search experts to determine how much of each signal impacts a business' placement in the local pack/finder. The summary of the results are as follows:
Google Business Profile Signals 33%
Reviews Signals 16%
On-Page Signals 15%
Link Signals 15%
Behavioral Signals 8%
Citations Signals 7%
Personalization Signals 6%
At Advice Local, we read these reports just like you – and evaluate what has been working versus what hasn't. In fact, in 2019 we compared the 2018 report results to the actions we took and found quite similar results. You can see our thoughts and get suggestions for the Local Ranking Factors for 2019 here. Since the report doesn't come out every year, we didn't create one for 2020.
Today however, we would like to address the results from the 2020 Local Search Ranking Factors Study and apply context, which you can then use in 2021 to help your local business clients place more often in the local pack and Google Maps.
Google Business Profile Is the Highest Ranking Signal
Take a look at the highest signal – Google Business Profile (formerly Google My Business) at 33%. This isn't surprising at all to us, and we're sure it isn't surprising to you either. Google is adding more and more features to keep consumers on search results and in Google Maps for longer and longer. They are even pulling information from a business' website to keep the consumer dependent on them. Remember zero-click search? The Google Business Profile (GBP) listing results in less clicks to a business' website, but it's still important to have a well-optimized website. Here we discuss zero-clicks & the GBP listing, and the why.
Reviews, On-Page & Links Are the Next Highest Signals
Notice Reviews, On-Page and Links are the next highest ranking signals. Let's dig a little deeper into why these percentages are so high.
Reviews Signals 16%
Besides the experts that participated in Whitespark's study, other studies indicate reviews are what consumers trust. Check out BrightLocal's Local Consumer Review Survey from 2020. The study reveals that "only 48% of consumers would consider using a business with fewer than 4 stars."
On-Page Signals 15%
This relates specifically to the business' website, with items such as presence of the business' NAP (name, address & phone number) on the business' website, website optimization – items like H1s, H2s, EAT (expertise, authoritativeness and trustworthiness) within the website's pages & posts – and obviously keyword optimization without keyword stuffing. We've talked about EAT quite a bit lately, we have a case study on EAT, an infographic and a guide. If you haven't checked them out, head over to our website.
Link Signals 15%
This is all about the quantity, quality and authority of the websites linking to your clients' websites. While Whitespark removed social signals from the 2020 Local Ranking Factors Study, stating that "we don't think social signals directly impact your local rankings," at Advice Local we want to add that this doesn't mean that having links to your business' website from social media sites is of no importance.
Search engines trust the authority of sites like Facebook, so it's a no-brainer to post on them, plus they drive traffic to your business' website, which sends many other positive signals to Google for organic search placement of a website's pages and posts beyond the local pack.
Behavioral, Citations & Personalization Are the Lower of the Scores
Just like a pie you can slice many different ways, you only have one pie. You can't slice up how search engines work and consumer behavior into even slices, so therefore someone comes in with a lower score. And with Google Business Profile taking 33%, there isn't much left for the other signals. It's that simple.
Behavioral Signals 8%
Think click-through rate, clicks to call, check-ins, etc. Behavioral signals are actions the consumer actually takes to interact with the business. With privacy and the use of cookies and browsers that block tracking, it makes sense the behavioral signals would take a hit compared to the 2018 results, which were 11.5%.
Citation Signals 7%
While citation signals are one of the lower signals, they are still highly relevant. The report says that citations only account for 7%. You may think, "Wow only 7%, do I need to stop doing listing management for my clients?" Well – absolutely not! Think about the consumer for a moment. The person that actually buys from the business.
The fact is, consumers don't trust a business if the information about them isn't consistent. Consumers don't like getting lost when trying to find a business. If you stopped offering listing management to your clients, old business data would inevitably creep back onto the web.
Mapping apps would take people to the wrong locations, and phone numbers would no longer be accurate. And if the phone number isn't correct, how could the consumer actually call the business, make an appointment, and so on?
BrightLocal's Local Citations Trust Report revealed the following:
80% of consumers lose trust in local businesses if they see incorrect or inconsistent contact details or business names online
40% would give up looking for a local business that they couldn't find because the address was wrong online
68% of consumers would stop using a local business if they found incorrect information in online directories
Relating to citations on the Whitespark website, along with his summary of the study, Darren Shaw says:
We continue to regularly receive comments from customers that tell us that they built citations with us and it had a positive impact on their rankings.
In a case study I did for my 2019 Mozcon presentation, we stopped doing SEO work, but their rankings continued to double, and then triple over the course of the next year with zero additional SEO work being completed.
I have heard many opinions, but have yet to see any compelling data that proves that citation building and citation cleanup has less value than it used to.
I have seen some compelling research from Uberall on the value of citations that they will be publishing in the new year.
Simply put, while citations are coming in with a lower signal, they are still extremely important to ensure the businesses you represent are getting found by consumers seeking their products and services.
If the consumer can't find the business on directories, in mapping apps or in their in-dash navigation, how can they:
Call the business
Frequent the business
Buy the business' products and services
They can't. It's that simple.
Personalization Signals 6%
Personalization comes in with the lowest percentage, which isn't too surprising, because while consumers love a personalized experience, it has a tendency to creep them out a bit. With less and less access to using a consumer's search history, how can a business truly provide for such an experience? It's not easy – there's a thin line between personalization and invasion of privacy, and the balance hasn't been achieved yet.
What Are Your Next Steps to Help Your Clients Place in Local Searches?
What are you going to do differently to help local businesses, brands and/or franchises to place higher in local search in 2021? Obviously, Google Business Profile optimization needs to take center stage, along with reviews and the business' website.
Make sure you don't forget about those citations, because if the consumer can't find the business they certainly can't buy from it. Request a demo today to learn all about our GBP claiming service, GBP tool, listing management and voice search solutions.