Yes, I'm talking about Google Business Profile (formerly Google My Business) again today! And there's a reason … Do you fully understand why Google Business Profile is so important? Besides the fact they are Google, it's so important because consumers trust Google.

When it comes to search, Google pretty much has a monopoly. According to Statista, as of February 2021 they have 86.6% of worldwide desktop market share.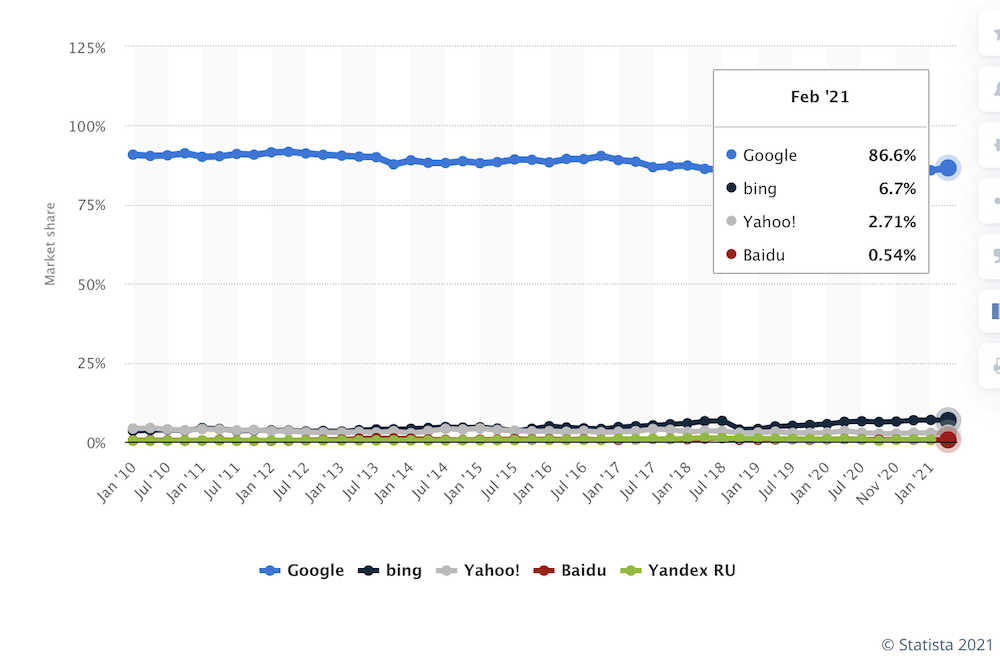 As local marketers, while we don't always love Google and their many algorithm changes, where would we be without them? Local businesses wouldn't need to hire us to help them place in Google search, and more than likely, we'd all have other careers!
So, Why Is Google Business Profile Important?
First, it's time to think beyond the reason "because consumers trust Google" (even though they do). The more obvious reason is that Google owns Google Business Profile. This means they prioritize the businesses that are using their products and services. By having an optimized Google Business Profile (GBP) listing, Google can better understand the business, their products and services – and deliver relevant search results that are based on the user's query, and the location of the user in relation to the business that's closest to them.
Back in January, I discussed zero-click searches and website mentions, and covered how mentions in conjunction with an optimized business listing can help a business to surface more often in Google Maps for specific queries. I used the example probate litigation mckinney in our January search.
In April I looked at this again, and shared how adding detailed product descriptions to the business' GBP listing moved the business to the first position in Google Maps. And when the business is surfacing, notice it's for the information within the GBP listing – the website wasn't mentioned as a factor.
These local justifications – as Miriam Ellis discussed on Moz's blog this week – had us wanting to test this once more. Just like the other times I started with a desktop search.
Instead of getting a local pack when searching for probate litigation mckinney and then advancing to maps, there is no local pack at all. Instead, the business Lucé Evans Law (which is referenced in the prior examples) is returned as the single result. For transparency's sake, I have actually been testing this query over the last month, and this business is returned as the single result each time in a desktop search, and is holding in the first position on Google Maps.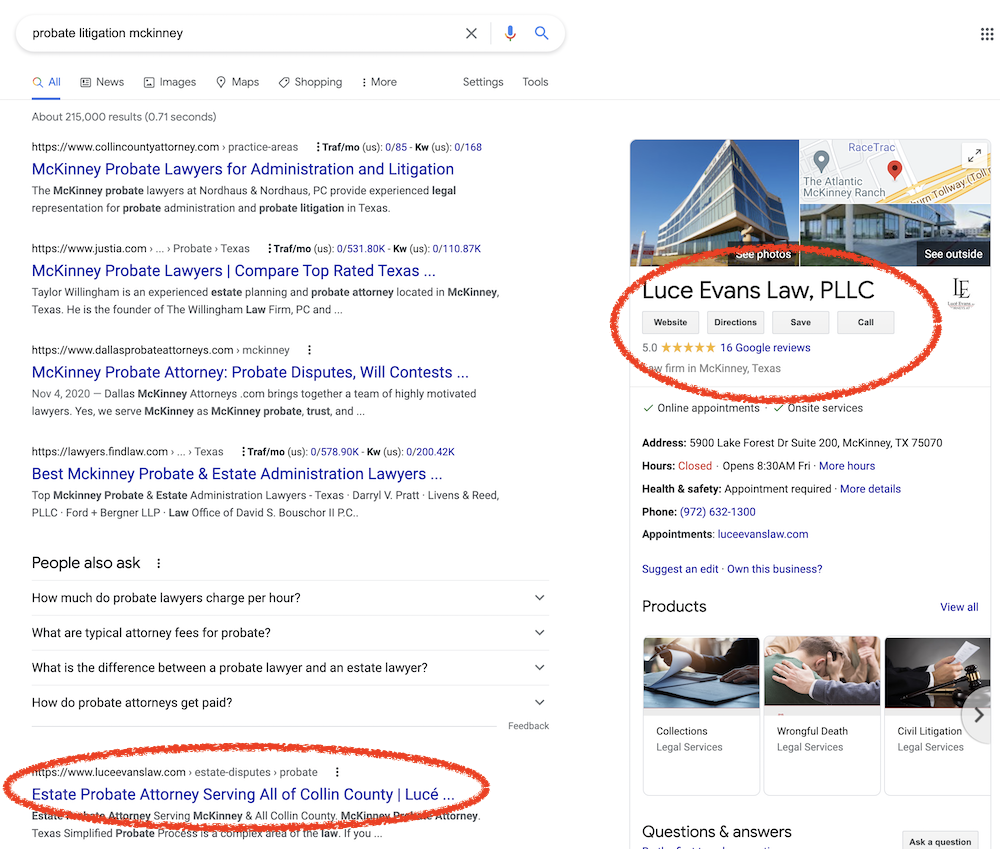 The optimization of this business' Google Business Profile listing moved Lucé Evans Law from not appearing in the local pack until clicking through to Google Maps (in approximately the fifth position in January), to now being the only result in a desktop search – and also in the first position in Google Maps. As you can see in the example above, the business' website is also placing organically for probate litigation mckinney in the first page of desktop search results. They were not placing in search on the first page for this phrase back in January.
So, Now We Ask You… Is Google Business Profile Important?
Well, if you want your local business clients to place in local search results, then yes.
At Advice Local, we equip you with all you need to fully leverage a Google Business Profile listing for your local business clients.
Our Google Business Profile tool allows you to schedule posts, upload EXIF-data optimized images, add questions & answers, plus monitor & respond to reviews from a single interface for single location or multi-location brands. And you get access to 18 months of historical data for the business' GBP listing.
We have a free guide that walks you through how to apply E-A-T to a Google Business Profile listing to help it appear more often in maps. This includes strategies to optimize the listing.
And, through your Advice Local partner dashboard you can find out the Google Authority Score for each active business listing.
We also have a Google Business Profile Sync option in your partner dashboard, and a feature where you can auto-reject GBP public edits.
Do You Need Help With Your Clients' Google Business Profile Listings?
Just like with all our other features, we're here to help you – our agency and local marketing partners – work smarter, not harder. Request a demo to learn all about our Google Business Profile tool, listing management solutions and much more.